I've been trying real hard lately not to go full-on summer mode with every project on the blog, but today is not one of those days. Today is the day we will forget about the rainy Spring weather and think ahead to all those hot summer days sitting by the pool sipping lemonade. I'm making it a point this summer to actually take some time away from work to just chill by the pool, relax, and *gasp* maybe hit up the library to grab an actual book. It's been years since I actually did that (e-books do not count), but this summer…this summer it will happen. I said that last summer, but this time it is for realz.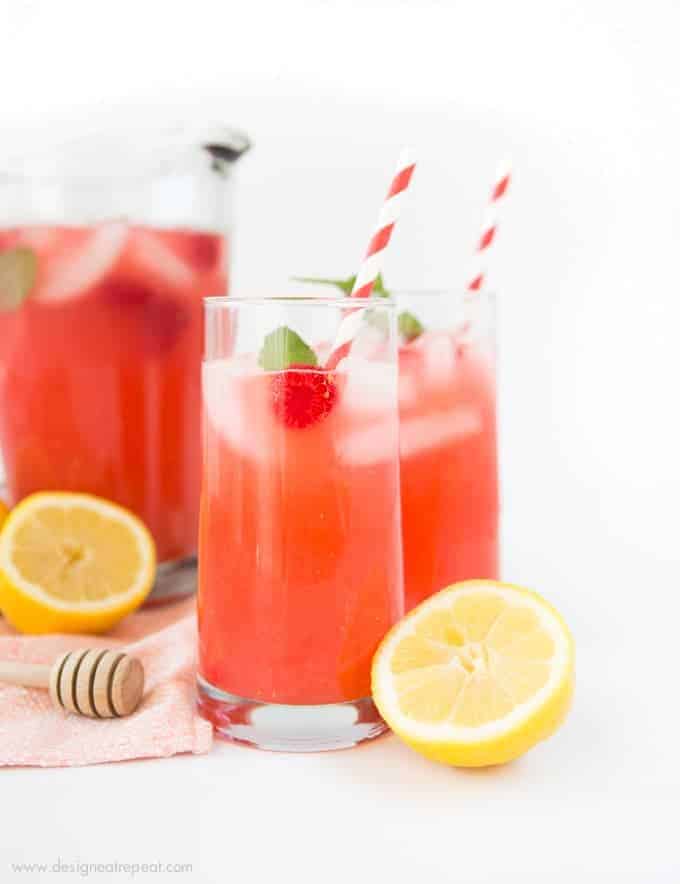 And what shall be accompanying me during this once a year lounge fest will be a bottle full of ice cold raspberry lemonade. I can just picture it already.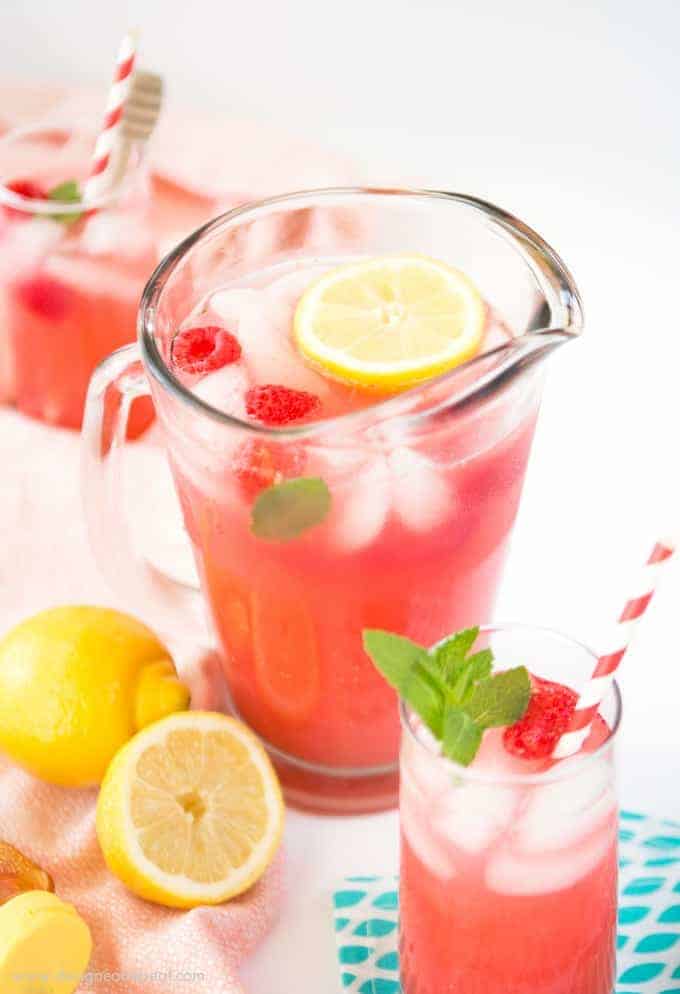 Made with freshly squeezed lemons and pureed raspberries, this magical concoction is about as summer as it gets. The first time I made this I made it with fresh raspberries, but found their flavor to be lacking in the raspberry department once mixed in to the lemonade. But after some experimentation with a thawed bag of frozen raspberries, the flavor was justttt right.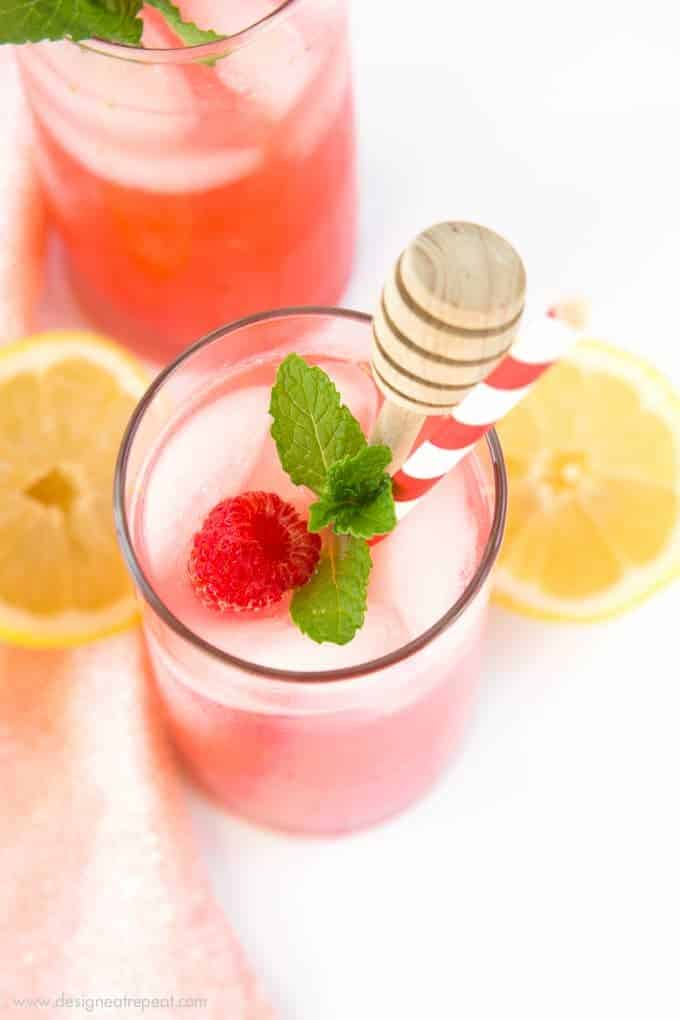 Like any fruit drink, the strength of flavors can change depending on how naturally sweet or sour the fruit is. If you find this to be a little too tart, add in a little more sugar. Too sweet? Don't be afraid to add another cup or two of water.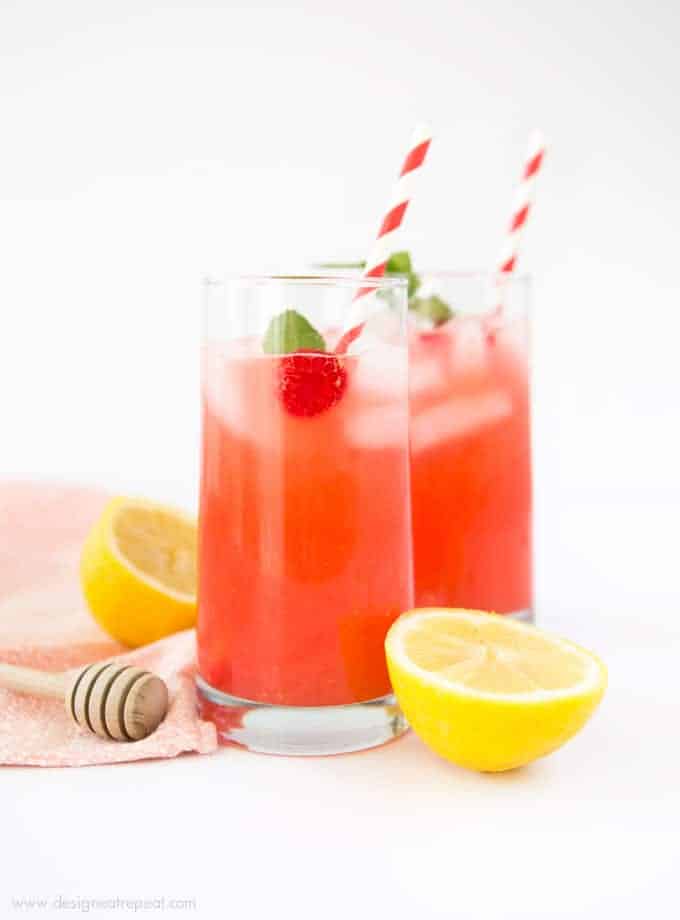 I like this best with a few fresh mint leaves thrown in to give it that extra punch of summer. If serving at a party, tossing in some fresh raspberries and sliced lemons also give it that extra festive feel. And if you realllly want to dress these drinks to impress, pop in some cute paper straws or a honey dipper drink stirrer for a A+ presentation.
Raspberry Lemonade
Made with freshly squeezed lemons and pureed raspberries, this magical concoction is about as summer as it gets.
Prep Time: 10 minutes
Total Time: 10 minutes
Course: Drinks
Category: Beverage
Servings: 6 cups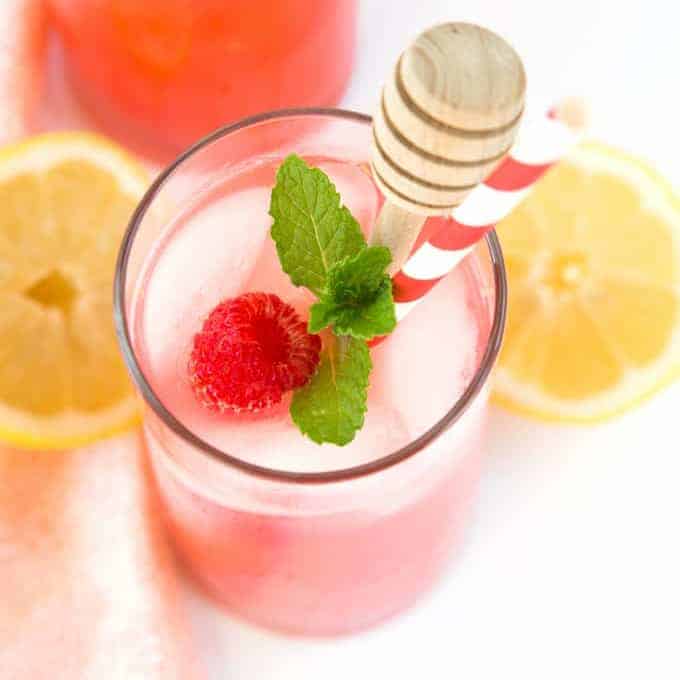 Ingredients
1 cup sugar
3/4 cup water
2 cups frozen raspberries thawed
1 cup lemon juice
4-6 cups water depending on your taste & how concentrated you want
Optional: 1 tablespoon honey for added summer sweetness
Optional: Fresh mint leaves for added flavor!
Instructions
To create simple syrup, mix sugar and 3/4 cup water in a medium sized saucepan. Cook over medium heat until sugar is dissolved, stirring once. Remove from heat and set aside.

In a blender or food processor, blend together raspberries and simple syrup until smooth. Pour mixture through strainer to remove seeds. You will need to re-pour mixture through strainer several times to remove all the seeds.

Once seeds have been removed, pour into 2-quart pitcher. Stir in lemon juice and water.

Serve over ice or refrigerate until ready to drink.

For added flavor, add in mint leaves.
Nutrition
Calories: 158kcal
Sodium: 11mg
Potassium: 102mg
Carbohydrates: 40g
Fiber: 2g
Sugar: 36g
Vitamin A: 15%
Vitamin C: 26.2%
Calcium: 17%
Iron: 0.3%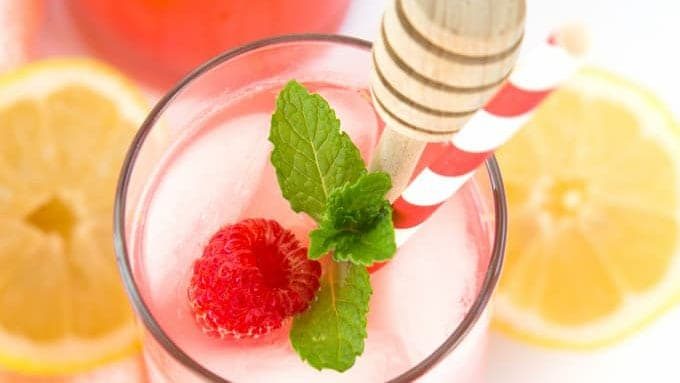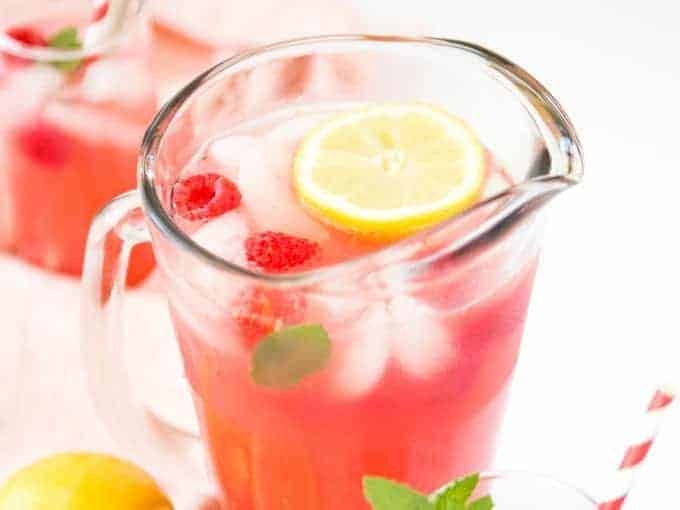 I'll warn you now that my brain is already in summer crafting mode, so don't be surprised when peanut butter gelato finds its way to the blog very soon. That is, if I can keep my paws off of it until it's time to photograph.
Have a favorite summer drink concoction? Leave it in the comments below!