Sneak in your veggies with these subtly sweet Jumbo Double Chocolate Zucchini Muffins! Mix in one bowl and have a warm chocolately treat in less than an hour!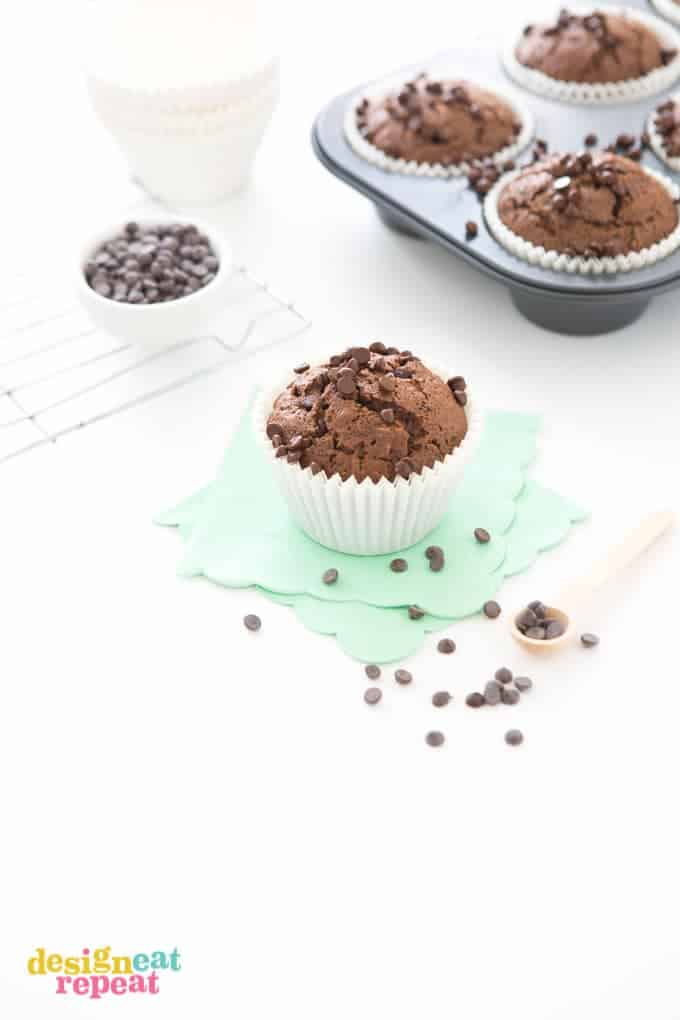 It's been a crazy summer of moving but I'm happy to report that I'm finally semi-settled in the new place and back in the blogging scene now that I have natural light to shoot projects with. It's been a struggle the past year living in dark apartment, so when I whipped out the camera this weekend to play around with the new light I was happier than a kid in a candy village. Not only is the mid-morning light to dieeeee for, but I actually have space to bake and craft without being crammed in a corner of my living room. Basically what I'm saying is that I'm in love and am never moving out of this place.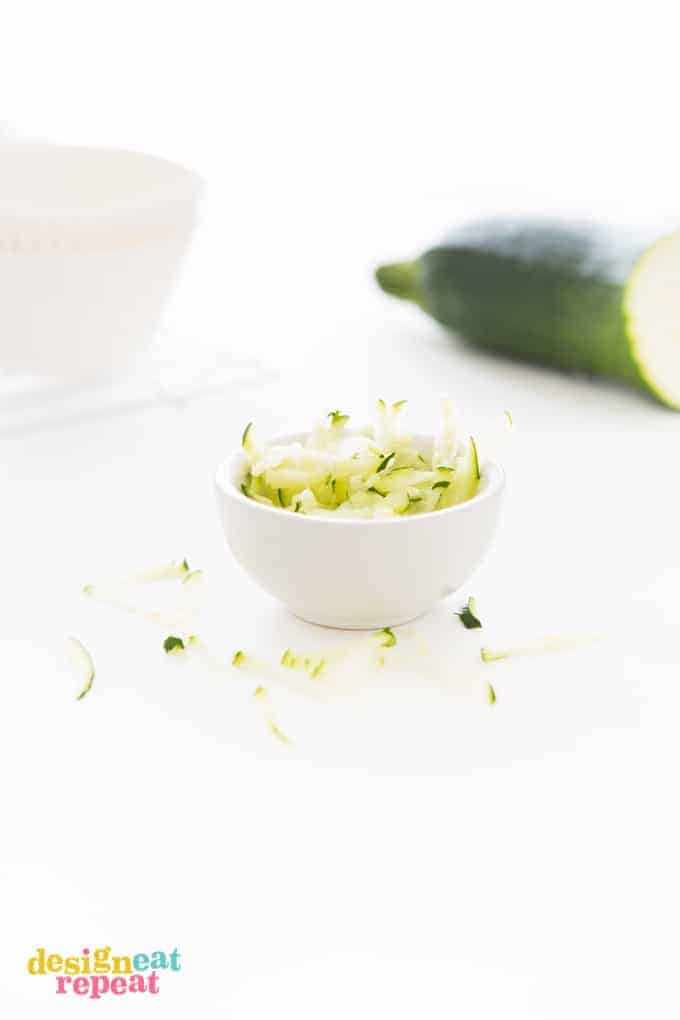 Natural light, a garden, AND enough space for a craft room? No seriously, I'm never leaving. My neighbors have been out of town for a week so I was put in charge of the garden while they're away and have been given free reign over anything ripe that pops up. Which means I've been the proud recipient of two zucchinis in the past week. Which means that I've made 3 batches of these muffins thus far. Which means that all my childhood dreams of having a garden and living off the land have come to life.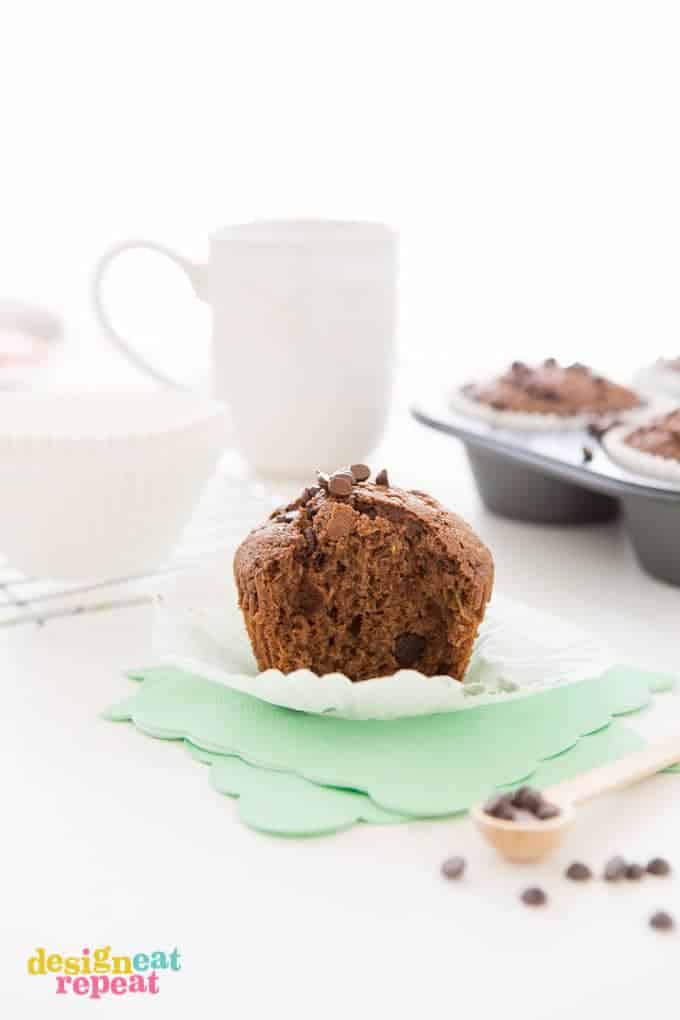 This recipe is actually derived from one of my Grandma's chocolate zucchini bread recipes that we've made for years – only adapted to make 8 jumbo muffins. They're super easy to whip up in one bowl and have hot & ready on the table in less than a hour. Not too overly rich in chocolate, but just enough to give them a burst of sweetness. No one ever said you couldn't have chocolate for breakfast.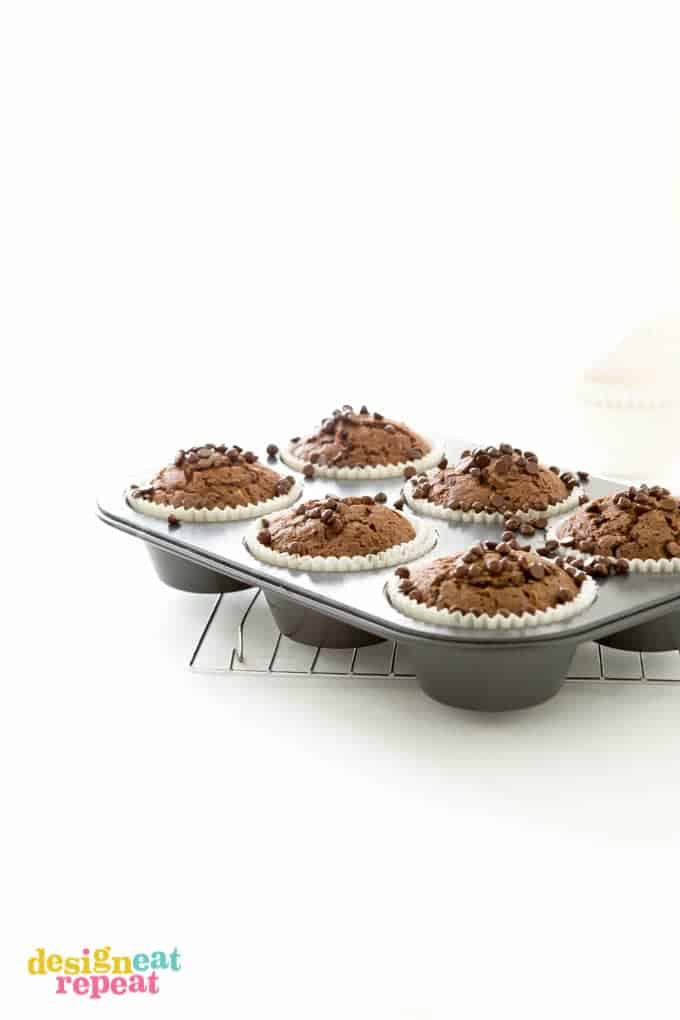 You could easily make these in smaller muffin tins with less baking time, but the jumbo muffins are where it's at with these. Once you start making jumbo muffins, there's no going back. I picked up a $7 jumbo muffin tin from my grocery store a few years ago and it's hands down gotten more use than my normal size cupcake tins.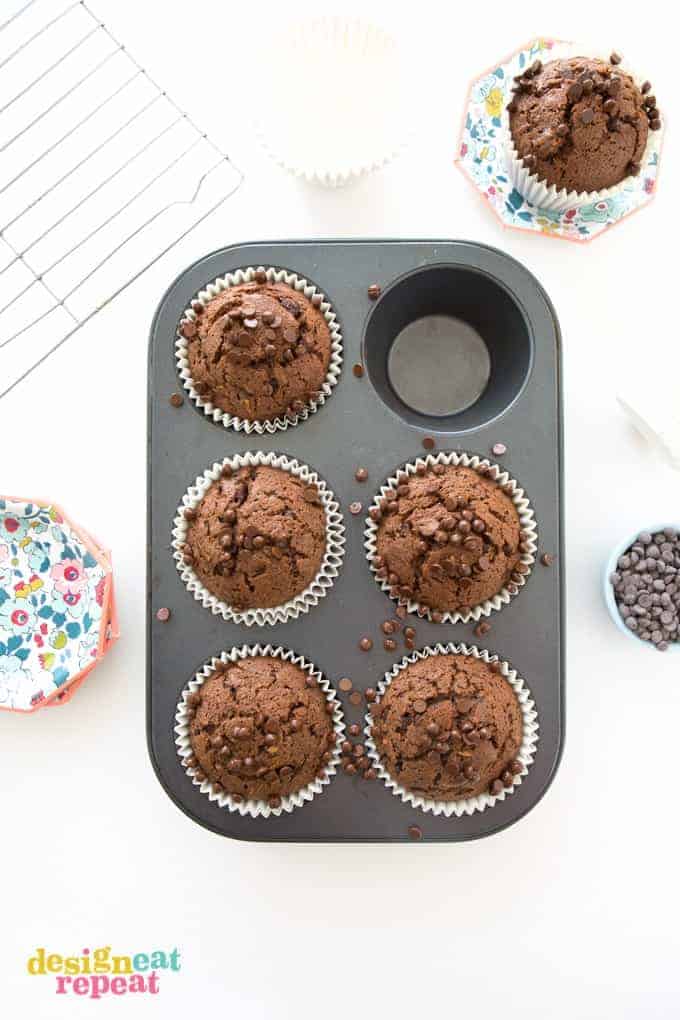 These are best served hot from the oven, but you can also keep them in an airtight container for a few days and then pop them into the microwave for 10 seconds to warm them up. I also threw a few in ziploc bags in the freezer for one of these mornings when I zip out the door.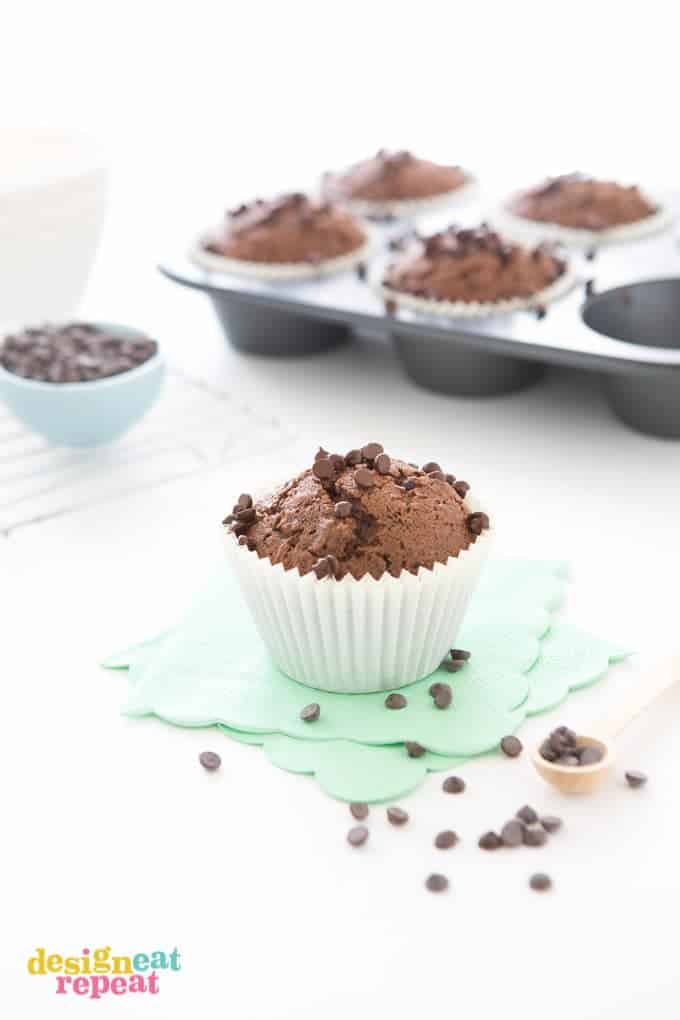 It honestly amazes me how food can just grow from the ground and look so perfect. I have my eye on one of the last zucchinis in the garden and am just waiting for it to get a little bigger before I snag it up. I'm also waiting for the snails to disappear because no zucchini is worth me having to get close to a giant snail.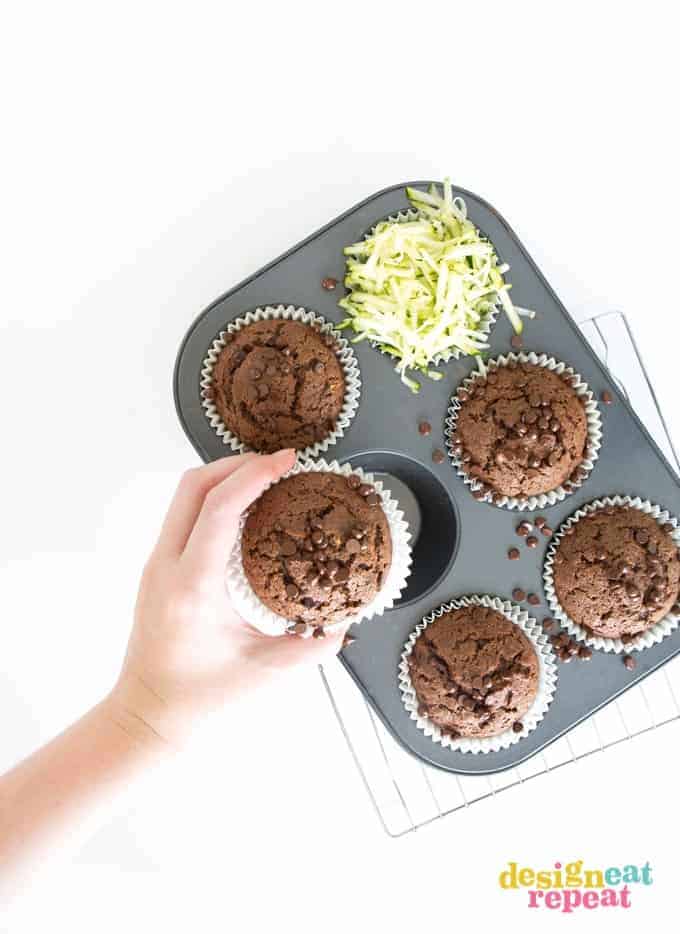 Double Chocolate Zucchini Muffins
Sneak in your veggies with these subtly sweet Jumbo Double Chocolate Zucchini Muffins! Mix in one bowl and have a warm chocolately treat in less than an hour!
Prep Time: 15 minutes
Cook Time: 30 minutes
Total Time: 45 minutes
Course: Bread
Category: Snack
Servings: 8 Jumbo Muffins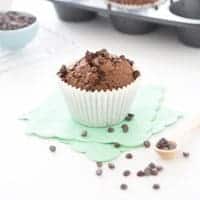 Ingredients
1/2 cup sugar
1/2 cup vegetable oil
1 teaspoon vanilla
1 cup zucchini shredded
1/4 cup unsweetened cocoa powder I prefer Hershey's Unsweetened Cocoa for these
2 eggs
1/2 teaspoon cinnamon
1/2 teaspoon salt
1/2 teaspoon baking soda
1 1/2 cup all-purpose flour
1/2 cup semi-sweet chocolate chips
For Topping (optional):
1/4 cup mini semi-sweet chocolate chips
Instructions
Preheat oven to 350 degrees and place about 8 jumbo cupcake liners into a jumbo muffin tin. (You may need to bake in two batches if you only have a tin with 6 cavities.)

In a large bowl, combine sugar, oil, vanilla, shredded zucchini, cocoa powder, and eggs and stir until just combined.

Add cinnamon, salt, and baking soda and stir gently until it disappears into the batter.

Using a spatula, gently add in the flour and only stir until the dry ingredients disappear and are incorporated into the batter. It is important to mix this by hand (and not a electric mixer) to prevent from over mixing.

Gently fold in the 1/2 cup of semi-sweet chocolate chips until evenly dispersed.

Scoop about 6 tablespoons of batter into each muffin tin and gently tap the muffin tin on the counter to smooth out the tops of the batter.

Bake at 350 degrees for 25-30 minutes or until fork comes out clean. Overbaking can result in dry & hard muffins, so watch the oven closely around the 25 minute mark.

Once baked, allow the muffins to cool on a wire rack for 5-10 minutes before removing from the pan. These are best enjoyed warm, so dig right in!
Recipe Notes
I ran out of my usual jumbo liners before this batch, but I prefer using these liners for jumbo muffins. Unlike the cheaper liners, these are non-stick and allow the muffin to come out super easily without having to tear the liner into a million pieces to remove.
Nutrition
Calories: 385kcal
Fat: 22g
Saturated fat: 15g
Cholesterol: 42mg
Sodium: 233mg
Potassium: 227mg
Carbohydrates: 42g
Fiber: 3g
Sugar: 19g
Protein: 5g
Vitamin A: 90%
Vitamin C: 2.8%
Calcium: 27%
Iron: 2.9%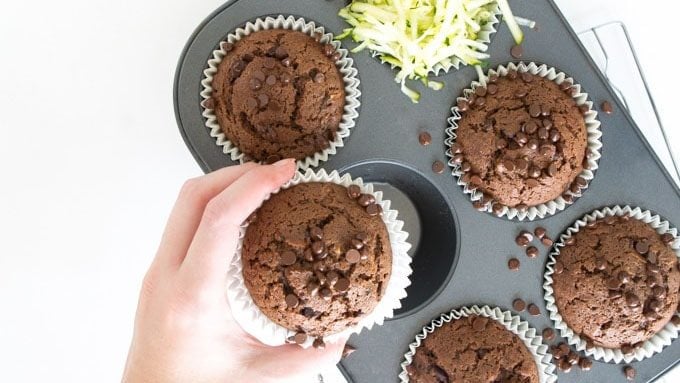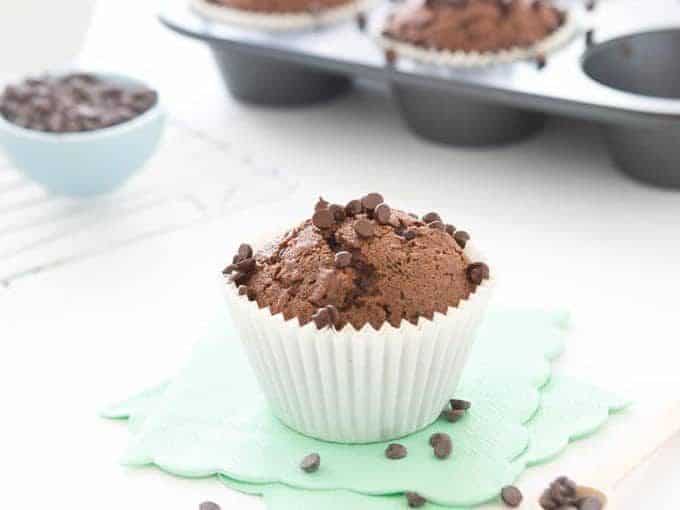 Have you ever tried a chocolate zucchini muffins or bread before? People were questioning this combo (and my sanity) when I tried handing them one of these bad boys only to quickly discover upon the first bite that I was not the crazy one.