These whole wheat double chocolate protein muffins are made with whole wheat flour, protein powder, no oil and butter and minimal sugar to make delicious lightened up breakfast treats.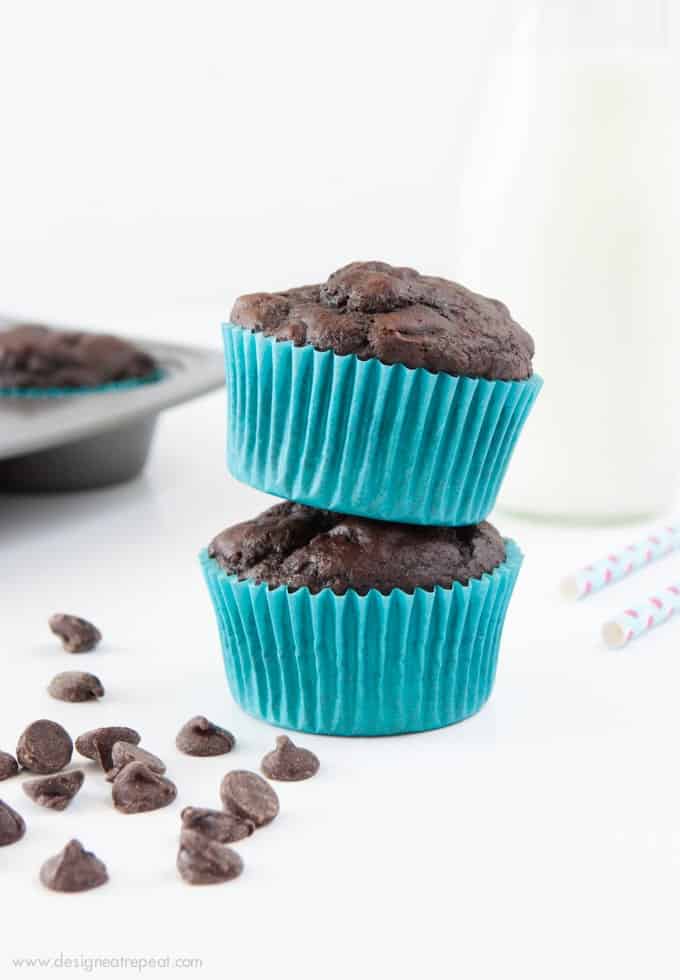 Let's just start off this post by saying that I haven't had the best track record with protein muffins in past year or so. In fact, the thought of putting chalky protein powder into precious baked goods seemed like a recipe for disaster. And it was at first. It really, truly was.
It all started with a double whammy fail of vanilla banana protein muffins, followed by a generous serving of how-can-peanut-butter-muffins-taste-so-terrible? Needless to say, the muffins defeated me and I decided it was the time to throw in the towel once and for all. But after having about a year to recover, I mustered up enough hope this past weekend to give them one last try.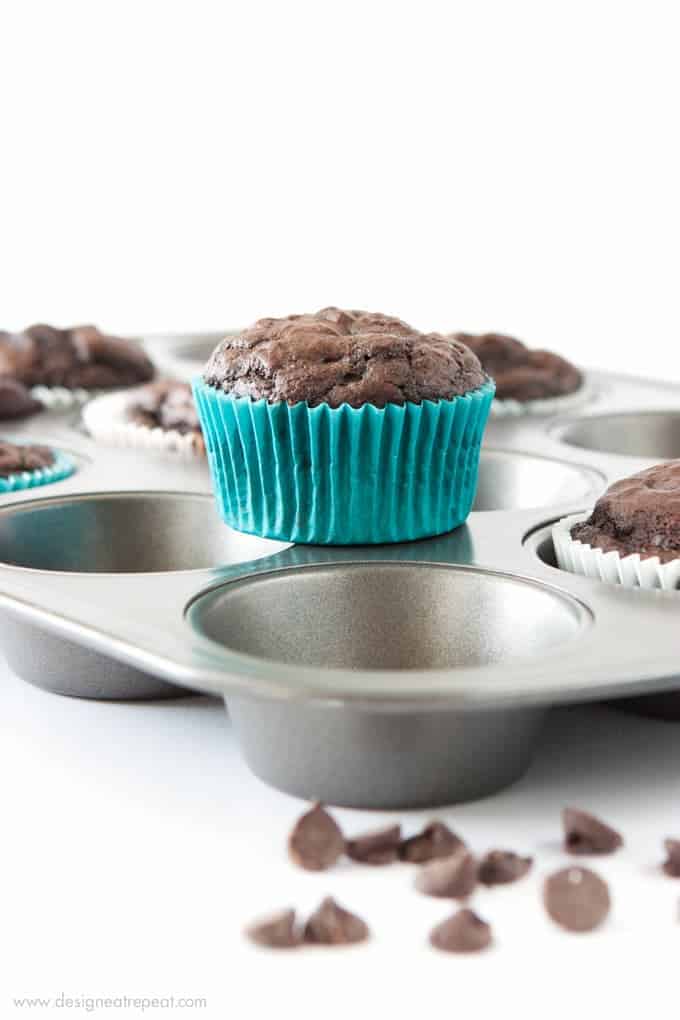 I told myself that this was it. If these failed, then all those people who say that protein muffins are delicious must be lying or I'm just not meant to be the next muffin lady. So after a little mixing & 20 longggg minutes waiting to determine their fate, I pulled out a pan of the most delectable double chocolate protein muffins that my eyes ever did see.
I ripped that liner off so fast that I'm pretty sure my left index finger got burnt, but the battle wounds were worth it because oh-my-gosh, how in the world does a double chocolate protein muffin made with whole wheat flour and no butter or oil taste so good?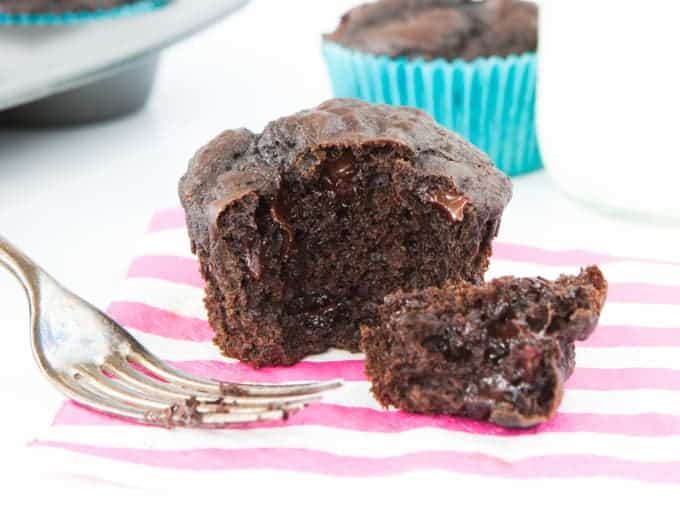 I really just don't know how, but it does. Actually let me take that back. I'm pretty sure the 1 cup of chocolate chips makes them so good, but let's focus on the fact that these were made with no butter OR oil. Maybe it's abnormal to be this excited about a edible muffin that was made without oil, but in my eyes this is a miracle.
One of the reasons I don't make muffins often is because with the loads of sugar and oil most recipes call for, you might as well just eat a cupcake for breakfast. Which I've totally done many times and to be completely honest, if I had to choose between a chocolate cupcake and these muffins, I'd still choose the cupcake.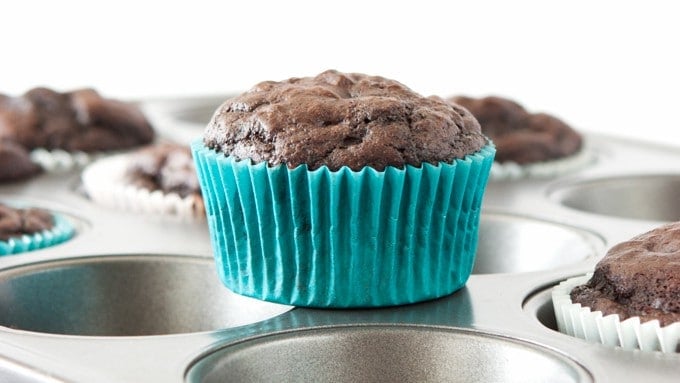 What You Need to Make Protein Muffins
Whole wheat flour
Unsweetened cocoa powder (I use Nestle)
Chocolate Protein Powder
Brown Sugar
Baking Powder & Baking Soda
Light Vanilla Yogurt
Eggs
Milk
Vanilla Extract
Semi-Sweet Chocolate Chips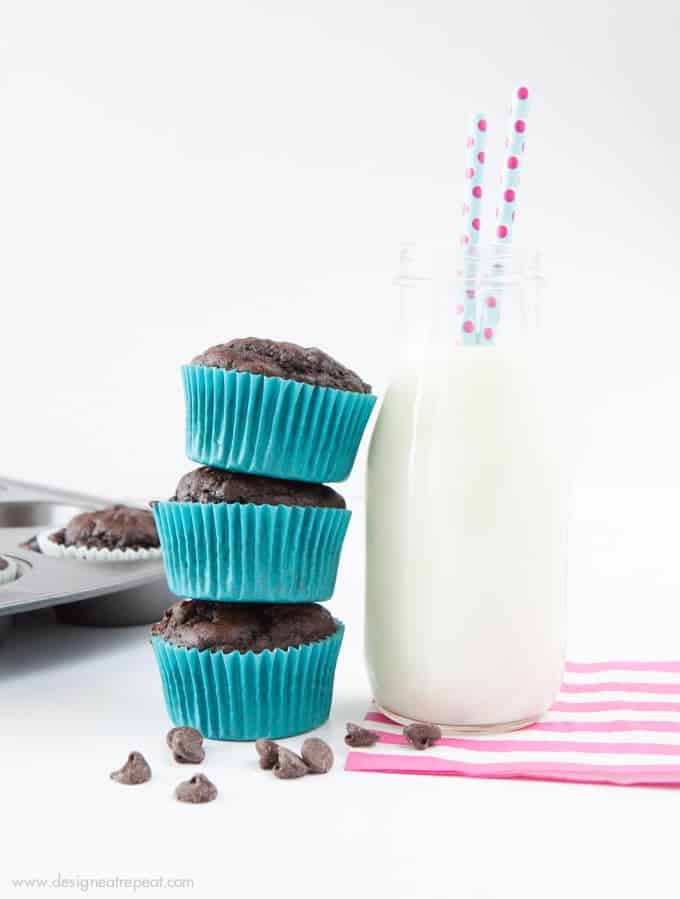 These muffins get their flavor from the unsweetened cocoa powder, light vanilla yogurt and 1/2 cup of brown sugar and are pretty dang tasty for a lightened up muffin if you ask me.
I'm not going to go as far as to say that these are "healthy muffins" just because they don't use oil or butter. But considering one of my family's favorite poppy seed muffin recipes calls for 2 cups of sugar and like a gallon of oil, I will say that these are definitely a lightened up version of traditional chocolate muffins without sacrificing the taste. I thought for sure that the whole wheat flour was going to turn these into mini boulders, but was pleasantly surprised when they still came out with a soft texture.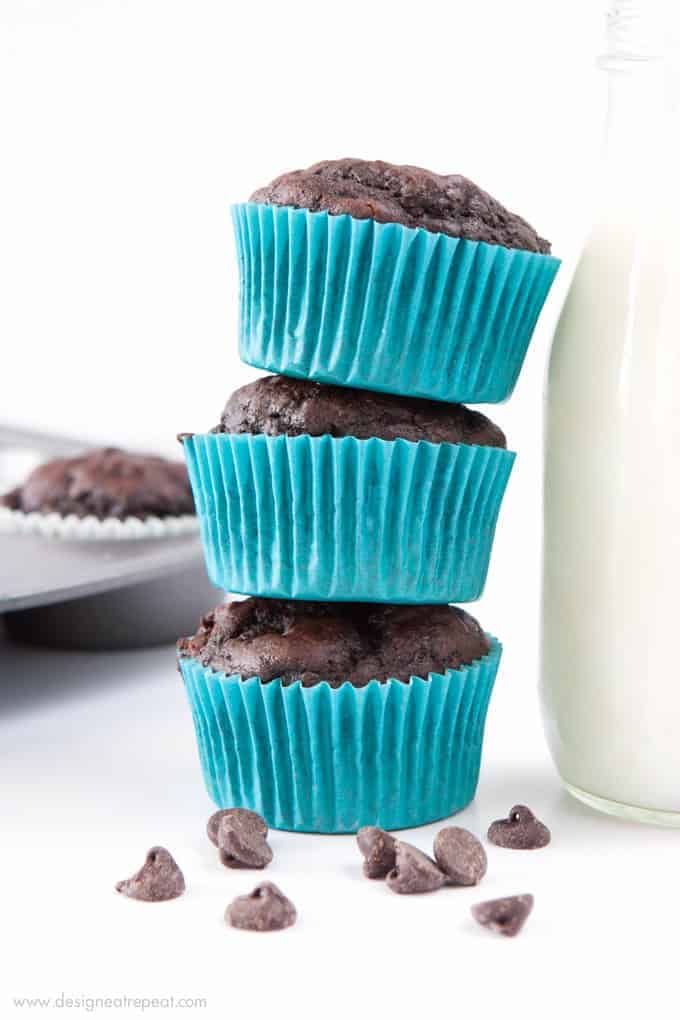 If you're going to eat these, there is just one requirement. You need to eat them warm. I don't care if that means digging in shortly after they come out of the oven or even just popping one into the microwave to warm through, but you need to eat them warm. The chocolate chips will get all melty & delectable and for a second you may just think that you are eating a cupcake for breakfast.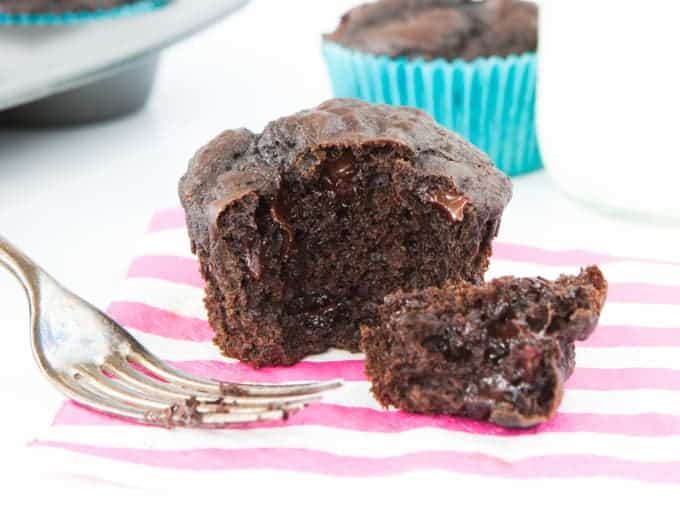 Frequently Asked Questions:
What brand of protein powder did you use?
I usedRich Chocolate ProFIT and I couldn't even taste it in these. Which was my goal considering my protein muffins in the past had a distinct powdery taste even after baked. The most important thing when using protein powder to bake with is to make sure you like it on its own. If you couldn't drink it mixed in milk (or however you usually drink it plain), then you probably won't like the taste of it mixed into your baked goods.
For me, I'd much rather pay a little more for a bag that tastes good, rather than spend money on a bag that I have to plug my nose to chug down (which I totally did for a good 6 months last year). I currently use Rich Chocolate ProFIT (which is naturally based) and am happy with the taste in smoothies and baked goods.
Where did you get those bright blue cupcake liners and HOW are they not greasy after baking?
These are grease-proof cupcake liners from Sweets & Treats and they are THE BEST!
Double Chocolate Protein Muffins
These double chocolate protein muffins are made with whole wheat flour, protein powder, no oil and butter and minimal sugar to make delicious lightened up breakfast treats.
Prep Time: 10 minutes
Cook Time: 20 minutes
Total Time: 30 minutes
Course: Breakfast
Category: Cake
Servings: 16 muffins (depending on size)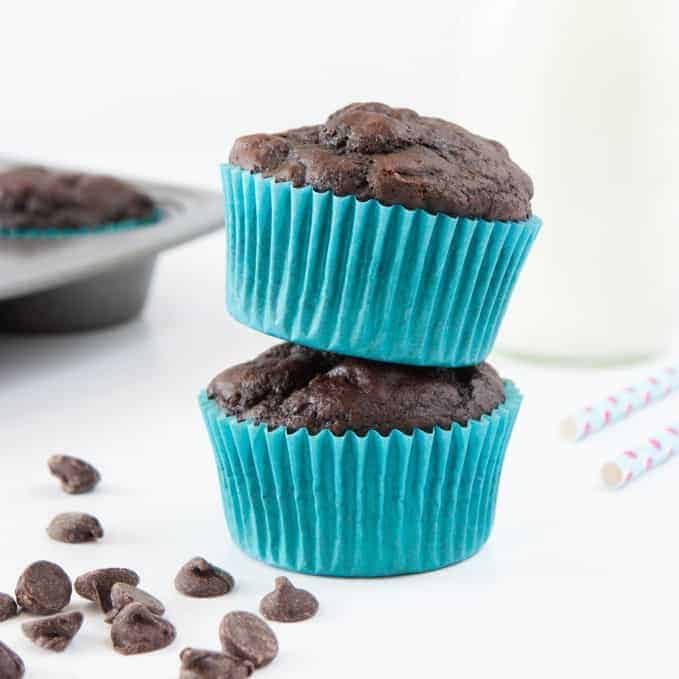 Ingredients
1 cup whole wheat flour
1/2 cup unsweetened cocoa powder I use Nestle
1/2 cup chocolate protein powder I use It Works Chocolate Profit
1/2 cup brown sugar
1 teaspoon baking powder
1 teaspoon baking soda
1/2 cup light vanilla yogurt
2 eggs
1 cup milk I used 1%
2 teaspoons vanilla extract
1 cup semi-sweet chocolate chips
Before you begin! If you make this, will you do me a huge favor and leave a review and rating letting me know how you liked this recipe? This helps my small business thrive so I can continue providing free recipes and high-quality content for you.
Instructions
Preheat oven to 375 degrees and place about 16 cupcake liners into muffin tins.

In a large bowl, combine flour, cocoa powder, chocolate protein powder, brown sugar, baking soda, and baking powder.

In a seperate large bowl, whisk together the vanilla yogurt, eggs, milk, and vanilla.

Using a spatula, fold the wet ingredients into the dry ingredients and only stir until the dry ingredients disappear and are incorporated into the batter. It is important to mix this by hand (and not a electric mixer) to prevent from overmixing. If your batter looks dry, add more milk (one tablespoon at a time) until it reaches the consistency of muffin batter. Gently fold in chocolate chips until evenly dispersed.

Scoop about 3 tablespoons of batter into each muffin tin and gently tap the muffin tin on the counter to smooth out the tops of the batter.

Bake at 375 degrees for 16-20 minutes or until fork comes out clean. Overbaking can result in dry & hard muffins, so watch the oven closely around the 15 minute mark.

Once baked, allow the muffins to cool on a wire rack for 5-10 minutes before removing from the pan. These are best enjoyed warm, so dig right in!
Last Step! Please leave a review and rating letting me know how you liked this recipe! This helps my small business thrive so I can continue providing free recipes and high-quality content for you.
Nutrition
Calories: 141kcal
Fat: 5g
Saturated fat: 2g
Cholesterol: 24mg
Sodium: 94mg
Potassium: 210mg
Carbohydrates: 19g
Fiber: 2g
Sugar: 11g
Protein: 5g
Vitamin A: 55%
Vitamin C: 0.1%
Calcium: 76%
Iron: 1.4%
These are probably the closest thing I'll get to a cupcake for breakfast, so I'm going to chalk this up as a win. If any one has a good protein muffin recipe, puhhlease let me know! I'm probably letting this one (out of nearly 29810) recipe successes get to my head, but I now want to make all. the. protein. muffins. Leave your links below to spread the muffiny love!