* If you follow me on social media, you know that all of November I will be posting cookie recipes in a series called, 30 Days of Cookies. That's 30 recipes to develop, make, photograph, edit, and write in 30 days. For a roundup of all posts, you can visit the 30 Days of Cookies Archive page. Today is Day 11 of 30 with these Chocolate Sandwich Cookies with White Chocolate Creme. Follow along on Instagram for behind the scenes cookie-making-madness and be sure to link up your own cookie recipes, using the hashtag #30daysofcookies.
I had someone request a homemade Oreo recipe a few weeks ago, which is how these came to be. After brainstorming different chocolate cookie doughs I could use as the base, one in particular came to mind. I wanted something soft, yet sturdy enough to hold a filling. Something chocolatey, but not too chocolatey. And something sweet, but not too sweet.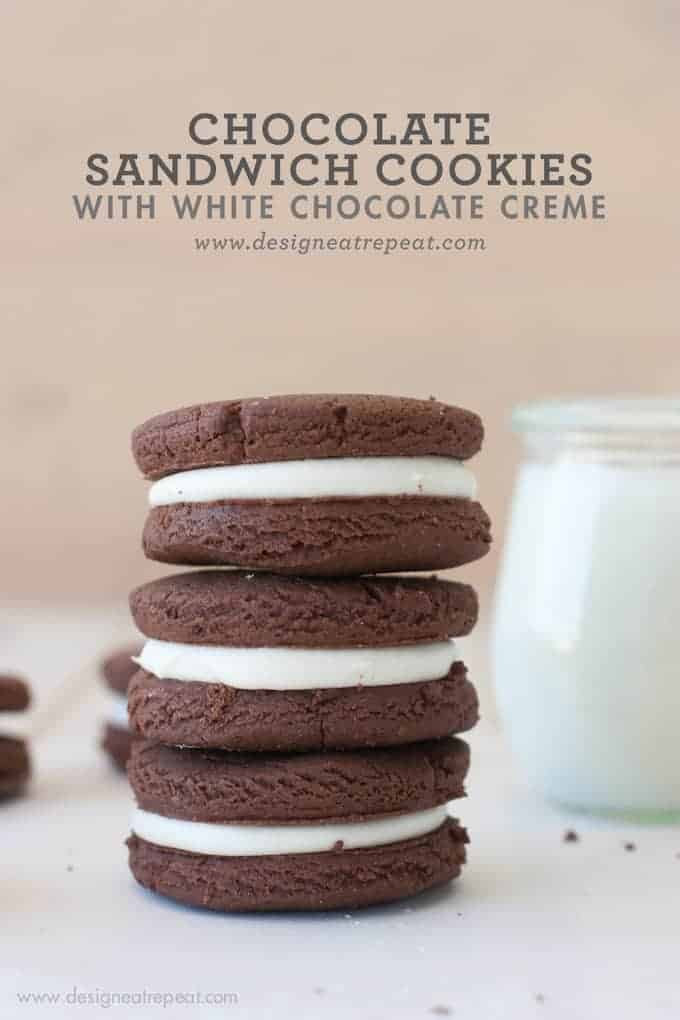 While still using my favorite chocolate cookie dough base recipe, I took a slightly different approach in how I rolled out the cookies. Instead of rolling them into balls, and placing them on the cookie sheet, I did something a bit different. Now, after rolling the balls, you flatten each one with the bottom of a cup. You then use the top of the cup to cut out 2-inch circles in each cookie. So why not just roll out all the dough together with a rolling pin? Well, this dough is slightly sticky to the touch, and transferring them off a counter may result in sticking.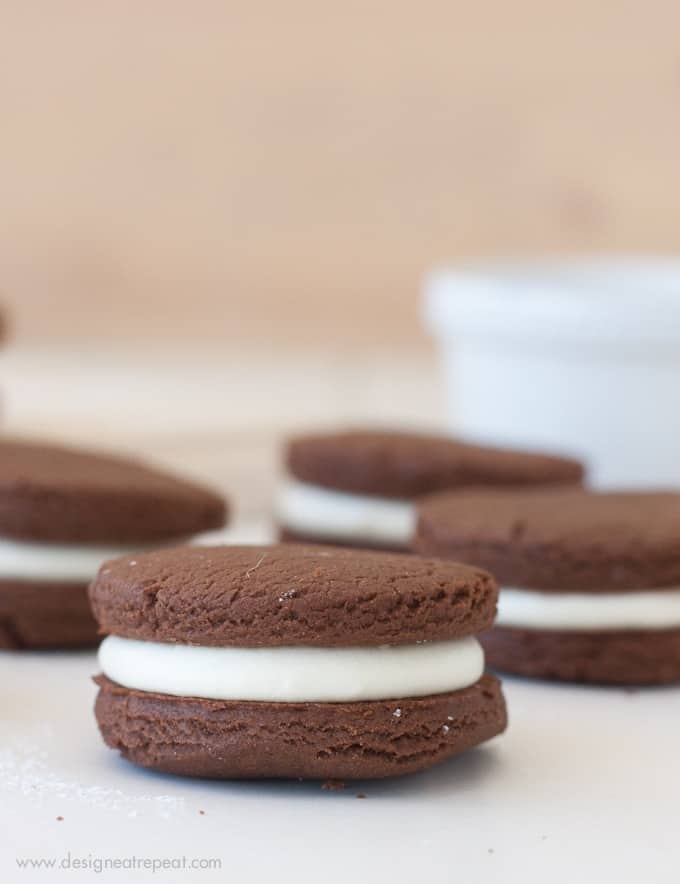 Inside each sandwich is a white chocolate cream cheese filling. Made with softened cream cheese and melted white chocolate, the insides are about as good as the outsides.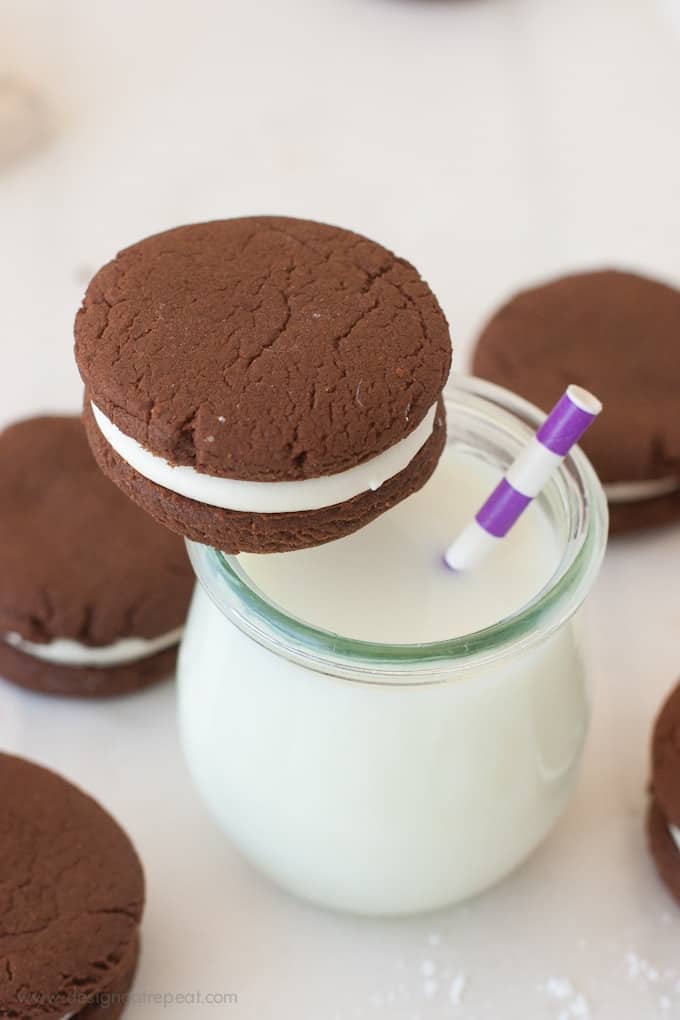 Chocolate Sandwich Cookies with White Chocolate Creme Filling
Prep Time: 10 minutes
Cook Time: 10 minutes
Total Time: 20 minutes
Course: Dessert
Category: Cookie
Servings: 18 sandwiches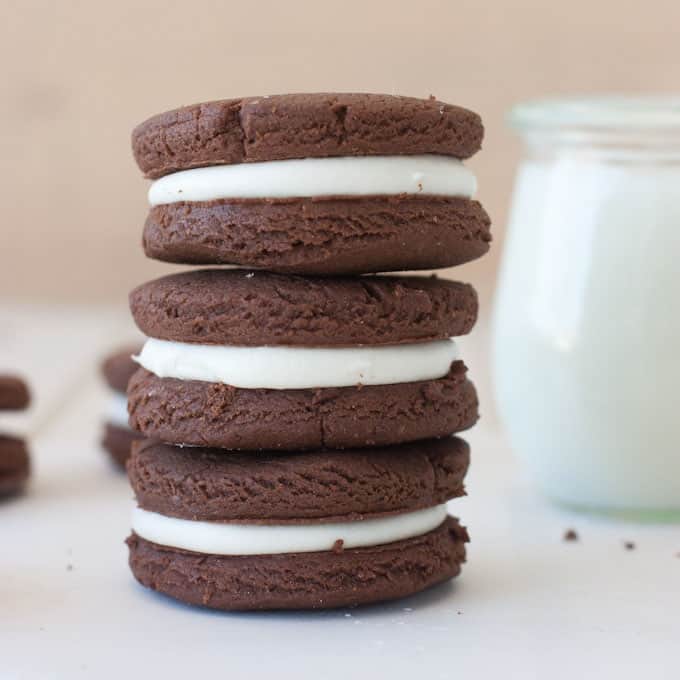 Ingredients
Dough:
1/2 cup 1 stick butter
1/2 cup dark chocolate chips
1/2 cup semi-sweet chocolate chips
3 tablespoons unsweetened cocoa powder
1/4 cup sugar
1/4 cup brown sugar
1 egg
1 teaspoon baking soda
2 cups all-purpose flour
Filling:
4 ounces cream cheese softened
1/4 cup 1/2 stick butter, softened
1/2 teaspoon vanilla
1/4 cup white chocolate chips melted
1/2 cup powdered sugar
Before you begin! If you make this, will you do me a huge favor and leave a review and rating letting me know how you liked this recipe? This helps my small business thrive so I can continue providing free recipes and high-quality content for you.
Instructions
In a glass bowl, melt butter and chocolate chips in the microwave on half-power for 1 minute. Stir mixture and continue to melt in 20 second increments in microwave until butter and chocolate is melted & smooth. Allow to cool for 2 minutes.

In a large mixing bowl, mix together chocolate/butter mixture, cocoa, white sugar, and brown sugar with electric mixer for 30 seconds. Add egg and stir until combined.

On low speed, add in baking soda and stir for 10 seconds. Slowly add in flour and mix for 30 seconds, or until dough is combined.

Scoop by the tablespoon and roll into balls. Place each ball on a parchment-covered baking sheet. Flatten each ball to 1/4 inch thick and using a 2 inch diameter cup, cut a circle into each pressed cookie. Remove excess dough after cutting and throw back into the ball to remix.

Bake at 350 degrees for 8 minutes. Allow to cool on the hot pan for 10 minutes before removing cookies from the tray.

To make filling, beat the cream cheese, butter, vanilla, and melted white chocolate chips on high speed with an electric mixer for 30 seconds. Add in powdered sugar and continue to beat for another 30 seconds. Pipe 1 tablespoon of filling between each "pair" of cooled cookies.

If not serving immediately, store in airtight container in the fridge for up to 3 days.
Last Step! Please leave a review and rating letting me know how you liked this recipe! This helps my small business thrive so I can continue providing free recipes and high-quality content for you.
Nutrition
Calories: 250kcal
Fat: 14g
Saturated fat: 9g
Cholesterol: 37mg
Sodium: 117mg
Potassium: 110mg
Carbohydrates: 27g
Fiber: 1g
Sugar: 14g
Protein: 3g
Vitamin A: 335%
Calcium: 39%
Iron: 1.2%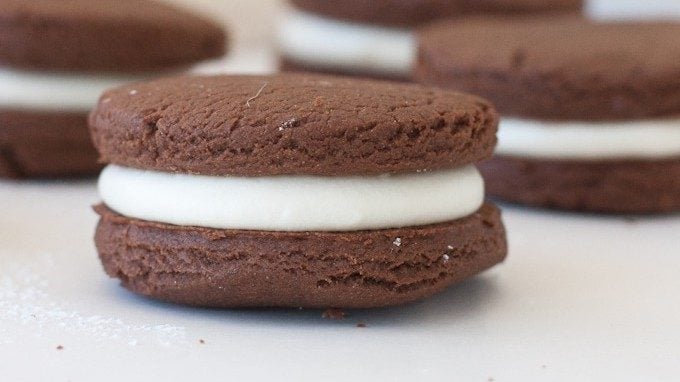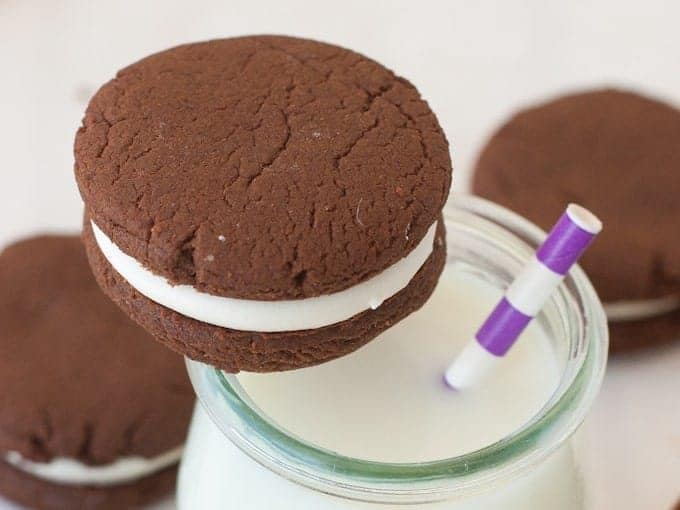 Oreo's are one of the few things I'll dunk in milk, and I found these cookies to be no exception. What's your favorite type of  milk-dunking cookie?