Yesterday marked my 3rd cookie fail of this 30 days series. We're talking about blondie bars that sunk faster than my flip phone in the deep end of my local swimming pool (true story). I'm pretty sure I didn't add enough baking soda, but nonetheless, they were 0% blog worthy. Luckily, not all baking fails end in defeat. Because these revel bars that I made right after made me forget all about my prior mishap.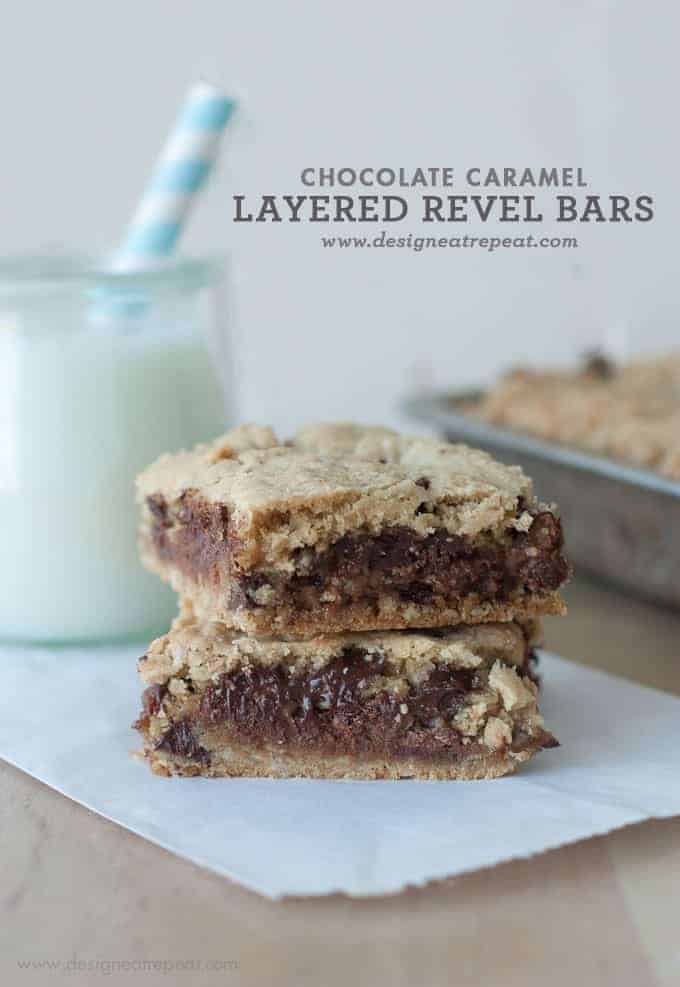 I still have a little bit of Halloween candy left over, and as an attempt to use it up, I threw in some Rolo caramels in the center of these bars for good measure. The dough is a soft chocolate chip oatmeal, that is perfect for holding together these sinful layers of chocolate caramel together.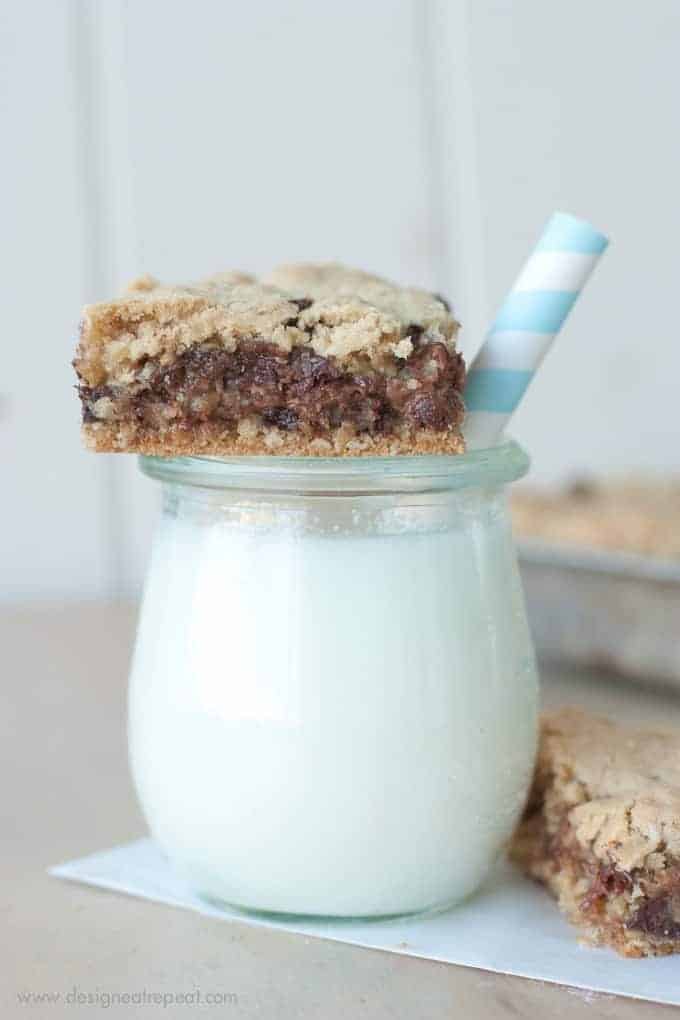 They almost look under-baked with all the center gooeyness, but don't let all that chocolate caramel fool you. Dipped in milk and oh my goodness, you might as well forget that calories exist.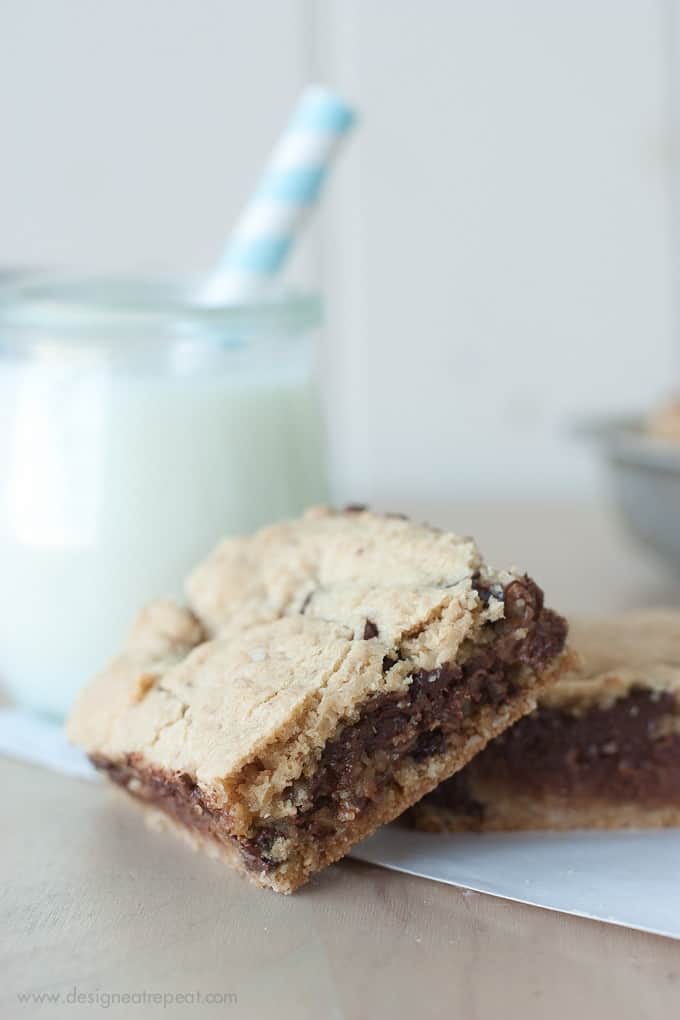 I'm a little bit tempted to pull these out of the freezer right now. Okay, a lot tempted.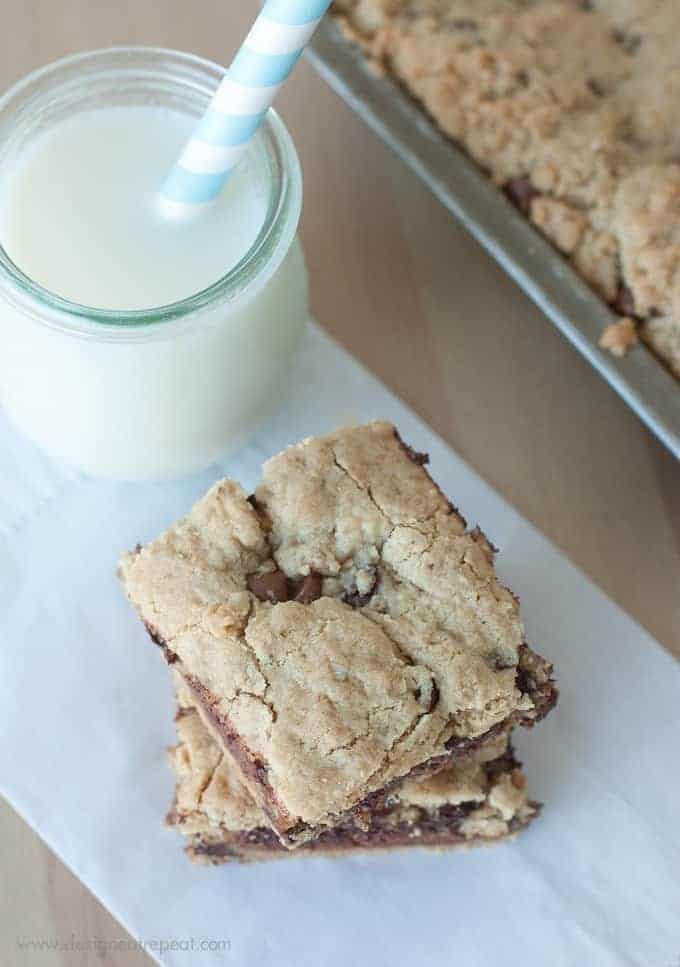 Chocolate Caramel Layered Revel Bars
This dough is a soft chocolate chip oatmeal, that is perfect for holding together these sinful layers of chocolate caramel together.

Recipe Source: Design Eat Repeat

Prep Time: 10 minutes
Cook Time: 25 minutes
Total Time: 35 minutes
Course: Dessert
Category: Cookie
Servings: 18 bars (depending on the size you cut them)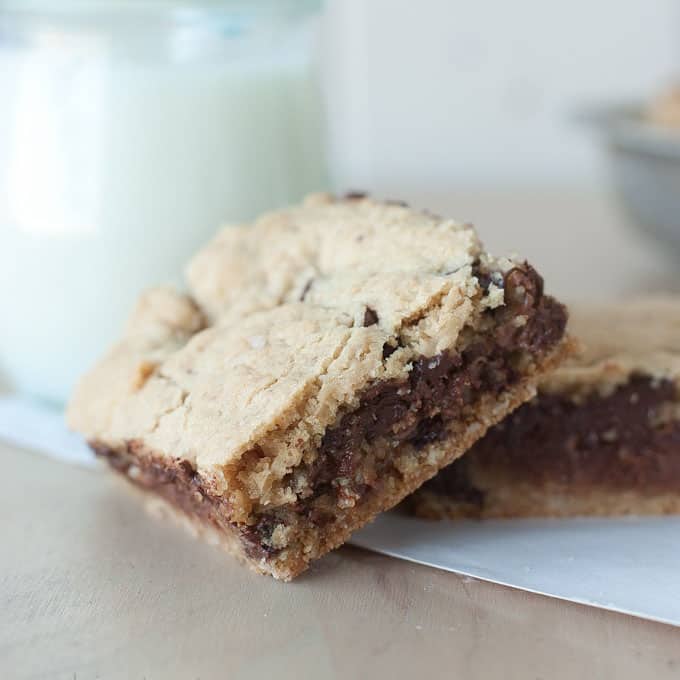 Ingredients
1 cup butter, softened
1 1/2 cups brown sugar
1/2 cup sugar
1 1/2 teaspoons vanilla
2 eggs
1 teaspoon baking soda
2 1/2 cups all-purpose flour
2 1/2 cups oatmeal
1 cup semi-sweet chocolate chips
1 cup milk chocolate chips
12 Rolo candies chopped
Instructions
In a large bowl, cream together butter, brown sugar, and white sugar with an electric mixer on medium speed for 30 seconds. Add in vanilla and eggs and continue to mix for 10 seconds.

Add baking soda and mix on low speed for 10 seconds. Add flour and oatmeal, and continue to mix until all flour is incorporated.

Add in the 1 cup of the semi-sweet chocolate chips to the dough and mix for 10 seconds on low speed.

Grease an 9x13 pan and evenly spread half of the cookie dough mixture on the bottom of the pan. Next, evenly layer the 1 cup of milk chocolate chips & Rolo candies on top of the cookie dough. Spread the remaining half of the cookie dough on top of the chocolate chips.

Bake at 350 degrees for 20-25 minutes or until toothpick comes out clean.

Cool completely before cutting. If not serving immediately, store in an airtight container for up to 3 days.
Nutrition
Calories: 402kcal
Fat: 18g
Saturated fat: 10g
Cholesterol: 47mg
Sodium: 179mg
Potassium: 139mg
Carbohydrates: 55g
Fiber: 2g
Sugar: 36g
Protein: 4g
Vitamin A: 375%
Vitamin C: 0.1%
Calcium: 50%
Iron: 2.1%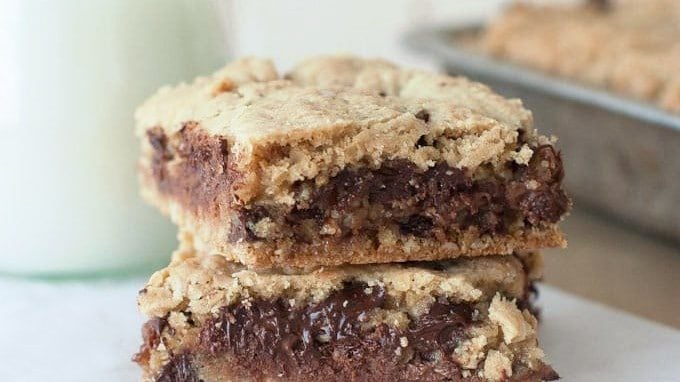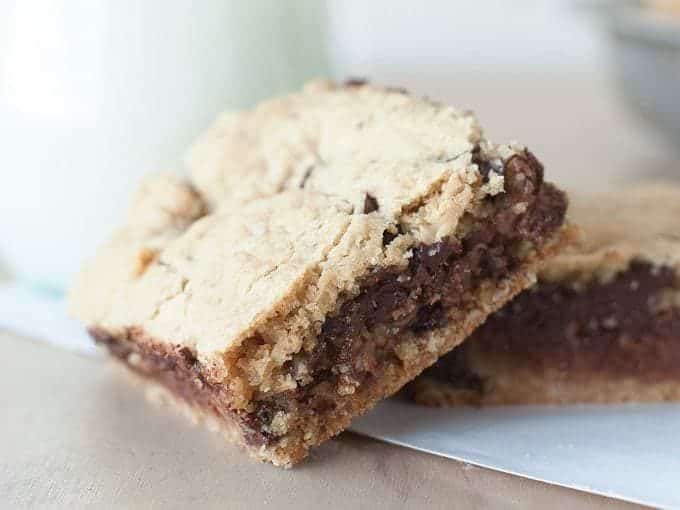 Some recipes are so hard to write about because all I want to do is gush over the deliciousness. So I'll do you a favor and stop right now. Partly because I could talk about them forever, but mainly because they're calling my name from the freezer.