Who remembers candy buttons from way back in the day? I don't know what it is about these ancient treats that make them so fun, but for a candy to make it through decades of being produced, there's something that people must like in order for them to stick around! I ran across these a few weeks ago at Party City and knew exactly what I would do with them. I keep graham crackers stocked at all times (because my snacking habits are that of a 3 year old) and considering I have a wall of Sixlet candies, the task was simple. Smother graham crackers with almond bark and pop on some candies to recreate a tastier version of these dotted treats!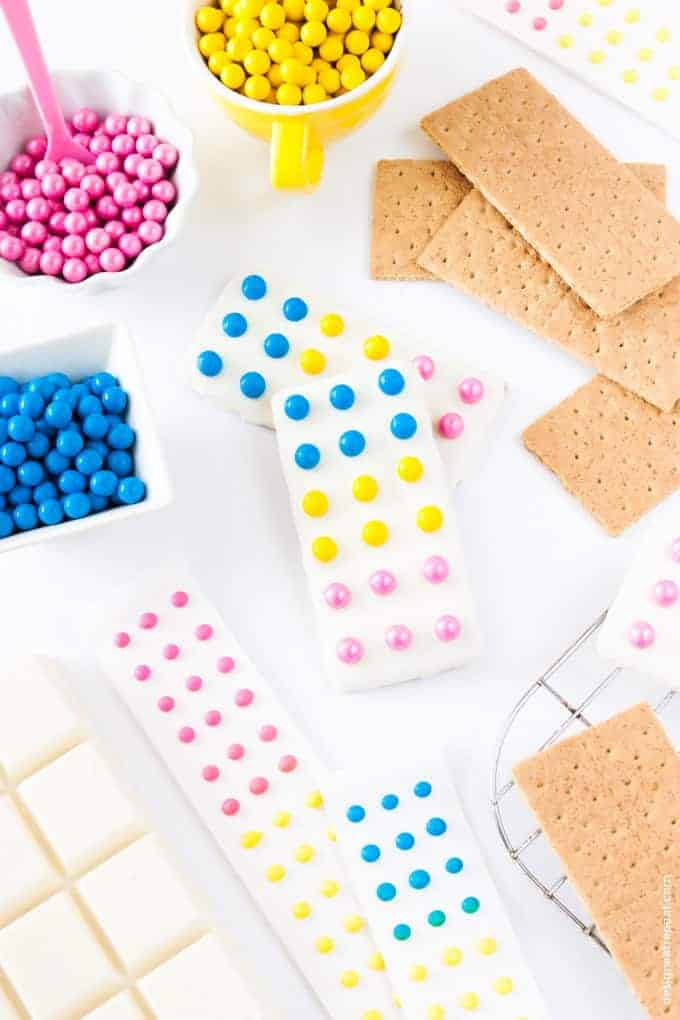 Making these couldn't be easier. Place a large piece of parchment paper under a wire cooling rack, lay the graham crackers on top, and then pour melted almond bark on top to create the even coating. You could also dip the graham in a bowl of almond bark, but considering graham crackers break easily, I found that this pouring method to work the best (and create the smoothness of the coating). You can use a spatula to scrape the almond bark "drippings" off the parchment paper below and then add that back to the bowl to reuse.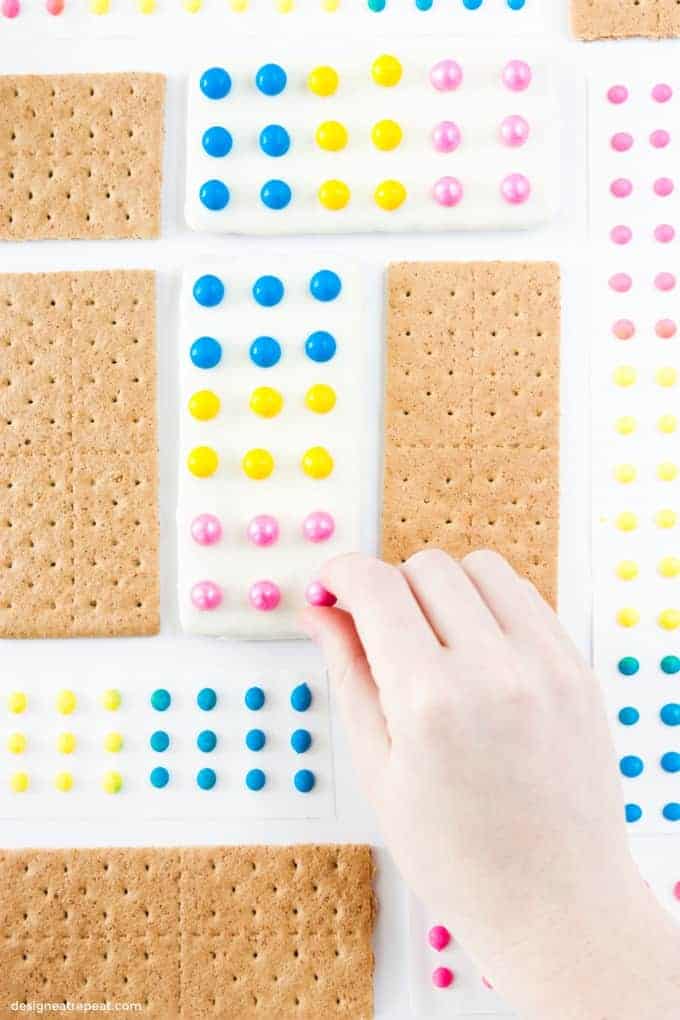 Because almond bark hardens quickly, I recommend coating 4-5 graham crackers and then quickly adding on the Sixlets before the coating sets. The amount of almond bark you use will depend on how heavy you coat each graham cracker, so if you want them to be completely covered (without seeing the cracker through a thin layer), you will want to be generous with the amount you add on. Besides, more almond bark = tastier treats!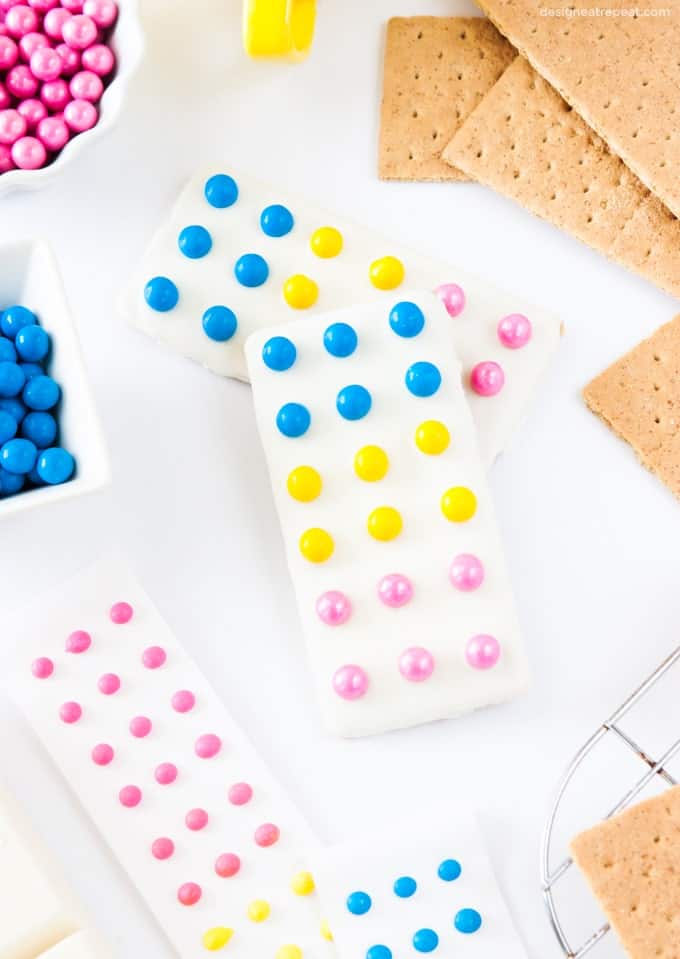 Candy Button Graham Cracker Bars
Cover graham crackers with almond bark and pop on some candies to recreate a tastier version of the vintage candy buttons!
Prep Time: 40 minutes
Cook Time: 5 minutes
Total Time: 45 minutes
Course: Dessert
Category: Candy
Servings: 8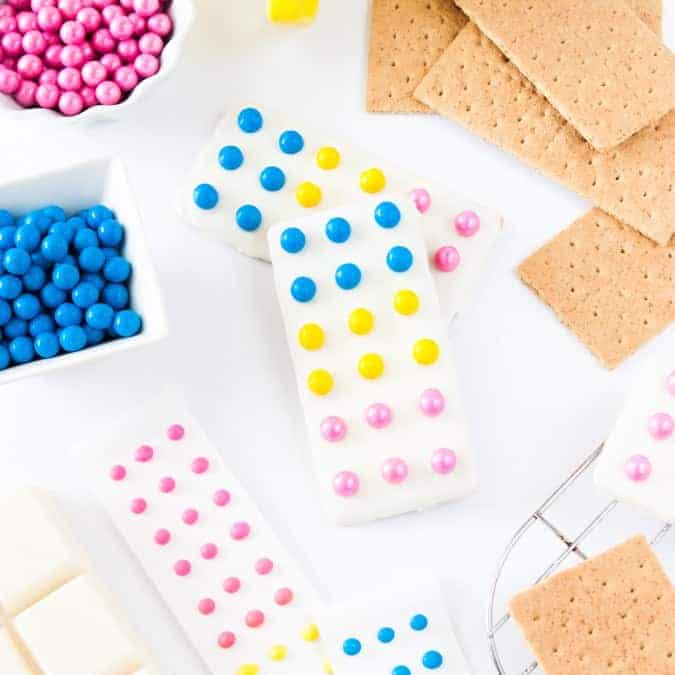 Ingredients
8 Graham Crackers
12 oz. White Almond Bark
Pink, Yellow, and Blue Sixlets
Instructions
Lay a piece of parchment paper on the counter and place a wire cooling rack on top.

Place graham crackers on wire rack, leaving 1-2 inches of space between each one.

Melt almond bark according to instructions on package and pour over the top of graham crackers (one at a time). You may need to use a pastry brush or back of a spoon to guide the almond bark along each of the corners/edges.

Once covered, add on 6 blue, 6 yellow, and 6 pink Sixlets to the top of each one.

Allow almond bark to harden before serving or storing!
Recipe Notes
I used about half of a 24oz. block of almond bark to coat 8 graham crackers. If you plan to make a bunch of these, I recommend purchasing several packs just as backup. Melting almond bark can be finicky when overheating, so be sure to melt on 1/2 power (if using the microwave) and follow the instructions on the package. The amount of almond bark you need will depend on how thick of a coating you want. I wanted these to be generously covered to cover the entire graham cracker, so I used a good amount on each one.
Nutrition
Calories: 377kcal
Fat: 13g
Saturated fat: 12g
Sodium: 104mg
Potassium: 24mg
Carbohydrates: 41g
Sugar: 33g
Calcium: 11%
Iron: 0.6%
These would make such fun vintage candy party treats or even just as a unique birthday party favor. Pop each one in a clear plastic bag, add a tag, and send each guest home with a candy button graham cracker instead of a super sugary candy bar. These could also be a fun activity to let the kids help with. Let them spread on the almond bark (or white frosting if they aren't old enough to spread the warm almond bark) and allow them to "decorate" each one with the Sixlets. They might not look picture perfect, but it sure would be fun for them to do!