I'm bacckkkk! My two week "attempt-to-stay-off-my-computer" holiday vacation is over and I'm ready to take on the new year! My apartment got a full spring mid-winter cleaning this weekend (thanks to my mom for coming to help!) – which included the dreaded pantry clean out, as well as a new found love for Magic Erasers (why am I just now discovering these things?!). The bad thing about pantry clean-outs is well…pretty much everything. But the good thing about them is that you discover things that you forgot fell into the deep, dark black holes I like to call my kitchen cabinets. A few of the things I found while cleaning out were leftover almond bark & these individual caramel dip cups, so a caramel apple kit was in order! And although Christmas was just two weeks ago, we're going to jump the gun on Valentine's Day projects this year before it completely gets away from me like it does every. single. year.
If I had to rate apples on my list of favorite fruits, they would probably fall somewhere to the bottom. I like them and all, but strawberries & peaches definitely have them beat. But slap on some caramel and we're talking about a whole 'nother story. Caramel truly makes everything better.
With the holidays behind us, you may be looking for a way to use up that extra almond bark (other than pretzels) – and what better way than to slather it on some apples! To start, I inserted a wooden stick into the tops of 3 apples, melted about 3 squares of almond bark on half-power in the microwave until melted, and then dipped each apple in. I like using a small, tall bowl so that I can get a deeper dunk on the apples. If you use a shallow bowl, you may have trouble getting the almond bark to cover the sides of the apples. Once dipped to your liking, let the excess bark drip off the bottom and then set on a piece of parchment paper to cool. Once the almond bark is just about set, gently press on the heart candy. If you add it too soon, the weight of the candy may make it slide off. If you want to be 100% safe, you can let the apples fully harden and then melt a bit more of almond bark to create "glue" to stick on the candy. If you go this route, you'll want the almond bark to be slightly hardened (not runny) before dabbing it on to the back of the candy.
Once your apples are hardened & set, you can pop each one in a grease-proof baking cup for a cute presentation! And while we're talking about cute presentation – let's not forget about these glittered wooden sticks that I won in a little Instagram contest hosted by the shop's owner. Buh-bye boring popsicle sticks, hello glammed-out gorgeousness! Add on some red or pink sprinkles to the caramel cups and serve with a cute little spoon or wooden ice cream paddle to allow your guests to slather on the good stuff! And if you're planning to gift these to your lovers, you can add on this printable "You're As Sweet as Caramel" tag. It comes as a digital download, so you can print as many as you need!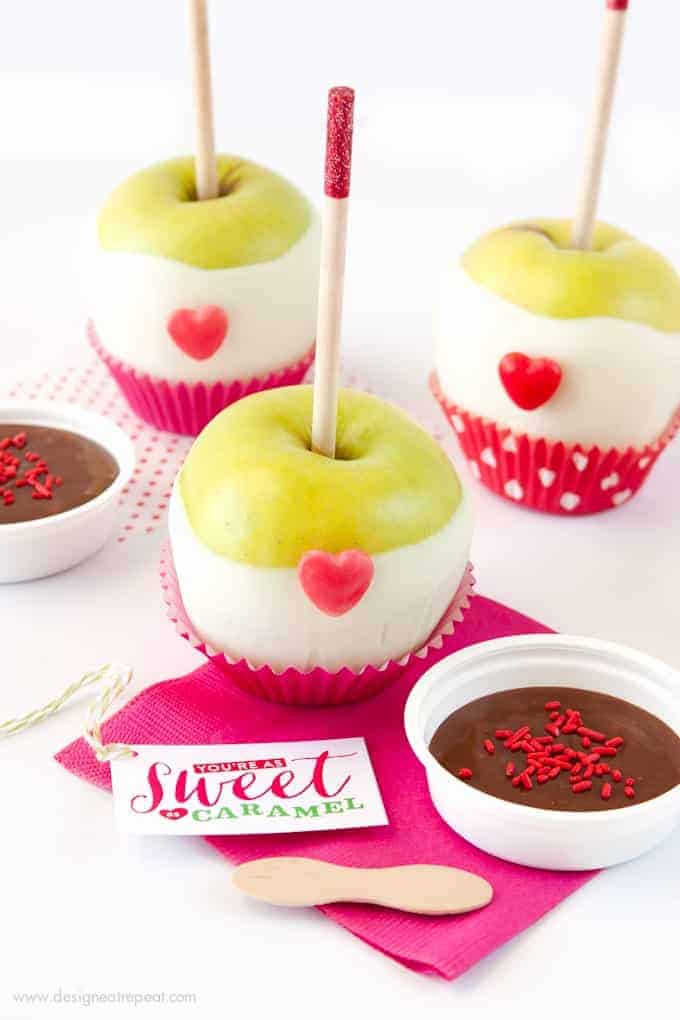 If you're serving these at a party, you can also put a few apple cutters on the table for an easy way to dig right in. (I use one similar to this.) Just be sure to slice the apples right before serving, otherwise they will turn brown real quick!
And that's it! If I find these kind of goodies in my pantry every time I clean it out, we may start to have a problem. But for now, using up some extra almond bark and caramel didn't turn out too bad! I'm now off to re-clean the kitchen that we cleaned yesterday to get it back to its sparkly shape. We'll see how long this "clean-immediately-after-baking" new years resolution turns out for me. Because as you can see from above, the "stay-away-from-sugar" resolution hasn't quite kicked in yet.