It's been around four months since I last posted a informational tutorial, so it's time to roll a new one out! There was such great feedback on this post about photography, that I thought I'd share the small business tools that I couldn't live without. It took me a long time to figure out a system for the most efficient workflow and while I still feel like I have room to grow in this department, I wanted to share what has worked for me in hopes that it can help another business owner. Depending on the stage of your business, it may not make sense to invest in some of these programs but each one packs a powerful punch in streamlining how I work. I'll warn you now that I have lots to say, so this will be a long (but hopefully helpful!) post.
Adobe Software
This is definitely the biggest investment of the programs here, but it is also the most necessary for the type of work I do. At most hours of the day, I have at least 2-3 of my Adobe programs open at all times and I'm pretty sure my computers hate me for it. It's safe to say that my computers only sleep when I do! So while the Adobe programs are a "must have" in my mind for anyone looking to do professional design work, you will also want to think about what exactly you are needing to do and then decide whether you need the whole Suite or just a individual program or two. There's no use in buying access to the entire suite if you are just needing Photoshop to edit images. One question I get often is what the difference is between all the programs. I plan to do a more in-depth about this later on, but here's what I use each program for:
Remember that while each of these programs (besides Lightroom) has a similar interface, they all come with a learning curve. Each has different functions, which means that you will need to be devoted to learn how to use them. There are great tutorials online that can be found with a simple Google search, so don't let the programs intimidate you. You can learn them if you are committed!
Like I mentioned, Adobe programs are definitely an investment but there are ways to cut down the price. First off, if you don't need the entire suite, you can buy access to individual programs and save money. If you are a student, you can also get great discounts through your school or through online student sites. Although I have the actual programs installed on my computer, Adobe has begun a Creative Cloud program where you pay monthly to have access to the programs. I'm dreading the day my CS6 programs are "out of date", so I'm going to put off getting the cloud as long as I can. I'm not a big fan of only being able to get the programs with Creative Cloud, but I guess there's not much we can do to stop them!
Basecamp
The second program that I use to manage client projects is Basecamp. Basecamp is basically a portal where you can communicate with your clients, aside from email. I didn't start using Basecamp until this year and now I don't know what I would do without it. After the initial contact has take place and my client has booked a project, I invite them to Basecamp where they can complete the questionnaire, upload any images they want in the project, as well complete the to-do list that I have set up for them. Throughout the design process, I will upload proofs directly to their Basecamp and they can provide me with feedback in our conversation chain. How is it different than just emailing? Basecamp allows you to have all your documents in one place. Instead of having to dig through emails for client questionnaire documents or feedback, I can easily find all the documents in their Basecamp project. It also allows the client to know exactly what they need to complete before the project begins and it helps us both get on the same page with due dates and expectations.
Basecamp does charge a monthly fee to use, so you will want to determine how many projects you would use at one time to see if the investment is worth it. My Basecamp plan costs $20/month and allows me to have up 10 active projects at one time (which is more than enough). After you complete a project, you can Archive it and then that project is no longer counted toward your ten. But like I said, the amount of projects you manage at once will determine whether $20/month is worth it. I had actually signed up for Basecamp about a year ago, but cancelled after a few months because it was not worth it to only have 1-2 projects on there at once. Now that I have several clients per month & often have projects that last 1-3 months, Basecamp has been a lifesaver in keeping everything organized and on track.
EchoSign
Because I work with bloggers & business owners all over the country (and world!), it would be impossible for me to have a hand signed contract mailed to me for each project. I use EchoSign for my clients to sign contracts and agreement forms and love the ease of use. I simply upload my contract PDF to Echosign, determine the "signature fields" and then send the contract directly to the client. Once the client signs it, EchoSign automatically sends us both copies to file and we're done! So much easier than having to make a client print out the contract, sign it, scan it back it, and then email it back to me. Ain't nobody got time for scanners.
EchoSign starts at around $15/month, but can also be purchased in one yearly payment. It may seem a bit pricey for a software just to sign something, but when you think about value it brings, there really is no debate for me.
Paypal
Most people know what Paypal is, so I'm not going to go into much detail on this one. When it comes down to it, I use Paypal because again, it is the easiest and most well-known online payment system. While Paypal does take a percentage of each transaction, I work it in as a business expense so it doesn't seem so bad. There may be better payment systems out there with lower fees, but I honestly haven't had the time to look into them all. Paypal works well for me, is widely used throughout the web, and is a system I trust.
Planning Software
With all the fancy planners out there, it may come as a surprise that I use a basic monthly planner from Staples ($12!), Google Calendars, TeuxDeux, and printable calendars to keep track of my schedule. A friend introduced me to TeuxDeux back in college and it's a great tool to manage day-to-day tasks. I also use Google Calendar to schedule blog posts, so that it automatically sends me an email reminder when the post is scheduled to go up. This way, I can check and make sure it's good to go before it publishes. While I use my simple planner for client work, I also go through quite the amount of paper with printable calendars for simple planning. I like to jot down post ideas on these and then once they are solidified, I will transfer them to my actual calendars. This just helps so I'm not filling up my real planner with random post ideas, and also allows me to print as many copies as I need.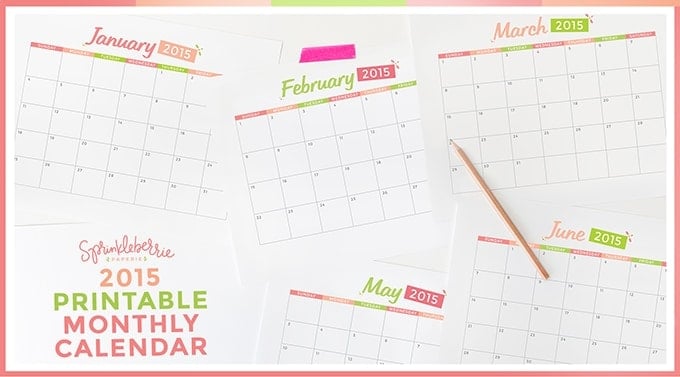 Dropbox
Oh my gosh, I almost forgot to include Dropbox in this list! Shame on me. Dropbox is my right hand man for everything. Back in college, I had two external hardrives crash (without recovery) and ever since, I have stored my files on a cloud server like Dropbox. Dropbox has an app you can download on your Mac (not sure if they have one for Windows), so you can easily access your Dropbox folders just as you would any other file on your computer. They also have apps for iPads and iPhones so you can search for files when you are away from your computer. There have been many times that I am mobile & need to resend a client proof or double check a file, and Dropbox allows me to easily search for that client's folder so I can find the file in no time. I also get asked often how post my "real" non-iPhone photos on Instagram and Dropbox is the answer. I can simply go to the app on my phone, find the edited image (the one I posted on my blog), download it to my Camera Library, and upload it to Instagram or another social media account.
Dropbox is free as long as you keep your under 2 GB. I have the Pro account (1000 GB), and it costs me $9.99/month. But this is nothing compared to the hundreds of dollars I have spent on external harddrives & service fees to try to restore those dang things. I used to think the cost was steep for holding files, but it is probably one of the best investments I make. With any kind of file storage, it's always safe to keep a backup of a backup, but having my files on Dropbox gives me a piece of mind that they will be there when I need them.
Well, that wraps up my list of must-have small business tools for today! Each one plays an important role in my workflow and I hope this opens some doors in discovering if some of these programs will help you. Looking for more tutorials? Check out my Top Five Blog Photography Tips and stay tuned for more information tutorials in the future! If there's anything you'd like to hear more of, leave me a comment and I will take it into account for the next business & blog tips post!
*This post has not been sponsored by any of the companies mentioned in this post. I am not affiliated with any of these companies and they do not know I am writing this post. This post does however contains affiliate links, which means that I may get a commissions if you decide to purchase one of these tools. I only recommend products & systems that I use and love myself and am happy to openly share my personal systems in hopes to help another entrepreneur.