Recreate the Little Debbie Cosmic Brownies with this 7-ingredient Super Fudgy Brownie Pie! Serve alone or top with ice cream for a super indulgent dessert!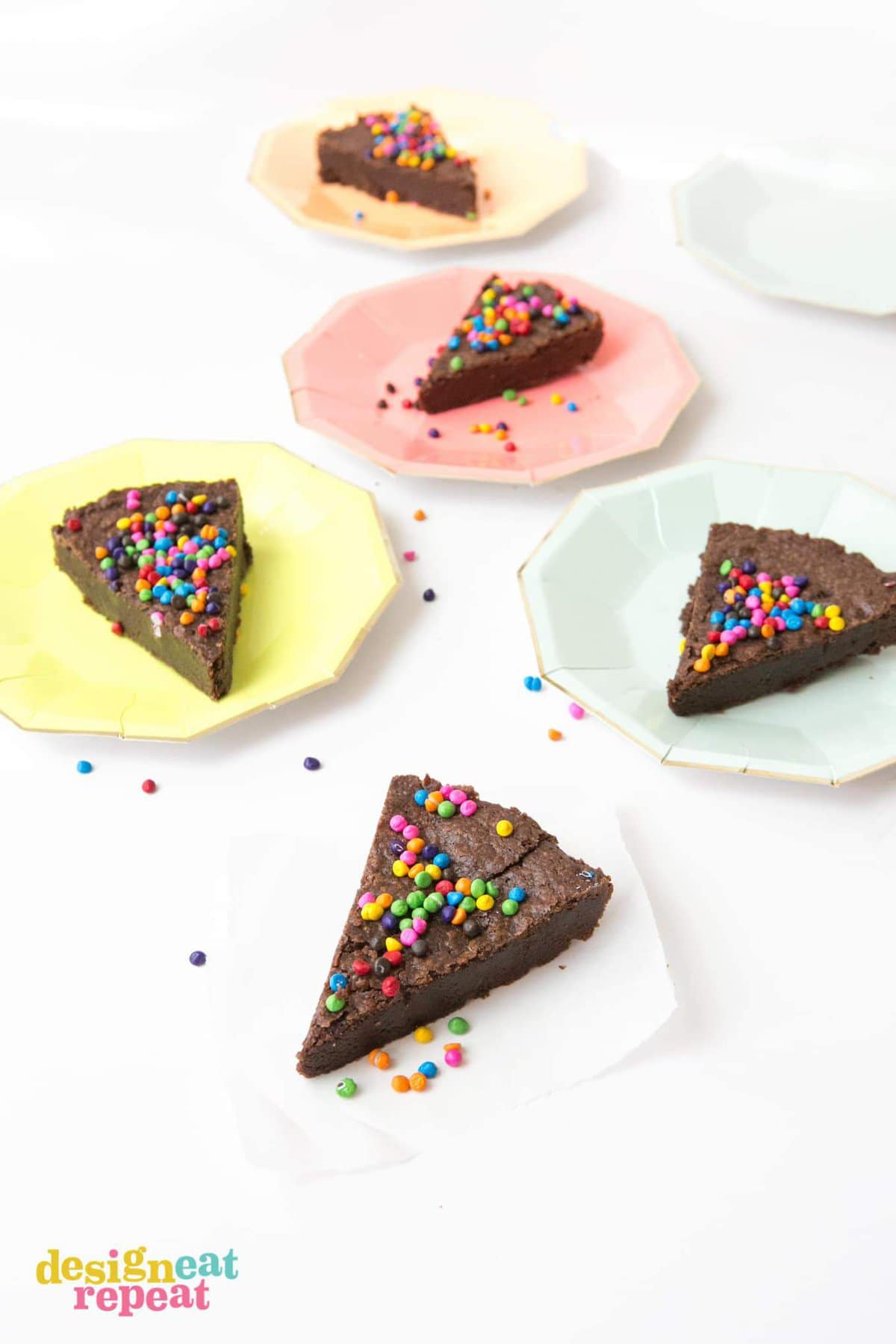 I've had this recipe in my notebook for awhile, but have hesitated to post it because I wasn't sure what to call it. On one hand, I wanted to call it brownies. But on the other hand, it's different than normal brownies. It's not cakey or fluffy, but rather the fudgiest, most dense brownies in all of brownie land.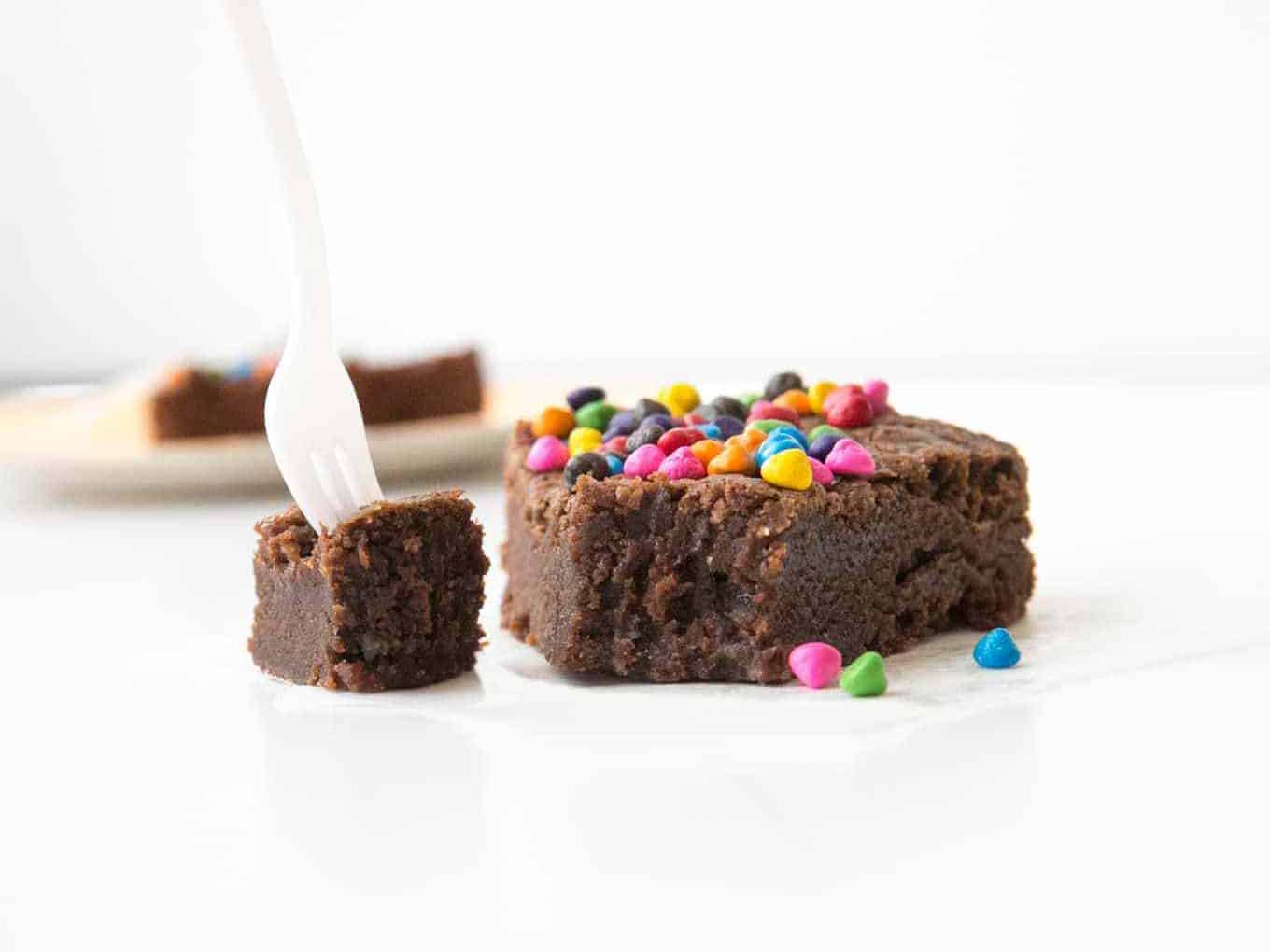 My sister & I were discussing the other day that Little Debbie Cosmic Brownies are barely brownies. We concluded that they are basically blocks of a mysterious fudge substance that only Debbie herself knows the secrets of. So in a sense, this super fudgy brownie pie is a lot like Debbie's but without all the secrets. In fact, the answers to these slices of fudgy goodness lie within this post.
Unlike Debbie's (we're on a first name basis, I guess), I didn't top these with a frosting or ganache because of one reason and one reason only. Because I didn't have any heavy cream and it's Sunday and the thought of leaving the house was too much to ask of my weekend-self. So I left it out, but by all means, slather some chocolate frosting on these if you ever so please.
The key to getting these to fudge level 10 is to pop them in the refrigerator after they cool to room temperature. This allows the pie to set and give it the fudgy texture. If you don't refrigerate it, you may cut into the pie and wonder why it looks underbaked.
Once refrigerated, cut into slices and serve away! Although these are beyond rich by themselves, I wouldn't judge you for slathering on a scoop ice cream.
And because I felt like experimenting with video this weekend, I create a video how-to on how to make this super fudgy brownie pie! I have a lot of work to do in the video department, but it's a start!
Super Fudgy Brownie Pie
Recreate the Little Debbie Cosmic Brownies with this 7-ingredient Super Fudgy Brownie Pie! Serve alone or top with ice cream for a super indulgent dessert!
Prep Time: 10 minutes
Cook Time: 25 minutes
Total Time: 35 minutes
Course: Dessert
Category: Cake
Servings: 8
Ingredients
3/4 cup sugar
1 cup all-purpose flour
1/4 cup unsweetened cocoa powder I use Nestle
1/2 cup unsalted butter
1 cup milk chocolate chips
1 1/2 teaspoon vanilla
2 eggs
Optional:
1/4 cup Rainbow Chip Crunch Sprinkles
Instructions
Preheat overn to 350 degrees.

In a large bowl, mix together sugar, flour, and cocoa powder with a whisk. Once incorporated, set bowl aside.

In a glass bowl, melt butter and chocolate chips in microwave for 1-2 minutes (or until chips are melted). Once melted, carefully remove from microwave and use a whisk to mix together melted chocolate chips and butter until creamy. Add vanilla and eggs to chocolate mixture and continue mixing with whisk until incorporated.

Once creamy, pour the chocolate mixture into the flour mixture and mix until incorporated and flour can no longer be seen. This usually takes 20-30 seconds. (I prefer making brownies without an electric mixture to prevent from over beating.)

Line a 9 inch round pan with aluminum foil and lightly spray with non-stick cooking spray. Pour in the brownie mixture and use a spatula to smooth off the top.

Bake at 350 degrees for 22-24 minutes or until toothpick comes out clean.

Immediately after removing from the oven, sprinkle on candy chips and use the bottom of a cup to press sprinkles into brownies.

Let cool for 1 hour and then refrigerate for one hour. Refrigeration is necessary to allow the pie to set and achieve that dense, fudgy texture!
Nutrition
Calories: 368kcal
Fat: 18g
Saturated fat: 11g
Cholesterol: 74mg
Sodium: 33mg
Potassium: 72mg
Carbohydrates: 47g
Fiber: 1g
Sugar: 33g
Protein: 4g
Vitamin A: 465%
Vitamin C: 0.2%
Calcium: 41%
Iron: 1.6%
So since we are on the topic of Little Deb herself, what was your favorite treat as a kid?