Is it just me or do all these holidays need to slow down? Seems like last week was Christmas, yesterday was Valentine's Day, and now St. Patrick's day is right around the corner. I always think a year seems so long until I look back and wonder where time has gone. Anyways, if you were around back in November when I did 30 Days of Cookies, you may remember these heavenly little peanut butter morsels. They ended up being one of my favorites in the series, so I thought I'd reinvent them to have a little Irish charm.
When I think of baking for St. Patrick's Day, I usually think of shamrock-shaped decorated sugar cookies. I haven't really been in the cookie decorating mood lately, and since the thought of creating a huge frosting mess & a sink full of dishes doesn't sound like something I want to tackle right now, I decided to take a more simpler route to this years St. Patrick's Day cookies.
The folks at SweetWorks reached out to me a while back asking if I had any use for sixlets in upcoming holiday posts. Heck yes, I'm always up for using them in recipe/DIY posts. I have this theory that throwing Sixlets into any photo automatically makes the image 5x more fun.
Am I right, or am I right? Colorful Sixlets cure boring photos. Always. I also have that theory for colorful straws, but that is a topic for another day.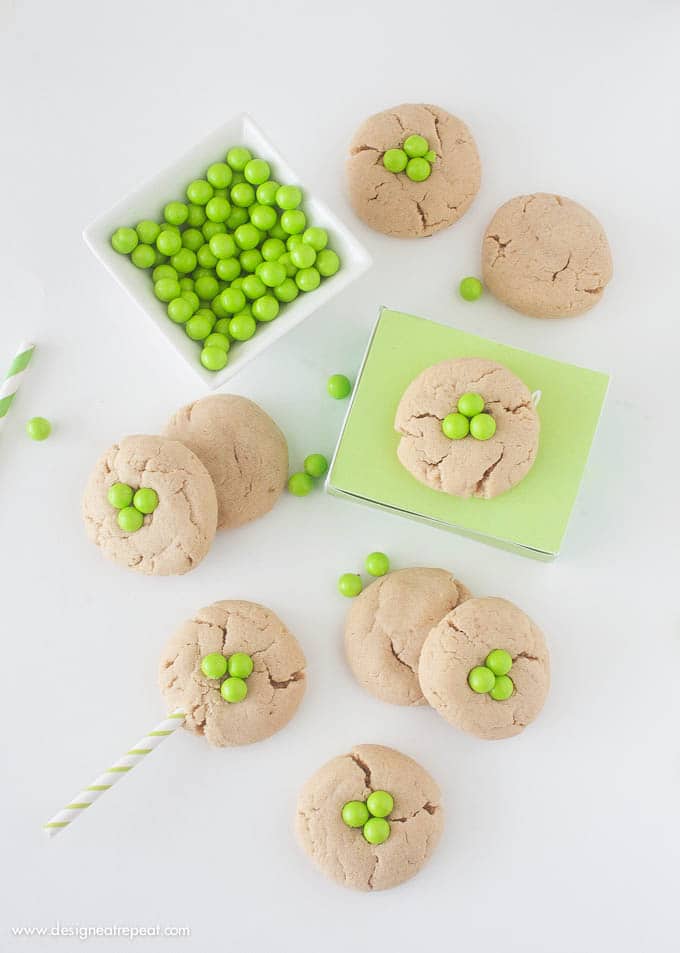 These cookies would be a fun activity for the kiddos, as you can easily have them decorate the cookies by popping in the Sixlets. I also got crazy with experimenting and rolled a few of the cookies in gold sprinkles. Some shamrocks & gold nugget St. Patrick's Day cookies to welcome the leprechaun fest in style.
What You Need:
Peanut Butter Cookies // Green Sixlets // Straws Optional for Cookie Pops
Shamrock Peanut Butter St. Patrick's Day Cookies
An easy St. Patrick's Day cookie idea using peanut butter cookies and green candies.
Prep Time: 10 minutes
Cook Time: 10 minutes
Total Time: 20 minutes
Course: Dessert
Category: Cookie
Servings: 42 cookies (up to 48 depending on size)
Ingredients
3/4 cup butter, softened (1.5 sticks)
3/4 cup creamy peanut butter
3/4 cup sugar
3/4 cup brown sugar
1 egg
1 teaspoon vanilla
1 teaspoon baking soda
2 1/4 cups all-purpose flour
Green Sixlets
Before you begin! If you make this, will you do me a huge favor and leave a review and rating letting me know how you liked this recipe? This helps my small business thrive so I can continue providing free recipes and high-quality content for you.
Instructions
In a large mixing bowl, cream together butter, peanut butter, sugar, and brown sugar with electric mixer for 30 seconds. Add egg and stir until combined.

On low speed, add in vanilla. Add baking soda and stir for 10 seconds. Slowly add in flour and mix for 30 seconds, or until dough is combined.

Mix in white chocolate chips.

Scoop into 1-tablespoon sized balls and place on a parchment-covered baking sheet. Lightly flatten the tops of each cookie so they are more like thick discs. This will help them bake more evenly.

Bake at 350 degrees for 9-11 minutes.

While warm, press 3 green Sixlets into the tops of each cookie. Allow for the cookies to continue to cool on baking sheet for 5-10 minutes until removing cookies from the baking sheet.
Last Step! Please leave a review and rating letting me know how you liked this recipe! This helps my small business thrive so I can continue providing free recipes and high-quality content for you.
Nutrition
Calories: 111kcal
Fat: 5g
Saturated fat: 2g
Cholesterol: 12mg
Sodium: 78mg
Potassium: 44mg
Carbohydrates: 13g
Sugar: 7g
Protein: 2g
Vitamin A: 105%
Calcium: 8%
Iron: 0.5%
Stay tuned in the next few weeks for some more leprechaun inspired projects! I have lots of green up my sleeve.