Add some pizzaz to your bridal shower, bachelorette, or wedding gifts with these Sprinkle Ring Wedding Gift Tags!
It's May which means it's about that time of year that Facebook transforms into a wedding album and all spare time (and $$$) is spent online shopping for dresses to wear to all these festivities. Which don't get me wrong is fun and all, but what I'm really excited for is that I'm declaring it sprinkle month on the blog. Which basically means that most (if not all) projects are going to be centered around sprinkles. I've had the idea to do something like 30 Days of Cookies with sprinkles for about a year now, but have put it off because I've been debating whether to do daily projects or scatter them throughout the month. But considering I'm not ready for another 30 consecutive days post commitment, we're just going to declare this sprinkle month and see where it takes us.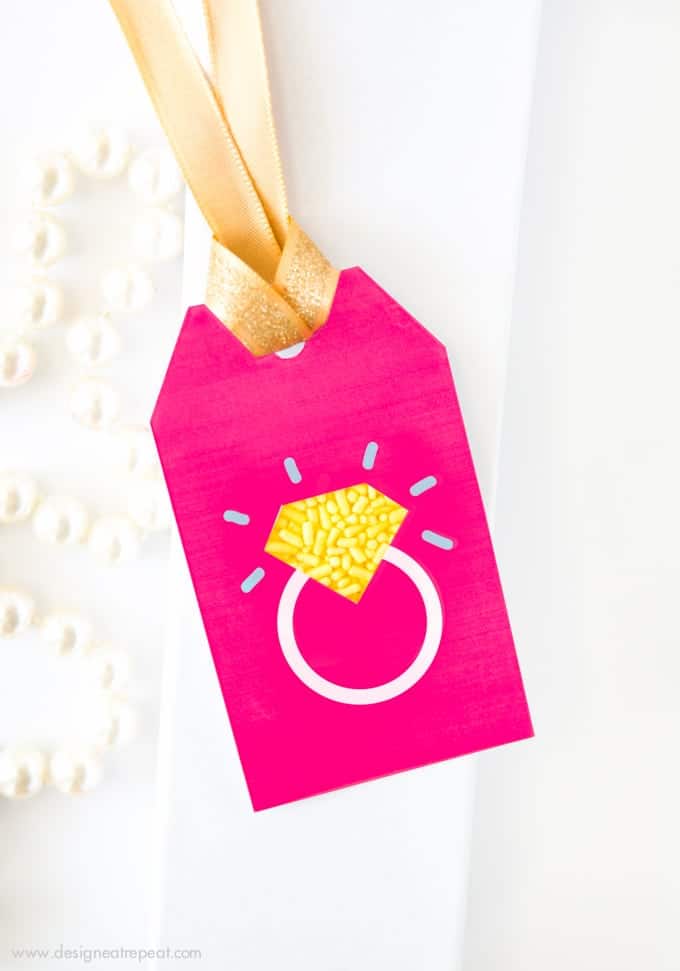 And we're going to start with these sprinkle-filled wedding ring gift tags! Is it just me or does the wedding gift table always seem to be filled with white, silver, and gold wrapping? Ya know, the "safe" stuff. Well, I think it's time to switch that up and add a little color to the table by adding bright colors that are sure to catch the attention of the newlyweds as they're unwrapping the 100th white wrapped gift in their sea of white wrapped gifts.
After designing these, I printed them on a pre-cut Avery gift tag template, cut out the "ring" with an exacto knife, and then sandwiched a small plastic pouch of sprinkles in between two tags. After taping down the pouch to one of the sides, I then lined the edges of the tag with double sided tape and attached the back side. Pop on a ribbon and you've got yourself a good and dandy sprinkalicious pouch that not only makes a fun gift tag, but can also be used to decorate a cupcake or two.
To Download & Print Avery Labels:
A. Download & save the Avery Template of your choice (pink or gray) to your computer.
B. Print the tags through Avery's online software by:
1. Going to the Avery homepage, and click "Start Now" on the left side of the page.
2. On the right side, click "Open Project" and upload the file you just downloaded. Print on gift tag sheet & use an exacto knife to cut out the diamond shape.
These would be fun to use on anything from a bridal shower, bachelor party, or wedding gift! Or even as party favors for guests at a bridal shower. Print as many as you need and in the wise words of Beyonce, if you liked it then you shoulda put a (sp)ring(kle) on it.
This post was created in partnership with Avery. All content, templates, and opinions are that of my own. Thank you to my sponsors who help keep this blog & free printables running!