When I studied abroad in Italy a few years ago, my roommates and I discovered the wonders of Pocky sticks and instantly became hooked. In fact, I'm pretty sure we kept that grocery store in business during that semester full of Pocky, pasta, and peanut butter M&M sales (aka. carbs, carbs, and more carbs). Before we headed home, I stocked up on several boxes of Pocky because I was pretty sure that I would never be able to find them again (which would have been soul crushing). Well, it turns out World Market and about every other specialty store carries them, so my precautionary stockpiling was unnecessary (but rather delicious). So when I realized that I've never done a pocky recipe/project before now, I decided that the time to change was now. And what better way than a good ol' semi-creepy Halloween treat idea!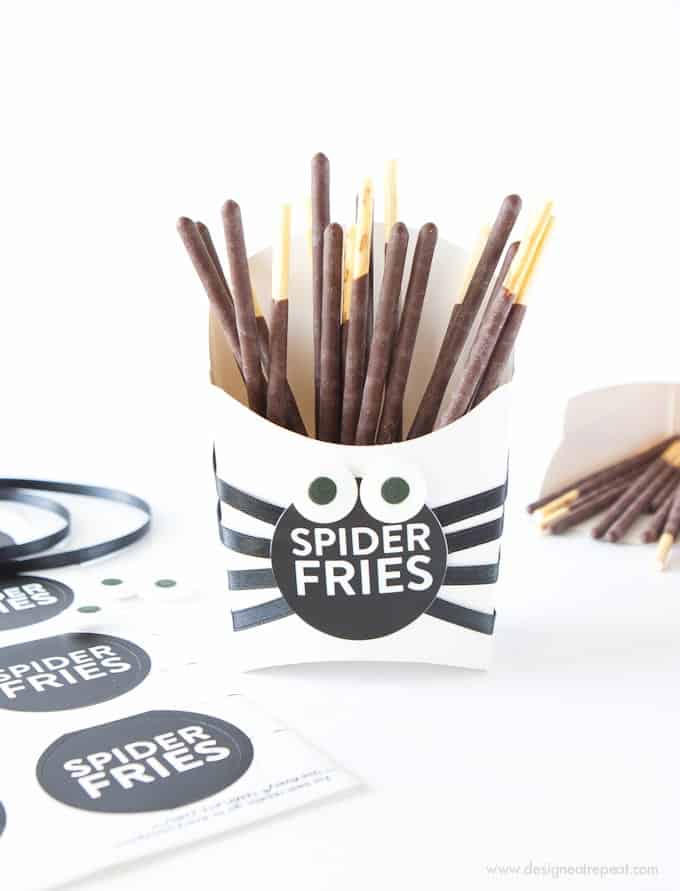 With so much hype around sweet potato fries, don't you think it's time for a new sheriff in town? Last I heard, Spider Fries even ranked higher than McDonalds on the *Top 100 Fry List.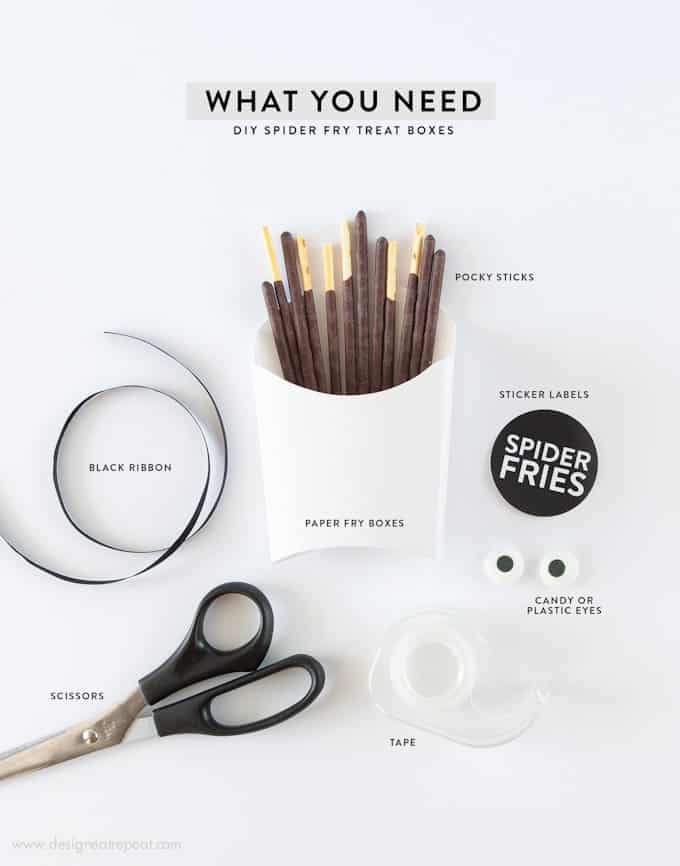 * Okay, so that's obviously a lie. But we're talking about chocolate fries here, people. Does it get any better than that? To make these 8-legged treat boxes, all you need are some fry boxes, ribbon, pocky sticks, googly eyes, sticker labels, and tape. I've even included the Avery template link below so you can easily print the "Spider Fries" labels on a pre-cut sticker sheet. After uploading the template (provided below) to the Avery site and popping the sticker paper in your printer, you can have these printed in the matter of minutes. And the best part? They are already pre-cut so all you have left to do is peel them off the sheet and you're good to go. Anytime I don't have to cut things out, I am a happy camper.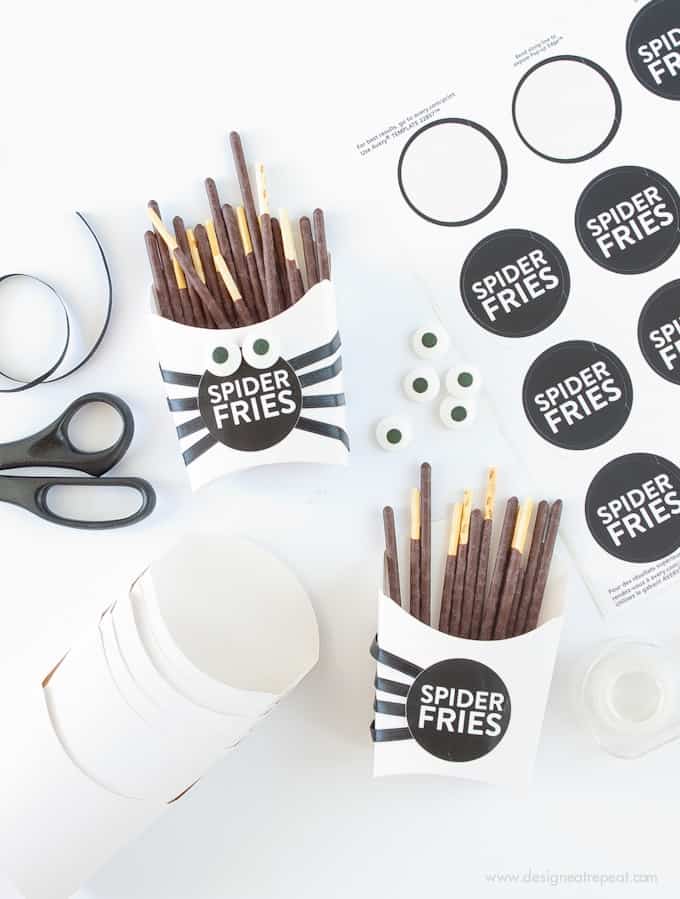 Follow the simple steps below, add a few googly eyes, and you're done!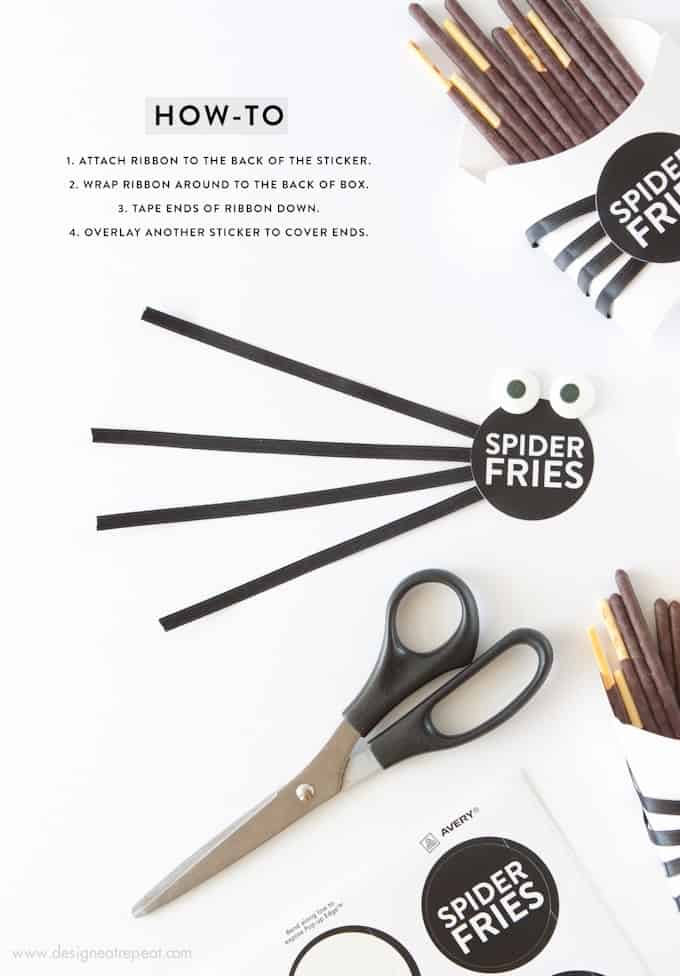 To Download & Print Avery Labels:
A. Download & save the free Spider Fries Circle Avery Template to your computer.
B. Print the Spider Fry circle stickers through Avery's online software by:
1. Going to the Avery homepage, and click "Start Now" on the left side of the page.
2. On the right side, click "Open Project" and upload the file you just downloaded (pre-made with the Spider Fry design). Print on sticker sheet & attach to the front of each fry box. As an alternative to using the pre-cut Avery labels, you can also print this PDF on cardstock, and manually cut each circle out of sheet.
This post was created in partnership with Avery. All content, templates, and opinions are that of my own. Thank you to my sponsors who help keep this blog & free printables running!