Whip up these soft maple gingersnaps with maple cream cheese drizzle for the perfect fall treat!
Gingersnaps aren't typically something we make for holiday platters. I've had gingersnaps before, but they always seem to be a little too crunchy for my liking. It was requested that I make some kind of gingersnap cookies for 30 days of cookies, so I made it my mission to create a gingersnap that was soft. Soft cookies are where it's at.
Instead of some recipes I've seen that use all white sugar, this recipe uses 1/2 white sugar and 1/2 brown sugar to give the cookies a softer, chewier texture.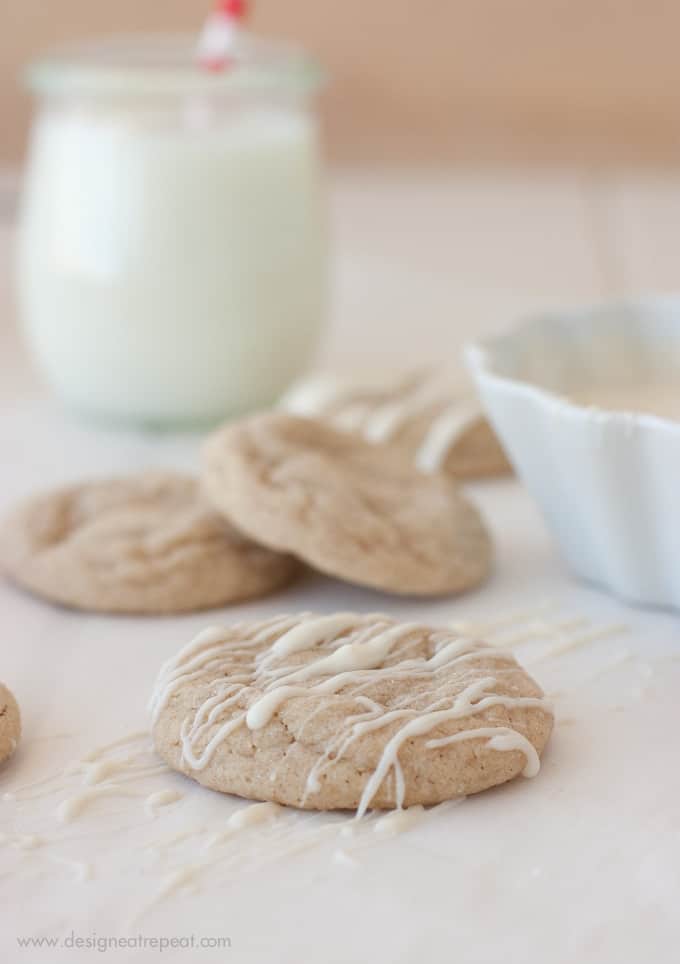 If I were to compare this cookie's texture to something else, I'd say it's very similar to a snickerdoodle. But with a strong ginger taste.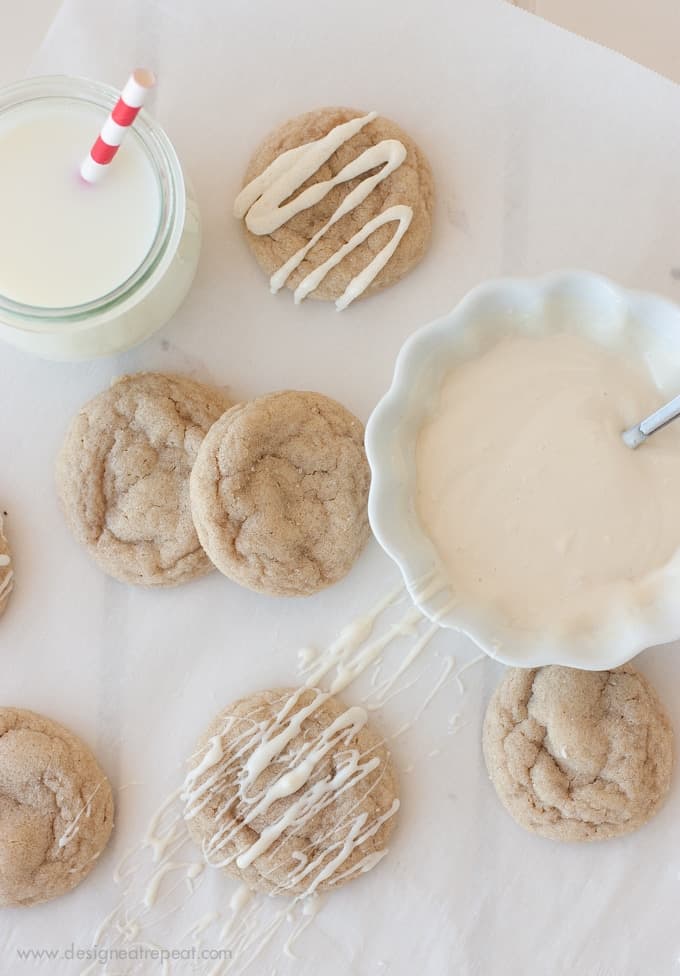 Maple is one of my favorite things to bake with, and a maple cream cheese drizzle only seemed fitting to top off these soft maple gingersnaps. They are good without it, but even better with it.
For drizzles like this, I like to put the icing in a plastic ziploc bag, snip off a tiny bit on the corner, and use that to "pipe" on the drizzle. You have a bit more control this way, as opposed to drizzling with a spoon.
Soft Maple Gingersnaps with Maple Cream Cheese Drizzle
Whip up these soft maple gingersnaps with maple cream cheese drizzle for the perfect fall treat!Recipe Source:
Design Eat Repeat
Prep Time: 10 minutes
Cook Time: 9 minutes
Total Time: 19 minutes
Course: Dessert
Category: Cookies
Servings: 30
Ingredients
3/4 cup 1 1/2 sticks butter, softened
1/2 cup sugar
1/2 cup brown sugar
1 egg
1/4 cup pure maple syrup
1 tablespoon ground ginger
1 teaspoon cinnamon
1/2 teaspoon maple cinnamon sprinkle
1 teaspoon vanilla
2 teaspoons baking soda
2 cups all-purpose flour
Glaze
2 oz. cream cheese softened
2 tablespoons butter softened
1/4 teaspoon vanilla
2 tablespoons pure maple
1/8 cup white chocolate chips melted
1/4 cup powdered sugar
Sugar for Rolling
1/2 cup sugar
1/2 teaspoon cinnamon
Instructions
In a large mixing bowl, mix together butter, sugar, and brown sugar with electric mixer for 30 seconds. Add egg and stir until combined.

On low speed, add in maple syrup, ginger, cinnamon, maple cinnamon sprinkle, and vanilla. Add baking soda and stir for 10 seconds. Slowly add in flour and mix for 30 seconds, or until dough is combined.

Scoop by the tablespoon and roll into balls. Roll each ball in sugar mixture and place on a parchment-covered baking sheet.

Bake at 350 degrees for 8-9 minutes.

Allow for the cookies to continue to cool on baking sheet for 5-10 minutes until removing cookies from the baking sheet.

To make drizzle, beat the cream cheese, butter, vanilla, maple syrup, and melted white chocolate chips on high speed with an electric mixer for 30 seconds. Add in powdered sugar and continue to beat for another 30 seconds. Drizzle over cooled cookies. If mixture is thick, place in microwave for 10-15 seconds until runny.
Nutrition
Calories: 146kcal
Fat: 6g
Saturated fat: 3g
Cholesterol: 21mg
Sodium: 90mg
Potassium: 33mg
Carbohydrates: 21g
Sugar: 14g
Protein: 1g
Vitamin A: 200%
Calcium: 15%
Iron: 0.5%
Yay or nay to gingersnaps? I think ginger is one of those spices that you either like or you don't. I'm typically not a big ginger fan, but a bite of these cookies brings me back to so many family holidays. Is it just me or does the smell of ginger make you automatically think about Christmas time?