* If you follow me on social media, you know that all of November I will be posting cookie recipes in a series called, 30 Days of Cookies. That's 30 recipes to develop, make, photograph, edit, and write in 30 days. For a roundup of all posts, you can visit the 30 Days of Cookies Archive page. Today is Day 4 of 30 with these Soft Butterscotch Pumpkin Spice Cookies. Follow along on Instagram for behind the scenes cookie-making-madness and be sure to link up your own cookie recipes, using the hashtag #30daysofcookies.
Over the years, pumpkin has begun to grow on me. That's not to say that if I was presented with the choice of chocolate vs. pumpkin, I'd choose pumpkin, but progress is being made with the tastebud's view on pumpkin. Pumpkin pie? Eh. Pumpkin spice lattes. Eh. Pumpkin bars. We're getting there. You get the picture. My extended family preys over pumpkin baked goods at holidays, so in an attempt to please the masses, I had to come up with a pumpkin cookie recipe that would please the troops.
These soft butterscotch pumpkin spice cookies are about as close to pumpkin bars as you can get. The soft, cake-like texture gives you the pumpkin bar feeling, while the butterscotch drizzle gives you a little added sweetness.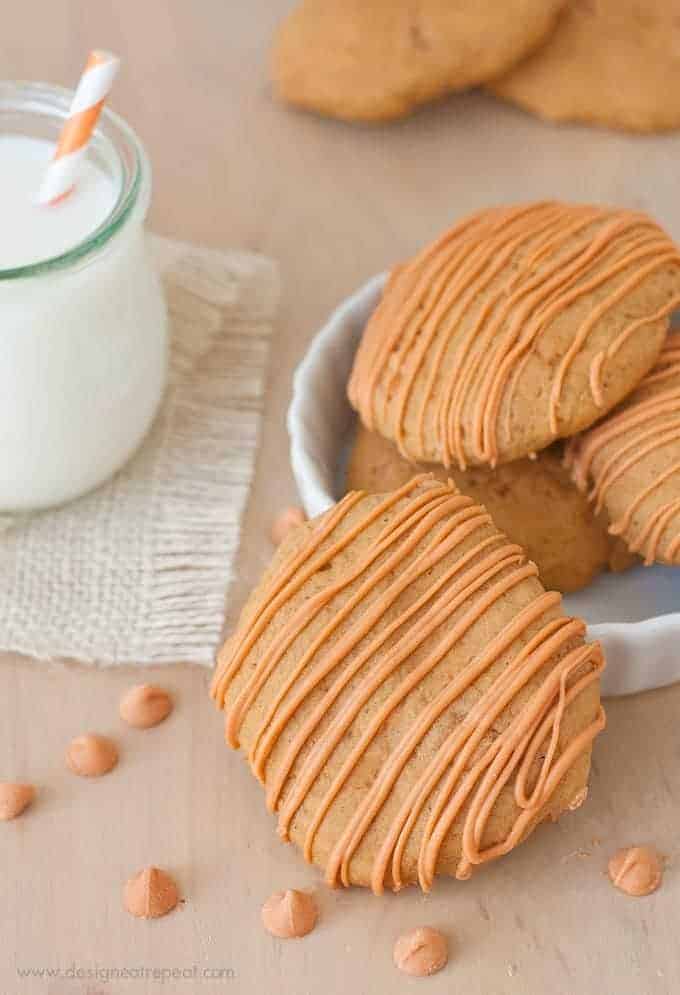 For the purpose of entertainment, we'll call this butterscotch drizzle, b-drizzle. The closer I can feel to a edgy rapper, the better. I just need to get rid of this ruffled apron & the angry-bird slippers first (long story, don't ask why I own angry bird slippers).
Like I said in yesterday's post, I tend to make cookies more bite-sized rather than large. Why you might ask? Well the answer is simple. I have a huge extended family (we're talking like 35ish first-cousins…on one side), so the smaller the cookies, the more cookies I can get out of one batch. The more cookies, the happier the crowds. The happier the crowds, well, the happier the crowds. For this recipe, I'm giving you the directions to make either the smaller or the larger cookies. The only difference is obviously the size you scoop the dough (1 tbls. vs. 2 tbls.), as well as the baking time.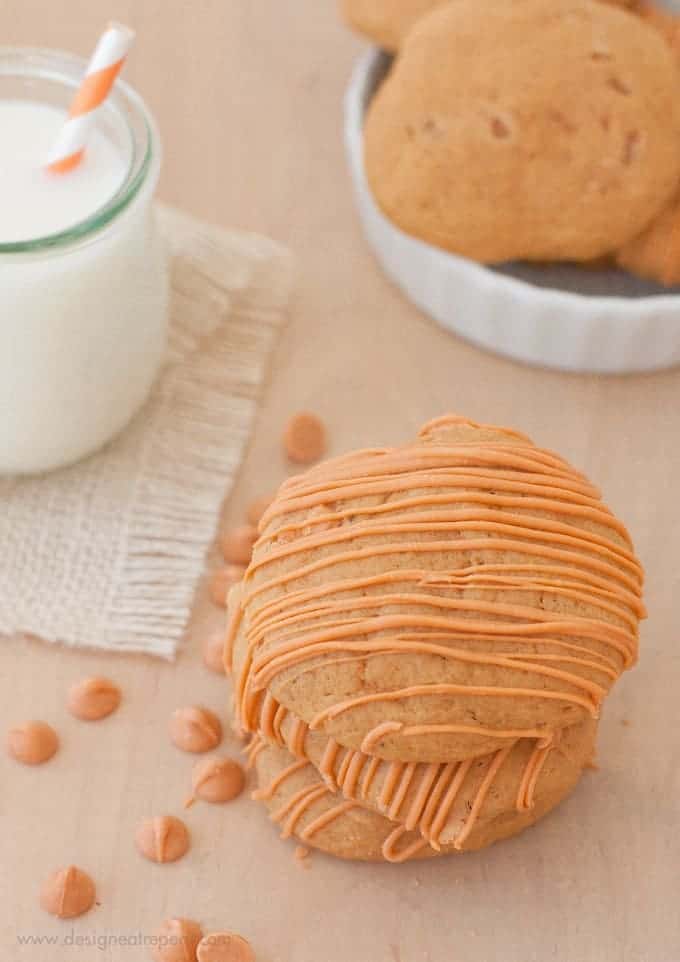 If I had to choose, I'd pick making the larger version because the cake-like texture is more prevalent in the bigger size. But hey, is there ever a time when bigger cookies aren't better? I think not.
Let's just sit here and look at these little golden nuggets for a minute.
Lucky for me, I sent these cookies back with the fam on Saturday so they would get no longer be in my sight. Little by little, I am starting to catch on to this pumpkin craze, and these pumpkin spice cookies were a great start.
Soft Butterscotch Pumpkin Spice Cookies
Prep Time: 10 minutes
Total Time: 20 minutes
Course: Dessert
Category: Cookie
Servings: 36 large cookies (or 18 small cookies, see notes)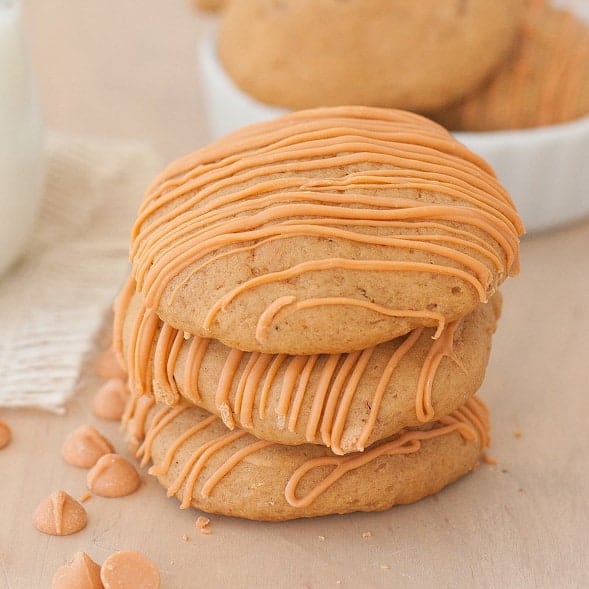 Ingredients
1/2 cup 1 stick butter
1 1/4 cups butterscotch chips 1/2 cup for inside cookie dough, 3/4 cup for drizzle
3/4 cup canned pumpkin
3/4 tablespoon pumpkin pie spice
1 teaspoon vanilla
1/4 cup white sugar
1/2 cup brown sugar
1 egg
1 teaspoon baking soda
2 cups all-purpose flour
Instructions
Preheat oven to 350 degrees. Line baking sheet with parchment paper.

In a medium sized glass bowl, microwave butter & 1/2 cup butterscotch chips on 50% power for 1 minute. If needed, continue to microwave in 20 second increments until chips are melted. Allow to cool for 2 minutes, then pour mixture in large mixing bowl.

Add canned pumpkin, pumpkin pie spice, and vanilla and mix on medium speed for 20 seconds. Add in white sugar, brown sugar, and egg and mix for 10 seconds.

Turn mixer to low speed, and add baking soda. Mix for 10 seconds.

One cup at a time, add flour and mix until flour is just incorporate (about 10-20 seconds). Do not overmix.

For Smaller (Bite-sized) Cookies: Scoop dough into 1-tablespoon balls. Lightly flatten each ball before placing on cookie sheet. Bake at 350 degrees for 9 minutes. Yield: 3 dozen. *See note below about baking time.

For Larger Cookies: Scoop dough into 2-tablespoon balls. Lightly flatten each ball before placing on cookie sheet. Bake at 350 degrees for 12 minutes. Yield: 1.5 dozen. *See note below about baking time.

After removing from oven, allow the cookies to cool on the hot baking sheet for 10 minutes before removing them from cookie sheet. See note below regarding baking time.

For drizzle, melt remaining 3/4 cup of butterscotch in microwave at 50% power for 1 1/2 minutes. Immediately drizzle over cooled cookies. Allow drizzle to harden (15-20 minutes) before serving. If needed, pop the cookies in the refrigerator to help harden.
Recipe Notes
Part of the trick to their softness is to allow the cookies to sit on the hot cookie sheet for 5-10 minutes after removing them from the oven. This allows them to finish baking on the hot pan, without getting the direct heat of the oven that typically causes browned edges or crunch cookies. The cookies will most likely look slightly underdone after specified time in the oven, and that's okay. They will continue to "set" while cooling on the hot baking sheet.
Nutrition
Calories: 92kcal
Fat: 2g
Saturated fat: 1g
Cholesterol: 11mg
Sodium: 56mg
Potassium: 23mg
Carbohydrates: 15g
Sugar: 9g
Vitamin A: 17.7%
Vitamin C: 0.3%
Calcium: 0.7%
Iron: 2.6%
 So between the debate of chocolate vs. pumpkin, which are you most likely to gravitate towards during those Thanksgiving feasts?