* If you follow me on social media, you know that all of November I will be posting cookie recipes in a series called, 30 Days of Cookies. That's 30 recipes to develop, make, photograph, edit, and write in 30 days. For a roundup of all posts, you can visit the 30 Days of Cookies Archive page. Today is Day 7 of 30 with these Soft Baked White Chocolate Peanut Cookies. Follow along on Instagram for behind the scenes cookie-making-madness and be sure to link up your own cookie recipes, using the hashtag #30daysofcookies.
Guys. I've gone nuts. A few years ago if you would have asked me if I like peanuts in cookies, I would have said heck-to-the-no. Now? Sign me on up. It always amazes me how likings to foods or flavors can change over time. Kind of like when I was a kid and I despised mashed potatoes, swore I'd never grow to like them, and then nowadays, I question my childhood sanity because mashed potatoes are truly a gift from the heavens. It makes me wonder if tastebuds really acquire to certain things over time or if it's all just a mental game.
Maybe it's the fact in knowing that if I add peanuts to cookies, I can justify them because of the protein & healthy fats they have. Pretty solid thinking in my opinion.
Much like the white chocolate orange cookies I shared last week, one of the key tricks to making these cookies nice and sturdy is the melted white chocolate inside the dough. The white chocolate gives it a nice, white chocolate taste, while acting as a support for the structure of the cookie. The dough is sturdy enough to hold the peanuts, yet they still have a soft inside.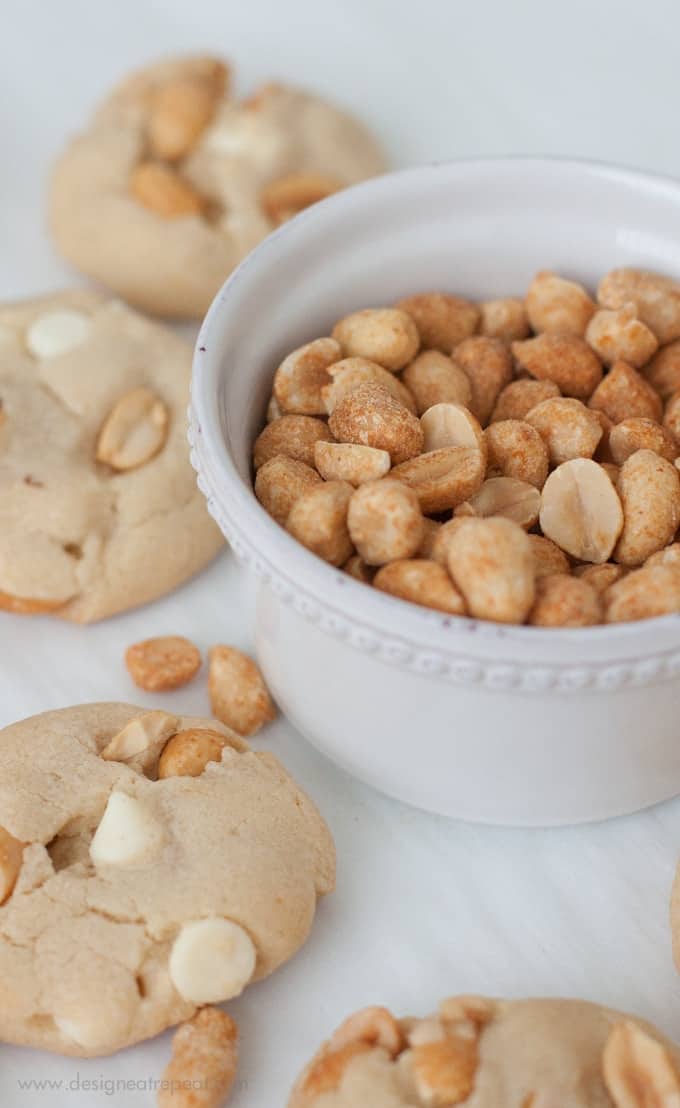 One of the reasons I think I never liked peanut cookies before is because of the crunch they gave to cookies. I prefer cookies more on the softer side, and by using honey roasted peanuts, we still get the peanut flavor but with a softer bite than some raw peanuts you might buy.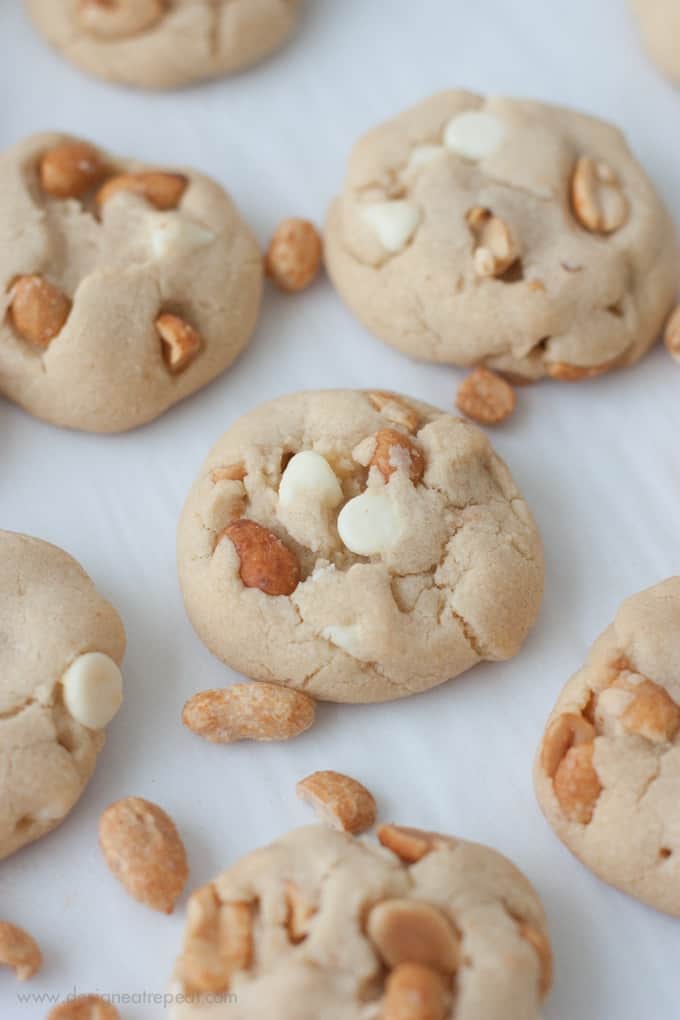 Just look at all that protein packed into one cookie. Let's just forget about the butter for a second, and pretend these are pure protein cookies.
All these are missing are a glass of milk and a holiday party. I'm planning to include these to the cookie platter list this year, and if traffic patterns to the cookie trays are anything like the years before, these will be gone in about 10 minutes. It's good that none of my relatives have peanut allergies (that I know of), because I'm not sure peanut baked goods could ever be banned from cookie platters.
Soft Baked White Chocolate Peanut Cookies
Prep Time: 10 minutes
Cook Time: 10 minutes
Total Time: 20 minutes
Course: Dessert
Category: Cookies
Servings: 30
Ingredients
1 1/2 cups white chocolate chips
1/2 cup 1 stick butter
1/4 cup sugar
1/2 cup brown sugar
1 egg
1 teaspoon vanilla
1 teaspoon baking soda
2 1/4 cups all-purpose flour
1 cup honey-roasted peanuts
Before you begin! If you make this, will you do me a huge favor and leave a review and rating letting me know how you liked this recipe? This helps my small business thrive so I can continue providing free recipes and high-quality content for you.
Instructions
In a medium-sized glass bowl, melt 1 cup of the white chocolate chips and butter in the microwave (at 50% power) for 1 minute. Stir mixture and continue to microwave in 20 second increments until chips & butter are melted together. Allow to cool for 5 minutes, then pour white chocolate & butter into large mixing bowl.

Add white sugar and brown sugar and mix with an electric mixer for 30 seconds on medium speed.

Add in egg and vanilla and continue to mix. Next, add baking soda and mix on low speed for 10 seconds.

With the mixer still on low speed, slowly add in flour, one cup at a time. Mix until all flour is incorporated (should take 10-20 seconds).

Stir in the remaining 1/2 cup of white chocolate chips & the peanuts and mix by hand with a rubber spatula until evenly dispersed throughout dough.

Cover a cookie sheet with parchment paper.

Scoop by the tablespoon and roll into balls. Before placing the balls onto the cookie sheet, lightly flatten them with your hands so they are more like discs. This will help the cookies bake more evenly & will result in a prettier cookie. (See

this image for

a visual comparison between flattening & directly scooping.)

Bake at 350 degrees for 9 minutes. (*See notes below on baking time.)

Optional: Immediately after removing the cookies from the oven, lightly press in extra white chocolate chips for presentation purposes.
Last Step! Please leave a review and rating letting me know how you liked this recipe! This helps my small business thrive so I can continue providing free recipes and high-quality content for you.
Recipe Notes
By baking these cookies for only 9 minutes, we are preventing the edges to be brown, and therefore preventing them to get crunchy. Part of the trick to their softness is to allow the cookies to sit on the hot cookie sheet for 5-10 minutes after removing them from the oven. This allows them to finish baking, without getting the direct heat of the oven that typically causes browned edges. The cookies will most likely look slightly underdone after 9 minutes in the oven, and that's okay. If you prefer a crunchier cookie, feel free to leave them in the oven for a few extra minutes until you start seeing the edges brown.
Nutrition
Calories: 161kcal
Fat: 8g
Saturated fat: 4g
Cholesterol: 15mg
Sodium: 82mg
Potassium: 75mg
Carbohydrates: 18g
Sugar: 10g
Protein: 2g
Vitamin A: 105%
Vitamin C: 0.1%
Calcium: 27%
Iron: 0.6%
My little sister (I know you're reading this) still claims any type of nuts in cookies "is junk" but seriously, I give it 5 more years until that all changes. I'll be sure to report back once college hits and all those peanut butter sandwiches transform those tastebuds into peanut-loving-machines.