* If you follow me on social media, you know that all of November I will be posting cookie recipes in a series called, 30 Days of Cookies. That's 30 recipes to develop, make, photograph, edit, and write in 30 days. For a roundup of all posts, you can visit the 30 Days of Cookies Archive page. Today is Day 23 of 30 with these White Chocolate Chunk Peanut Butter Cookies. Follow along on Instagram for behind the scenes cookie-making-madness and be sure to link up your own cookie recipes, using the hashtag #30daysofcookies.
Peanut butter cookies come in many different forms. Some crunchy, some crumbly, and some soft, but flat. But then there are these. The softest, thickest peanut butter cookies my kitchen has ever concocted. Hands down, the only peanut butter cookie recipe I will be using from here on out.
The base of this cookie dough is actually slightly altered from the recipe I use to make holiday peanut butter cup cookies. Since I already knew the dough was soft for those, I was curious how it would react when making normal cookies. And boy was I not disappointed, as they came out better than I had ever thought possible.
They are soft on the outside, and soft on the inside. But not too soft, where the insides look doughy. In fact, if you made these smaller and cut back on the baking time, these would make a great cookie base for those Hershey's kiss cookies. I may have to try that next.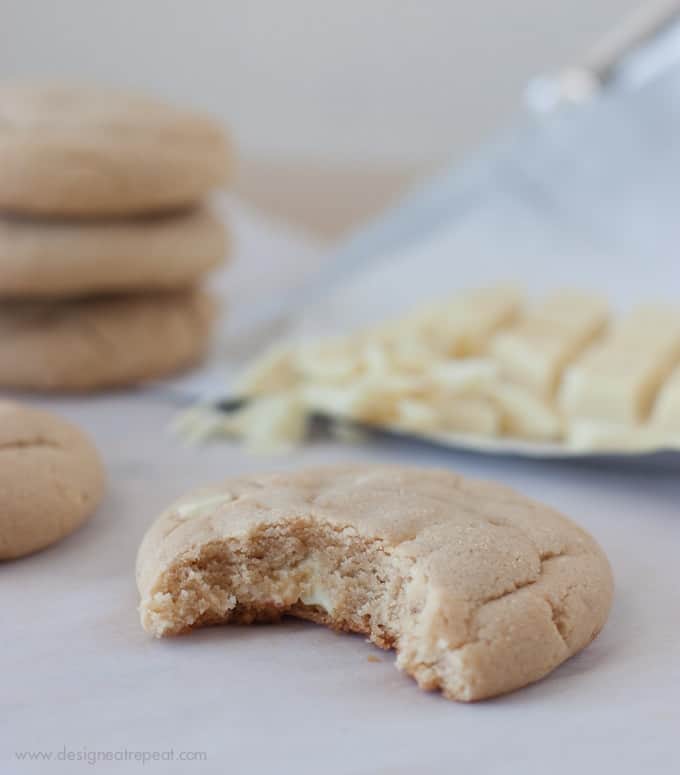 Although these cookies would taste great on their own, I added chunks of white chocolate to top them off. Mainly because I needed to get rid of a tempting white chocolate bar, but also because white chocolate & peanut butter is the perfect pairing.
White Chocolate Chunk Peanut Butter Cookies
Prep Time: 10 minutes
Cook Time: 10 minutes
Total Time: 20 minutes
Course: Dessert
Category: Cookie
Servings: 24 cookies
Ingredients
3/4 cup 1 1/2 sticks butter, softened
3/4 cup creamy peanut butter
3/4 cup sugar
3/4 cup brown sugar
1 egg
1 teaspoon vanilla
1 teaspoon baking soda
2 1/4 cups all-purpose flour
3/4 cup white chocolate chunks
Before you begin! If you make this, will you do me a huge favor and leave a review and rating letting me know how you liked this recipe? This helps my small business thrive so I can continue providing free recipes and high-quality content for you.
Instructions
In a large mixing bowl, cream together butter, peanut butter, sugar, and brown sugar with electric mixer for 30 seconds. Add egg and stir until combined.

On low speed, add in vanilla. Add baking soda and stir for 10 seconds. Slowly add in flour and mix for 30 seconds, or until dough is combined.

Mix in white chocolate chips.

Scoop into 2-tablespoon sized balls and place on a parchment-covered baking sheet. Lightly flatten the tops of each cookie so they are more like thick discs. This will help them bake more evenly.

Bake at 350 degrees for 11 minutes.

Allow for the cookies to continue to cool on baking sheet for 5-10 minutes until removing cookies from the baking sheet.
Last Step! Please leave a review and rating letting me know how you liked this recipe! This helps my small business thrive so I can continue providing free recipes and high-quality content for you.
Recipe Notes
By baking these cookies for only 11 minutes, we are preventing the edges to be brown, and therefore preventing them to get crunchy. Part of the trick to their softness is to allow the cookies to sit on the hot cookie sheet for 5-10 minutes after removing them from the oven. This allows them to finish baking, without getting the direct heat of the oven that typically causes browned edges. The cookies may look slightly underdone after 11 minutes in the oven, and that's okay. If you prefer a crunchier cookie, feel free to leave them in the oven for a few extra minutes until you start seeing the edges turn brown.
Nutrition
Calories: 224kcal
Fat: 11g
Saturated fat: 5g
Cholesterol: 23mg
Sodium: 93mg
Potassium: 94mg
Carbohydrates: 26g
Sugar: 17g
Protein: 3g
Vitamin A: 185%
Calcium: 25%
Iron: 0.8%
These are probably bumping to the top 3 in 30 Days of Cookies. They were way too good to keep around the house, so I'm shipping them out to friends today. Because something this good deserves to be shared.