These peanut butter bars are something I ate for a good 6 years straight. Before you go thinking I feasted on them morning, noon, and night, let me explain. This is the exact peanut butter bar recipe my jr/high school made at lunch for dessert, and they were one of the favorites among the school. Our schools used to put out recipe books every year, and this is the recipe someone submitted as a exact replica of those coveted bars. The only thing different about these & the ones we had at school, is that the original recipe is also topped with a peanut butter frosting. I had every intention of making the frosting too, but my mixer bowl was still in the sink from making the bars, and I just didn't feel like washing it. It's safe to say that 30 Days of Cookies has brought me one too many dishes. I've already Googled if I could hire a maid to do dishes, and the answer was no.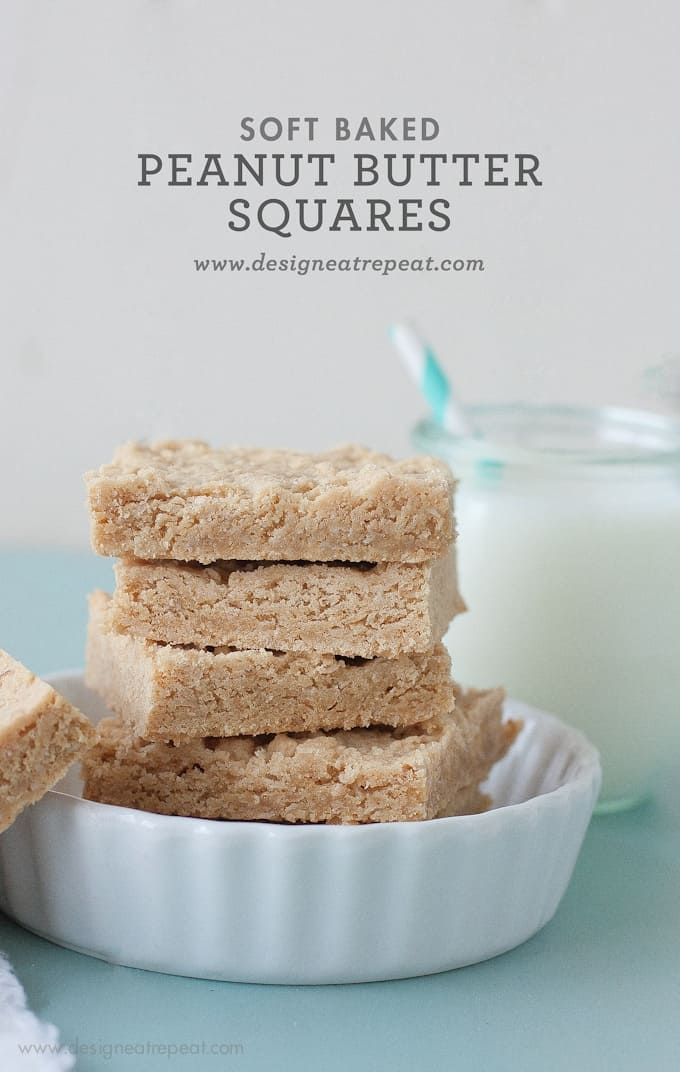 While the frosting is good, the bars alone are just as good. Maybe one day I'll post the frosting recipe, as it is actually one of the best peanut butter frosting recipes I've come across.
The bars are so soft, not too peanut butter-y, and are so easy to cut. You know how some bars look destroyed after cutting into them? Well, not these. As long as you let them completely cool before cutting into them, they cut into perfect, beautiful, blog-worthy squares.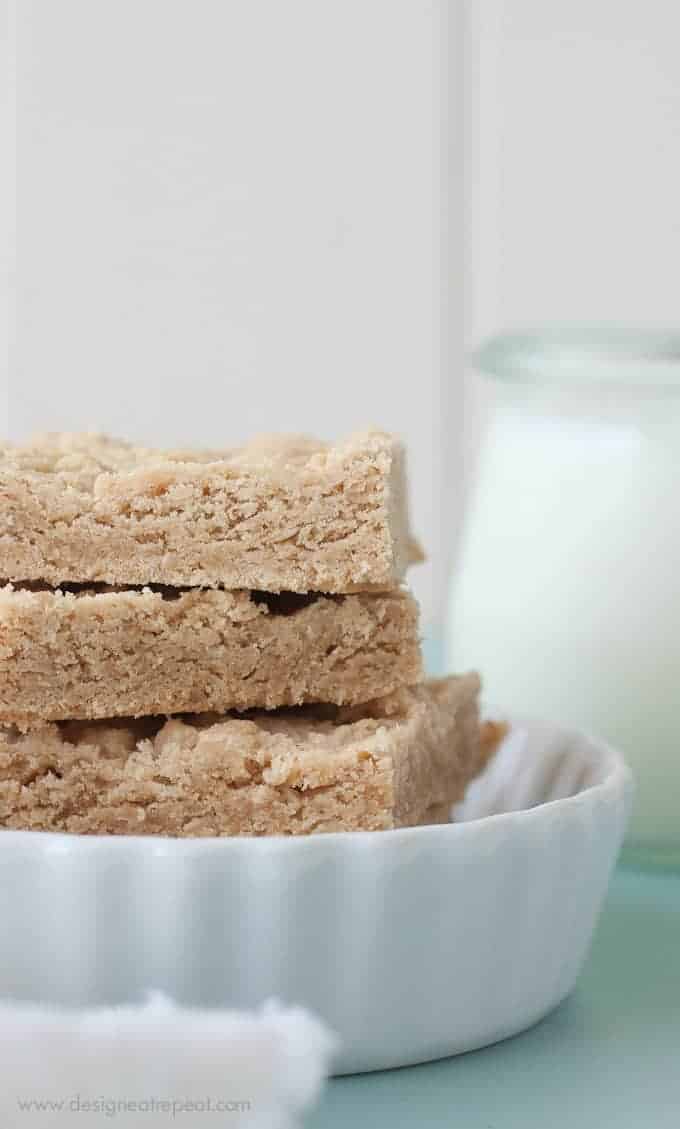 Not too thick, not too thin. Perfect little melt-in-your-mouth peanut butter bars, in the house. Well, they were in the house until…well, you know.
Soft Baked Peanut Butter Bars
The bars are so soft, not too peanut butter-y, and are so easy to cut.
Prep Time: 10 minutes
Cook Time: 15 minutes
Total Time: 25 minutes
Course: Dessert
Category: Cookie
Servings: 16 bars (depending on the size you cut them)
Ingredients
1/2 cup 1 stick butter, softened
1/2 cup brown sugar
1/2 cup sugar
1/3 cup creamy peanut butter
1 egg
1/2 teaspoon baking soda
1 cups all-purpose flour
1 cup oatmeal quick oats
Instructions
In a large bowl, cream together butter, brown sugar, white sugar, and peanut butter with an electric mixer on medium speed for 30 seconds. Add egg and continue to mix for 10 seconds.

Add baking soda and mix on low speed for 10 seconds. Add flour and oatmeal and continue to mix until incorporated.

Evenly spread dough into a greased, 9x13 pan. (You may need to lightly grease your hands to help press the dough down. I find that it is hard to get an even spread when using a rubber spatula.)

Bake at 350 degrees for 15 minutes.

Allow bars to cool for 1 hour before cutting.

If not serving immediately, store in an airtight container in the refrigerator for up to 3-4 days.
Nutrition
Calories: 175kcal
Fat: 9g
Saturated fat: 4g
Cholesterol: 25mg
Sodium: 116mg
Potassium: 66mg
Carbohydrates: 21g
Sugar: 13g
Protein: 2g
Vitamin A: 190%
Calcium: 14%
Iron: 0.7%
I always love these select few family recipes that turn out every time, and are guaranteed to please the crowds. And these peanut butter bars are one of those recipes. I stole a few of our family cookbooks last time I was home and I can't wait to browse through more of these recipes. I plan to post the more traditional recipes we always make for  holiday cookie platters here in the next two weeks. They aren't fancy, but they are delicious and turn out every time. The family secret recipes are about to be revealed.