Ever since I was little, I've always had a thing against frozen fruit. In theory, it should taste the same as fresh (only frozen), but it never quite does the trick. To me, nothing beats fresh berries on top of cheesecake, waffles, or icecream. That being said, I find it a little ironic that I use more frozen fruit while fresh strawberries are in season than I do when they are out of season. I believe there is a time and place for frozen berries. And that place, my friends, is in smoothies.
After burning out nearly 3 blenders in a span of a few months, I finally realized that frozen fruit is the way to go when making smoothies. For so many years, I was throwing in handfuls of rock hard ice, only to burn the motor out before the smoothie was actually smooth and creamy. And if there's one thing you need to know about me, it is that I don't like chunks of ice in my concoctions. But seriously, is there anyone who actually does?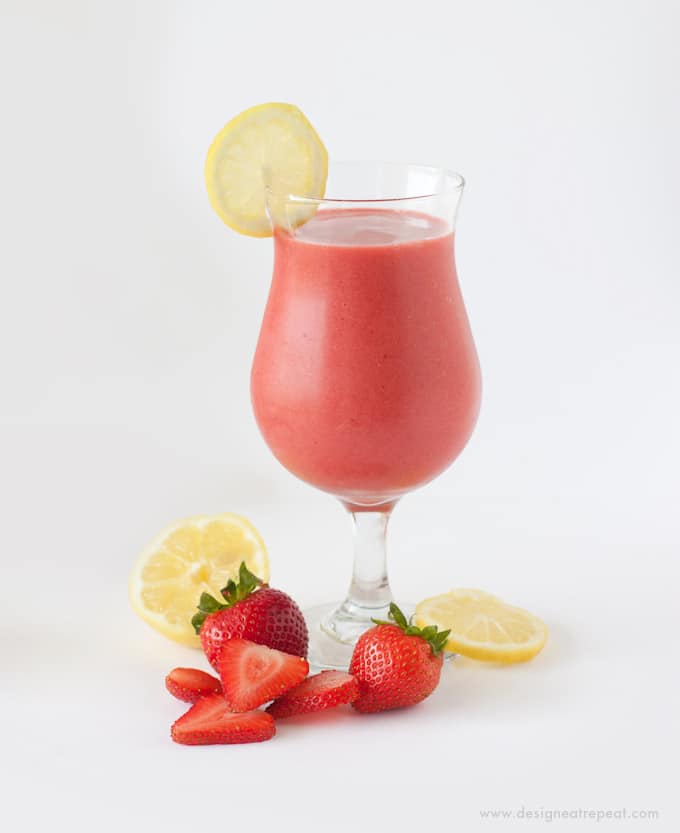 So my summer tactic is simple. Use the frozen strawberries for blended concoctions and leave the fresh berries to be savored on top of a homemade waffle. This strawberry lemon smoothie is the perfect mix of sweet & tart, blends up super smooth and leaves you with a fresh summer drink without all the strange syrups you find at the coffee shop.
Plus, if you're a big fan of smoothies, you can use this base for popsicles! I'll go into more detail on that in a later post.
Single Serving Strawberry Lemon Yogurt Smoothie
A sweet & tart refreshing smoothie made with frozen strawberries, lemon juice, and yogurt.
Prep Time: 10 minutes
Total Time: 10 minutes
Course: Drinks
Category: Smoothie
Servings: 1 smoothie
Ingredients
8-10 whole frozen strawberries
1/2 cup water
1/4 cup freshly squeezed lemon juice usually about 1 whole lemon
3 teaspoons sugar
6 oz. light strawberry yogurt raspberry also tastes great
Instructions
In a blender, add all the ingredients and process until smooth. If smoothie is thinner than you prefer, add more strawberries until desired consistency. Pour into a chilled glass and serve immediately.

I like my smoothies a bit on the tart side, so feel free to add more sugar to sweeten it up more.
Recipe Notes
* For an extra protein boost, add in one scoop of your favorite vanilla protein powder. I occasionally add 1 scoop of Creamy Vanilla Profit from It Works as my primary protein powder (it's made from natural ingredients, superfoods, and is non-GMO).
Nutrition
Calories: 264kcal
Fat: 1g
Cholesterol: 15mg
Sodium: 101mg
Potassium: 510mg
Carbohydrates: 57g
Fiber: 2g
Sugar: 47g
Protein: 7g
Vitamin A: 55%
Vitamin C: 80%
Calcium: 199%
Iron: 0.6%
I just whipped one of these up again while writing this post for what I like to call "quality control." And I'm happy to report it passed the test with flying colors. Do you have a favorite summer smoothie recipe? Some of my other favorite recipes are this cantaloupe peach recipe and my usual strawberry raspberry recipe. I'm always looking for new fruit combos, so share your faves below!