We're keeping this post short & sweet today. Mainly because it's almost midnight on a Sunday night and I just now realized that I still needed to put this post together. But also because this smoothie is short & sweet itself. This has become one of my favorite smoothie recipes lately and it only takes a matter of minutes to whip together.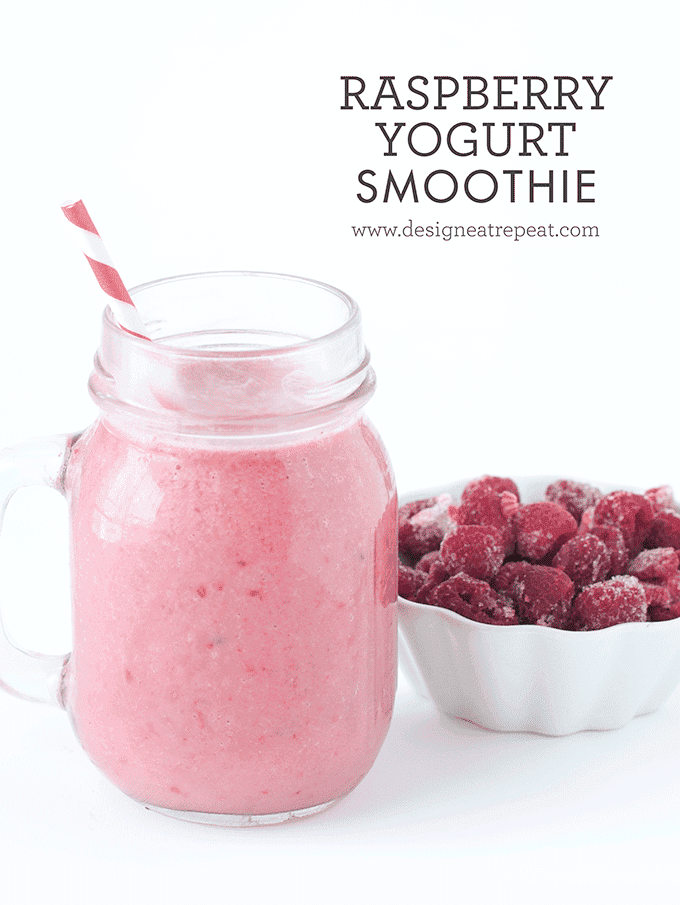 Since the cold winter months here in the Midwest leave us with high produce prices & minimal selection, frozen fruits are about as close to fresh as we can get this time of year. I find that frozen fruits work much better than ice in smoothies, since they give them a smoother, less icy texture. Is there anything worse than finding a big chunk of ice in your smoothie? The answer is no. Don't ask how many blenders I've burned out trying to get perfectly blended smoothies.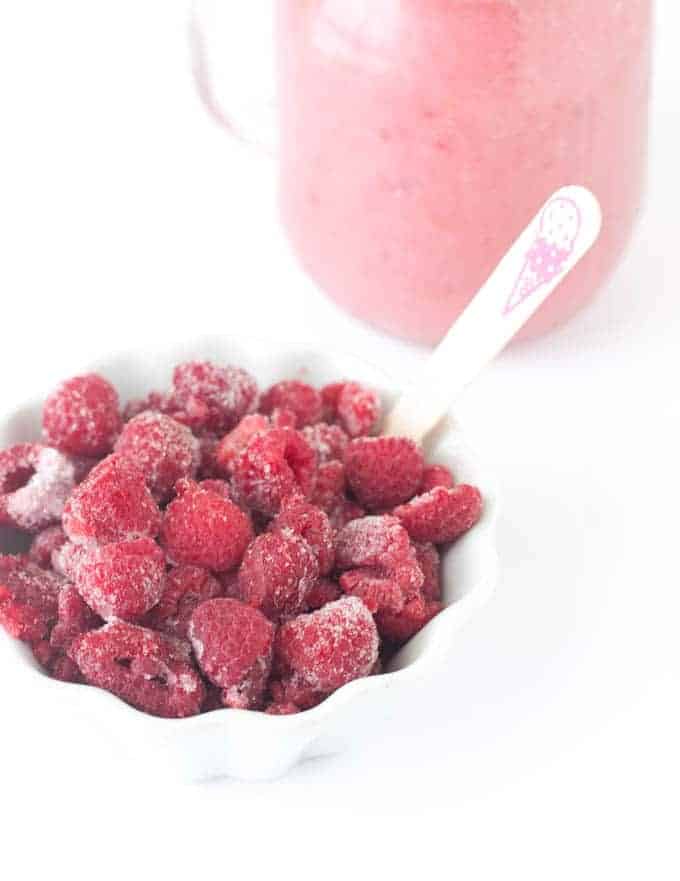 Ok, fine. The answer is 3. And it was in a 2 month span. Just another reason I need a vitamix or a ninja blender. My magic bullet is about 2 smoothies away from blowing up, so if one of those massive blenders happens to find their way into my shopping cart, I won't be upset.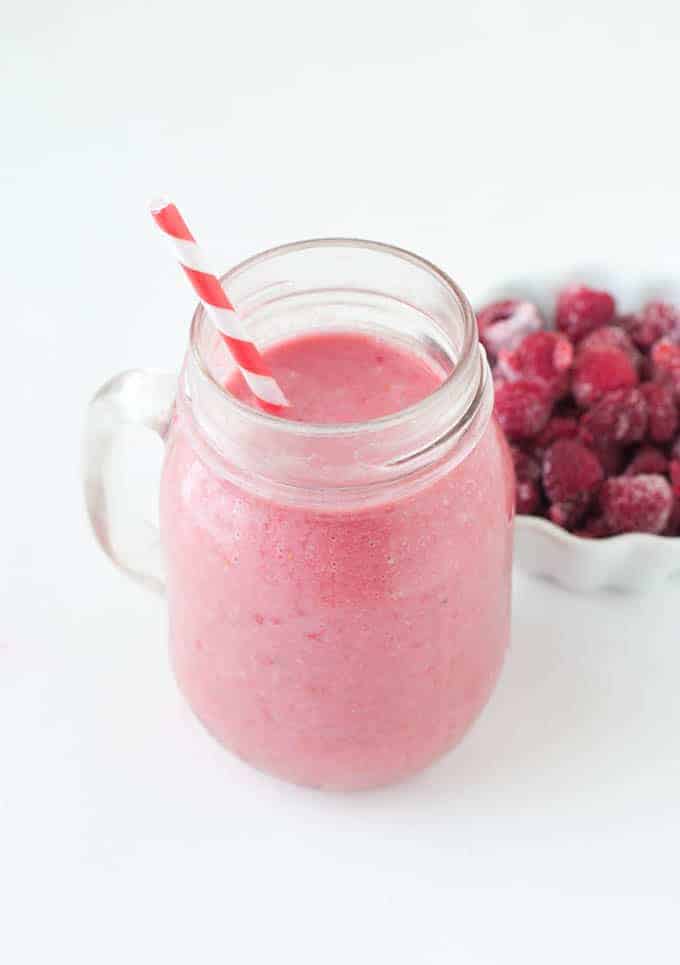 Strawberry Raspberry Yogurt Smoothie
An easy and delicious smoothie made from frozen berries, yogurt, and a splash of juice.
Prep Time: 5 minutes
Total Time: 5 minutes
Course: Drinks
Category: Easy Snack
Servings: 1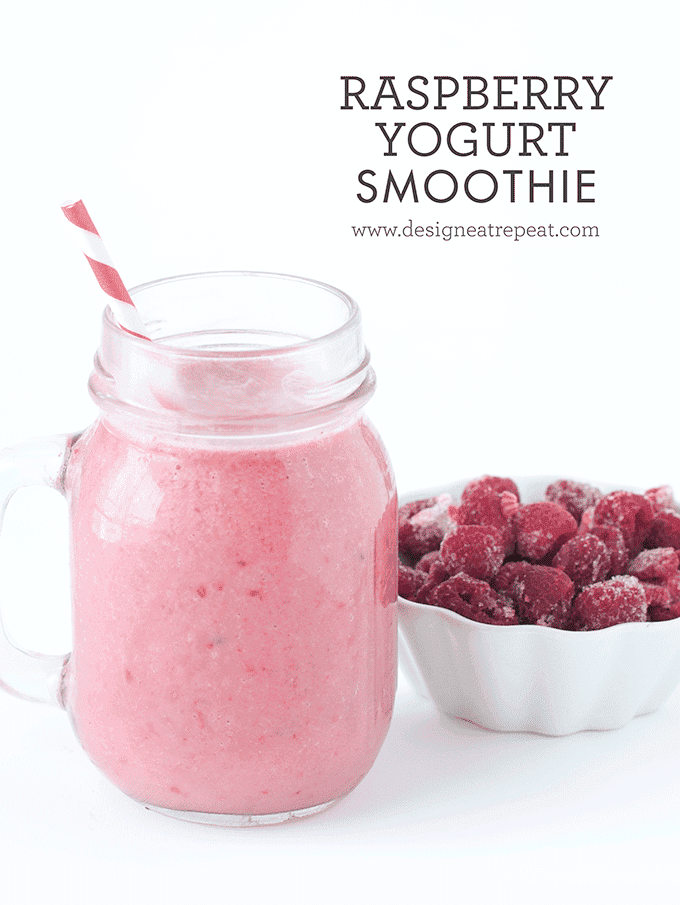 Ingredients
1/2 cup frozen raspberries
8 frozen strawberries whole
6 oz. light raspberry yogurt
1 cup raspberry juice I use Light Raspberry Minute Maid. You could also substitute this with milk, although the smoothie will be less sweet.
Instructions
In a blender, add all the ingredients and process until smooth. If smoothie is thick, add more liquid until desired consistency. Pour into a chilled glass and serve immediately.
Recipe Notes
* For an extra protein boost, add in one scoop of your favorite vanilla protein powder. I recently starting using Creamy Vanilla Profit from It Works as my primary protein powder (it's made from natural ingredients, superfoods, and is non-GMO).
Nutrition
Calories: 231kcal
Fat: 4g
Saturated fat: 1g
Cholesterol: 10mg
Sodium: 121mg
Potassium: 816mg
Carbohydrates: 40g
Fiber: 13g
Sugar: 24g
Protein: 11g
Vitamin A: 85%
Vitamin C: 104.9%
Calcium: 372%
Iron: 1.6%
Be sure to stop by tomorrow for Rd. 3 of Smoothie Week! I'm particularly excited to share with you one of my new favorite smoothie sidekicks. But before I leave you, I have a question for you all. How many servings of fruits & veggies do you have daily? One, two, eight? The big zippo? Comment below with your honest answers & if you stop by tomorrow, I'll reveal one of my newest tricks to boost that number!