Yesterday I posted a few tips to the perfect cut out sugar cookies, so today I'm sharing a fun little way to decorate them. Besides having to make a million cookies, one of the hardest things of 30 Days of Cookies was not posting printables. I had intended to share a few along the way, but after being drowned in cookies, I decided to hold off posting them until afterwards. I wanted the last day of 30 Days of Cookies to be a holiday themed idea to carry us into December, so today I'm sharing this printable that instantly turns your circle sugar cookies into reindeers. A fun activity for kids, or for twenty-two year olds like me who just like to do kid things.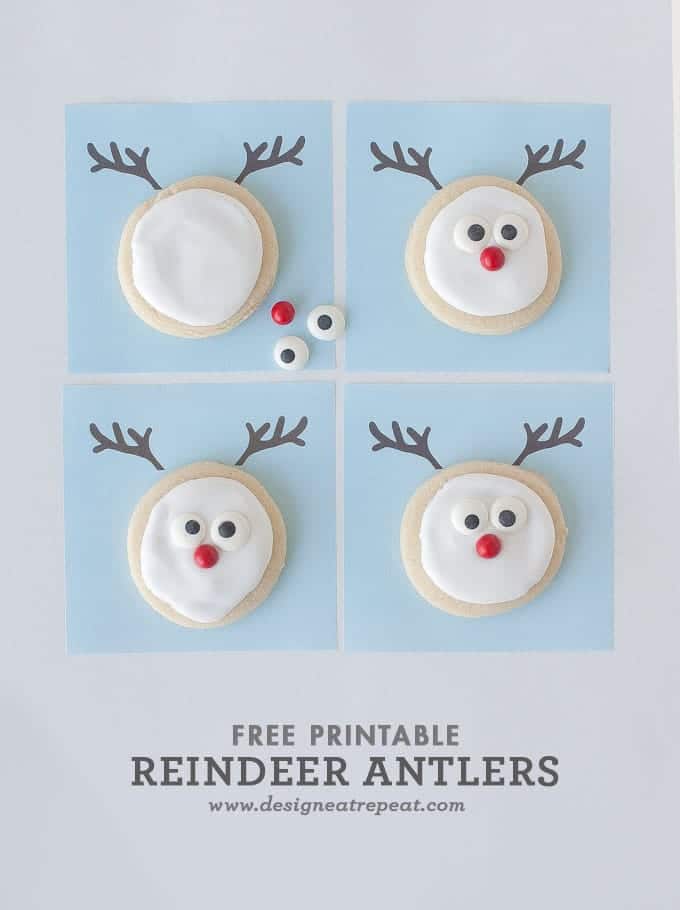 The printable reindeer antlers comes with two on a sheet, but you can print off as many copies as you need. After cutting them out, use them as little placemats to instantly turn a boring circle sugar cookie into a holiday creation. If you want to reuse the placemats or do not want to place the cookies directly on the paper, feel free to laminate each square. You can also cut out a circle of wax paper and place it under each cookie to avoid direct contact with the printed ink on the paper.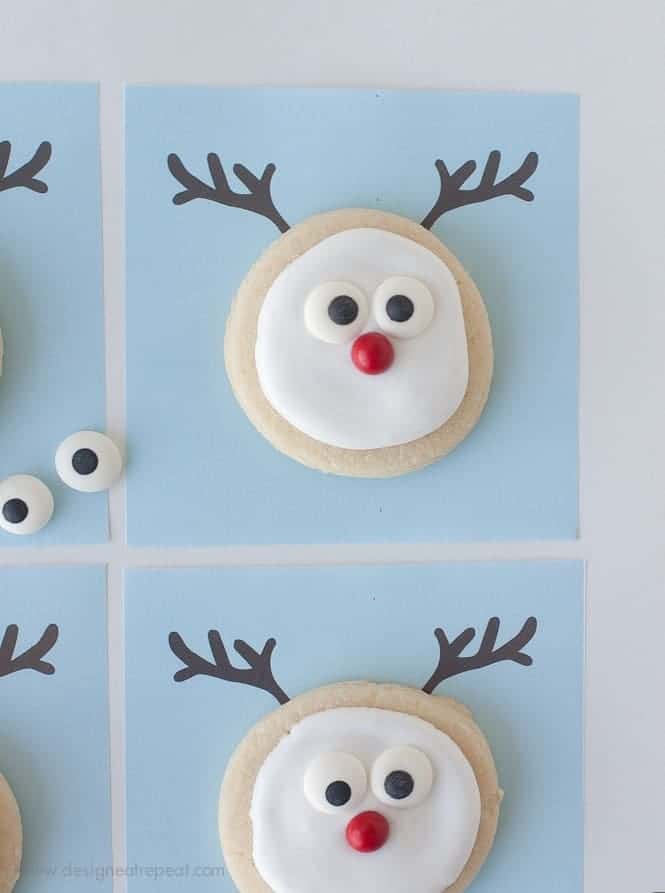 After frosting the cookies with royal icing or buttercream, you simply top them with edible eyeballs and a red chocolate nose to create the face of the reindeer. But the reindeer doesn't come alive until you pop it on top of the reindeer printable. It's not until then that the cookie magically turns into our red-nosed little friend, Rudolph.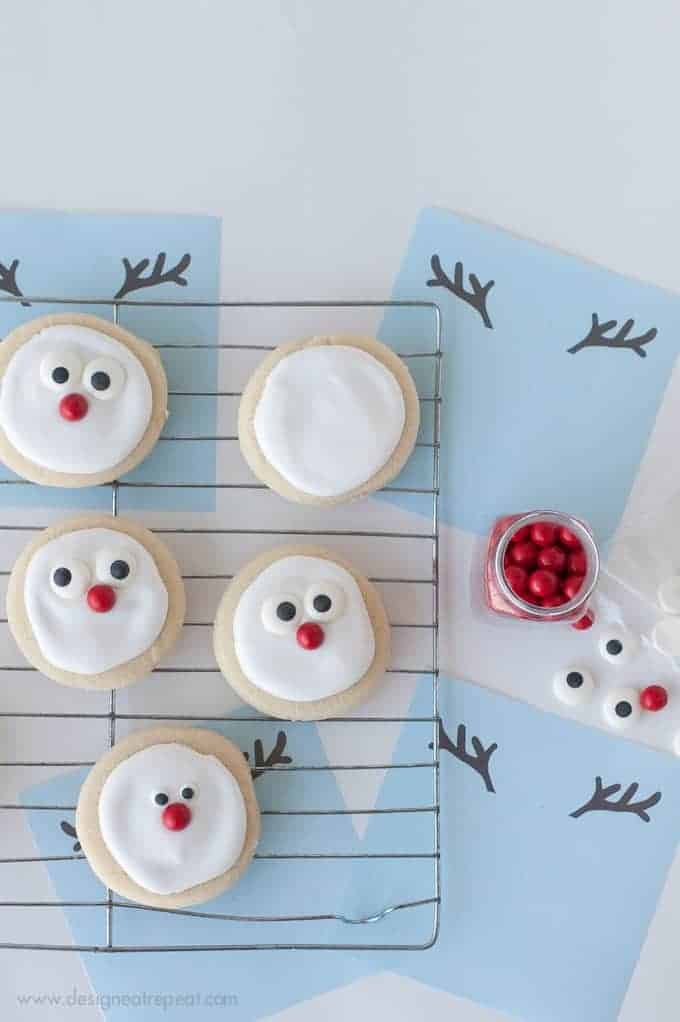 Like I mentioned above, these Christmas cookie decorating ideas would make a fun & easy activity for kids. Once the cookies are made & frosted, the real fun comes in when it's time to decorate. There's no fancy decorating abilities needed, and you can pick up the toppings (links below) for a couple of bucks.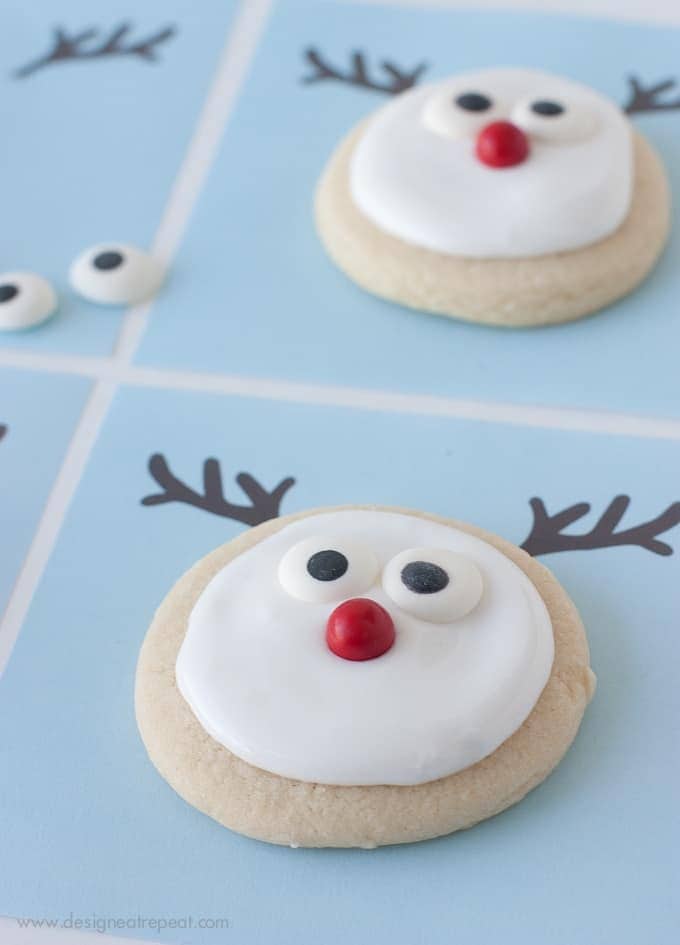 It's like a cookie version of pin the face on the reindeer. I was tempted to do a cyclops reindeer, but refrained after deciding to keep the weirdness to myself.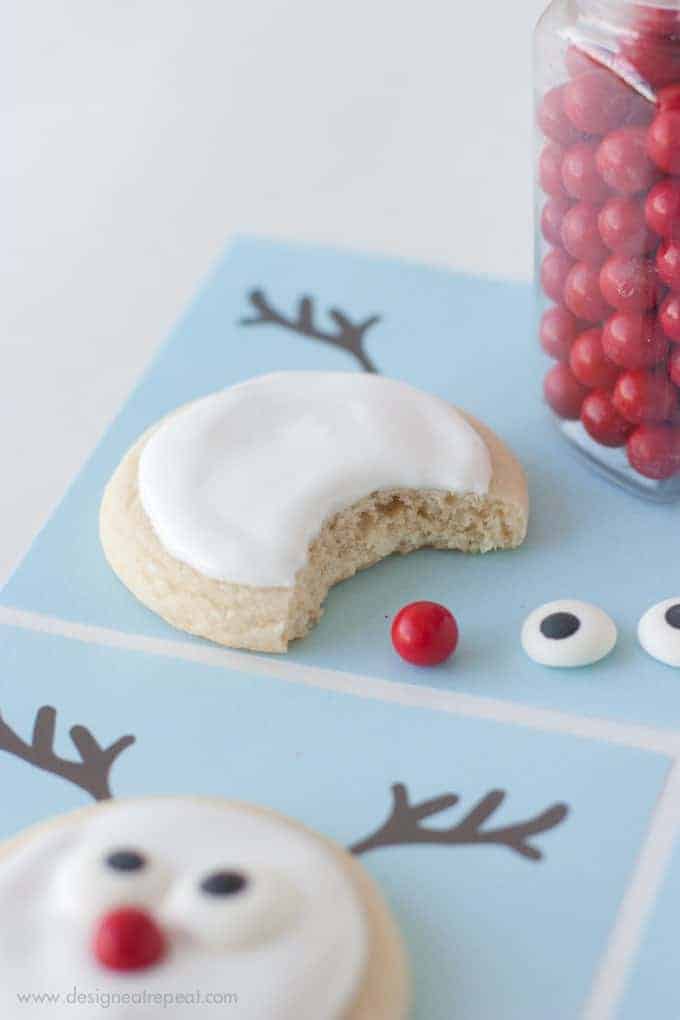 What You Need:
Reindeer Printable // Icing Eyeballs // Red Chocolate Sixlets for Noses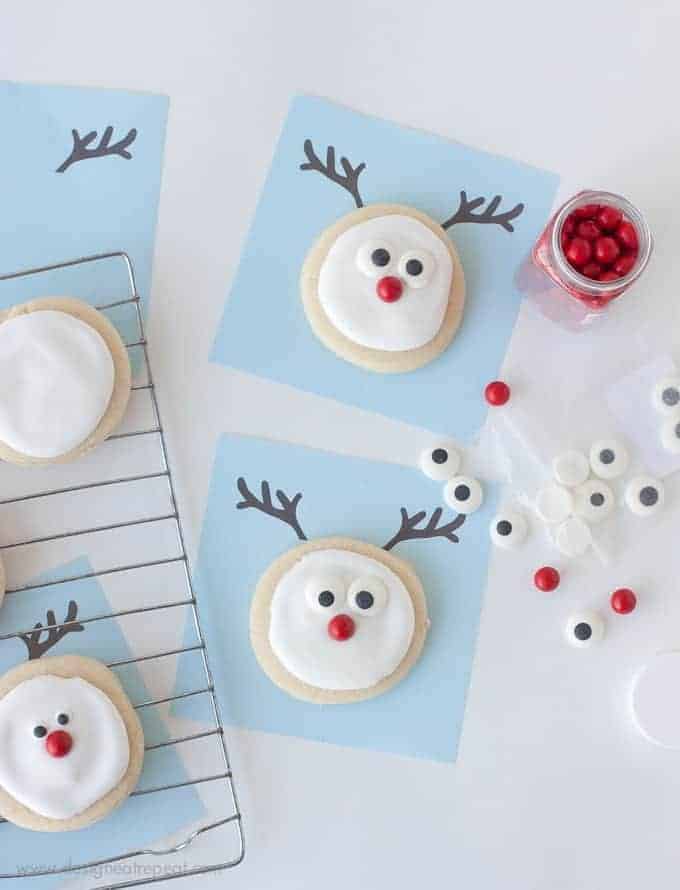 Easy Cookie Icing
Much like traditional royal icing, this easy sugar cookie icing dries quickly and develops a hard crust without being crunchy.
Prep Time: 10 minutes
Total Time: 10 minutes
Course: Dessert
Category: Cookies
Servings: 24 Cookies
Ingredients
1 recipe Cut Out Sugar Cookies
2 cups powdered sugar
6 teaspoons water
4 teaspoons light corn syrup
1 teaspoon vanilla extract
1 teaspoon almond extract
1.8 teaspoons salt
Before you begin! If you make this, will you do me a huge favor and leave a review and rating letting me know how you liked this recipe? This helps my small business thrive so I can continue providing free recipes and high-quality content for you.
Instructions
Using a rubber spatula, stir all ingredients for 1-2 minutes until it is smooth and glossy. When you start stirring, you may think it's never going to work because it looks chunky but keep stirring and it will get smoother. (Find a full tutorial here)

To decorate, first outline each cookie with the icing. Once outlined, fill in the rest of the cookie with the icing and use a toothpick to help spread the icing and fill in any holes.

Enjoy the cookies immediately OR allow the icing to harden for about 12 hours, uncovered. You do not need to cover the cookies while they're hardening. The cookies will stay soft for 4-5 days in an airtight container.
Last Step! Please leave a review and rating letting me know how you liked this recipe! This helps my small business thrive so I can continue providing free recipes and high-quality content for you.
Recipe Notes
Get my favorite cut out sugar cookie recipe here.
Nutrition
Calories: 44kcal
Sodium: 175mg
Carbohydrates: 11g
Sugar: 11g
And that's a wrap! I'm a little surprised I managed to blog 30 days in a row. It was a ton of work, but it was a good challenge & I'm happy with all the recipes I managed to come up with. After close to 700 cookies, 4 recipe fails, and who-knows-how-much-butter, 30 Days of Cookies is officially over! If you ever need a month to go by super fast, this is the way to do it. If anyone made a recipe that was posted throughout the series, please let me know how you liked them. I hope whoever followed along on this series got a little bit of recipe inspiration from it. (Maybe I'll do it again next year if I'm feeling crazy.) I'll be doing a roundup of all the recipes in the next few days, so keep an eye out for that.