Perfect for summer parties, these lemonade party favors are the perfect treat to send you guests home with! Simply place some candy in a plastic bag and attach the printable treat bag topper to create unique treat bags!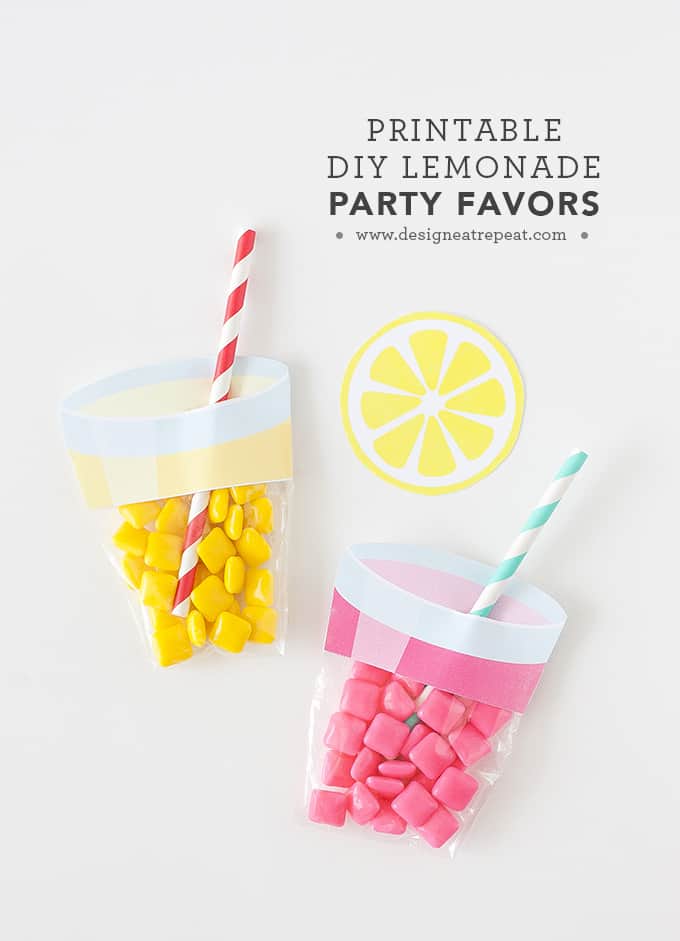 With Saturday marking the first official day of summer, I thought it was about time to whip up another lemon party favor. When the heat hits, what better way to cool down than a big cold glass of lemonade…candy! Send your guests home with a sweet treat that will be sure to quench their summer sweet tooth!
I've had these tropical chiclets in my prop stash for about a month now and I was just waiting for inspiration to hit on what to do with them. Although I decided that all chiclets lose their flavor after like 30 seconds, they sure do make for colorful treat bags! And half-a-minute of sugary goodness…
What You Need to Make Lemonade Party Favors
Avery Small Tent Cards (#5302), free printable lemonade party favors Avery template , scissors or exacto knife, small plastic bag, tape or stapler, candy or gum, and a paper straw.
Tip: As an alternative to using the pre-cut Avery labels, you can also purchase this PDF in my shop, and manually cut each label out of a normal piece of paper. ***  Important: Printable Will Be Emailed Within 48 Hours (Not Instant Download) **
How to Make Lemonade Party Favors
For this project, I created a lemonade "cup topper" template that can be easily be paired with Avery tent cards. If you ever thought tent cards were just for name cards, then think again! I talked about how easy it is to print on Avery products in this post, and this project is no exception.
Step 1: Download & Print
After uploading the template (provided in materials box above) to the Avery site and popping the pre-cut paper in your printer, you can transform plain paper to a sheet of fun bag toppers in the matter of minutes. And the best part? They are already pre-cut so all you have left to do is trim the top/sides of the "glass' and you're good to go.
To Download & Print Avery Labels:
Download & save the free Avery Printable Lemonade Party Favors template to your computer. Then print the Printable Lemonade Party Favors labels through Avery's online software by:
Going to the Avery homepage, and clicking "Design or Print Online" on the left side of the page.
On the right side, click "Open Project" and upload the file you just downloaded (pre-made with the lemonade drink labels). Print on tent card sheet & attach to the top of each bag.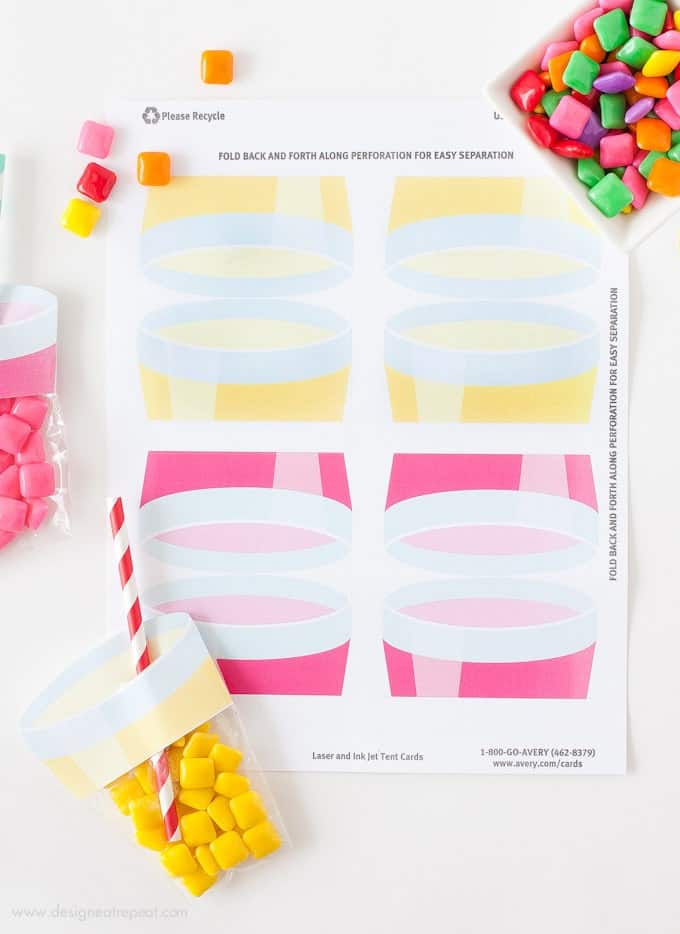 Step 2: Assemble
After trimming the sides, cut a small slit in the "rim" of the glass just big enough to slip in the straw. Insert the straw, fold each card over the top of the bag, and staple/tape shut.
Tip: To achieve the slanted edges at the bottom of the glass, simply fold over the bottom corners of the bag and tape to the back. Depending on the size of your bag, you may need to also fold in the top of the bag to match with the sides of the printable.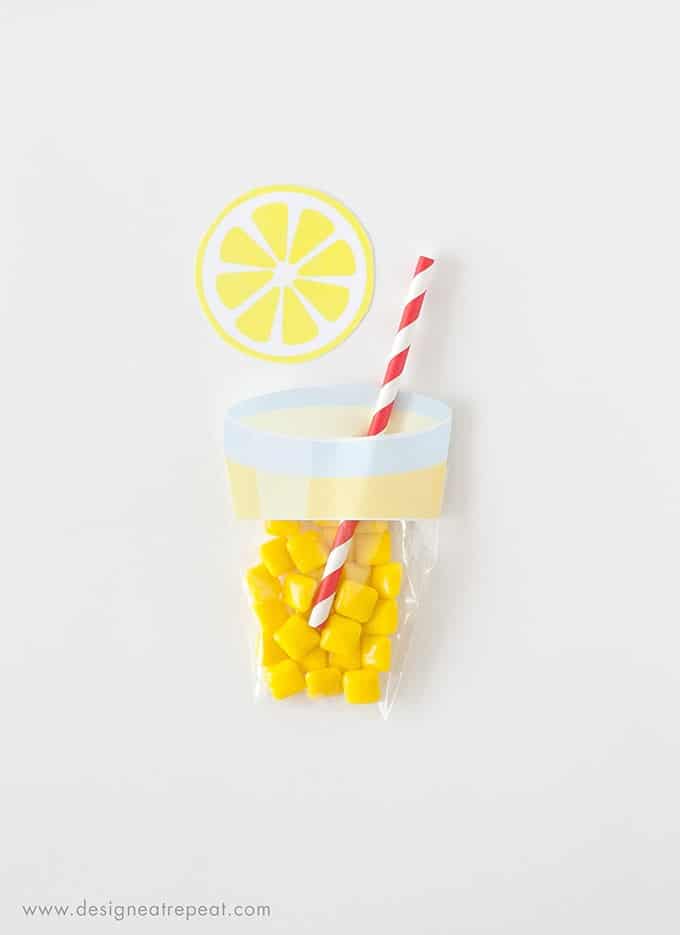 And that's it! I told you they were easy-peasy-lemon-squeezy. Add these printable lemonade party favors to your summer party for a fun twist on the traditional lemonade party. Looking for more summer party ideas? Hop on over to the printable archives for more free printables & summer fun!
More Lemonade Party Ideas
Thick & Soft Lemon Sugar Cookies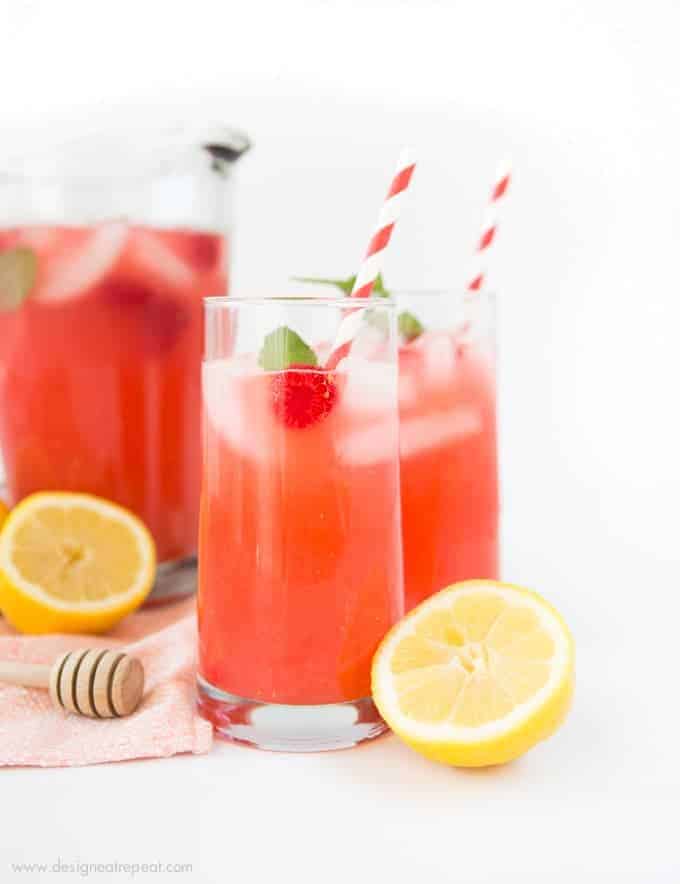 This post was created in partnership with Avery. All content, templates, and opinions are that of my own. Thank you to my sponsors who help keep this blog & free printables running!