Customize this free printable dinner party menu for a fun & unique way to impress your guests! Includes ideas for 3 holiday designs that you can digitally customize the text using Avery software.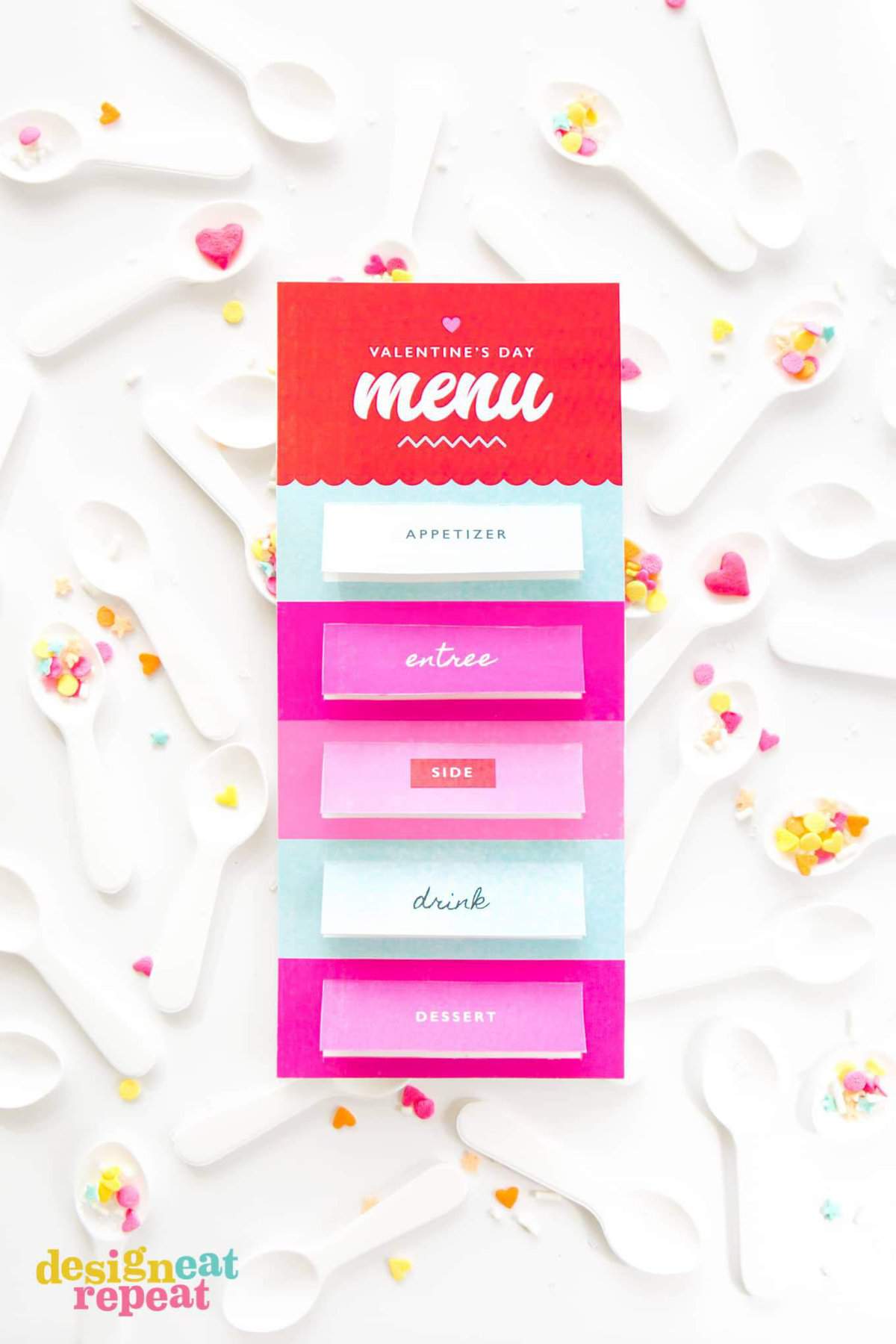 Growing up, there were 2 times a year when the fine china, cloth napkins, and fancy glassware would be dusted off and entrusted in the hands of us kids. Christmas Eve & Valentine's Day. The table would be set with a fancy tablecloth, there would be fancy candles (which we'd always argue about who got to blow them out), and the day-to-day plastic rainbow cups were replaced with fancy wine glasses filled with red Kool-aid.
What You Need to Make Dinner Party Menu
Avery Menu Cards (#80505), Avery Template (download below), double-sided adhesive, and an exacto knife.
How to Make Printable Dinner Party Menu:
Step 1: Download Templates
Download & save the Avery Templates to your computer. Unzip the file. Included in this zipped file are (1) Front Menu Avery File (2) Back Menu Avery File and (3) Assembly Guide PDF
Step 2: Customize in Avery Design & Print Online
Print and customize the menu through the Avery Design & Print Online software by:
Go to the Avery website and click "Open A Saved Project: From Your Computer" on the right side of the screen.
Upload the file you just downloaded.
Use the Avery software to customize the fonts & colors with your menu.
Step 3: Print & Assemble:
After downloading the template & customizing (instructions below), print the designs on Avery Menu Cards.
Next, use a exacto knife to cut and score pop up "doors". I included an assembly guide in the download folder so you know exactly where to cut, score, fold, and adhere.
Once cut, apply double-sided adhesive to the areas indicated in the assembly guide. Adhesive placement is shown in the photo below in bright yellow.
Finally, align top and bottom edges and place the top sheet over the bottom sheet. Trim off any excess white borders, if desired.
Frequently Asked Questions:
Can I edit the text and menu items?
Yes! While many of the printables I share here are uneditable, these are FULLY editable through Avery Design & Print Online.
Which means you can fully customize the dinner party menu text to your own signature dishes & family faves. (Simply create a free account & completely customize the design!) I designed the template and now you can fully customize the colors & fonts to YOUR liking.
For example, even though I show a Valentine's theme here, you could also change it to say, "KATIE'S BIRTHDAY MENU" and change the colors in the software to your party's theme. Instant customization without needing fancy design software!
How do I change the colors and text?
To change the colors, go to the Image tab then click on the "Change Color" button. Select your color then eyedrop it onto the area you want to change.
How Do I Make the Flaps Pop Up?
An exacto knife! And the pop-ups are the best part to these (in my opinion). Set a dinner party menu at each place-setting and keep the kids in anticipation all day when they ask, "What's for dinner?!" You know those tiny eyes will be stalking the kitchen all day, but make them wait 'til they sit down to pop open the "doors". Or if you want to make it even more mysterious & interactive, make them wait to pop open each door until that course is served. Because there's no greater anticipation than having to wait until dinner is over to find out what is for dessert!
Tip: If don't feel like doing the pop-up feature, you can simply customize & print just the front and use it as a flat menu!
Please note that these files are for personal use only and redistribution or reselling for commercial use is strictly prohibited. If you would like to spread the word about this printable, you are free to do so but (A) must link directly back to this post for download (please do not link directly to the printable download file) and (B) may only use one image from the post. Thank you for your cooperation!