Download these printable carrot treat boxes, fill with candy, and have yourself an adorable little treat for Easter or Spring time goodies!
I decided this week that if I had to rank vegetables, it would go something like this. #1: Potatoes. #2 Carrots. and #3 Corn. (Except for the fact that my sister informed me the other day that corn is NOT a vegetable…but I'm going to just keep calling it one.) I honestly thought my 20/20 eyesight was due to the fact that I probably ate more carrots as a child than anything else, but as old age approaches (ripe ol' 26) and glasses have become a necessity, I've started to wonder if carrots actually do anything for the eyes or if that's one big folks tale. Because if I don't have good eyesight from eating 100lbs of carrots over the years, then I can't imagine anyone who would.
So while carrots are my second choice in the world of vegetables, today they are taking trump over potatoes because seriously, who would want a potato treat box? (Actually I take that back, I totally would). These take a little time to cut out and put together because of their geometric shape, but I'm making it easy for you by giving you the printable template!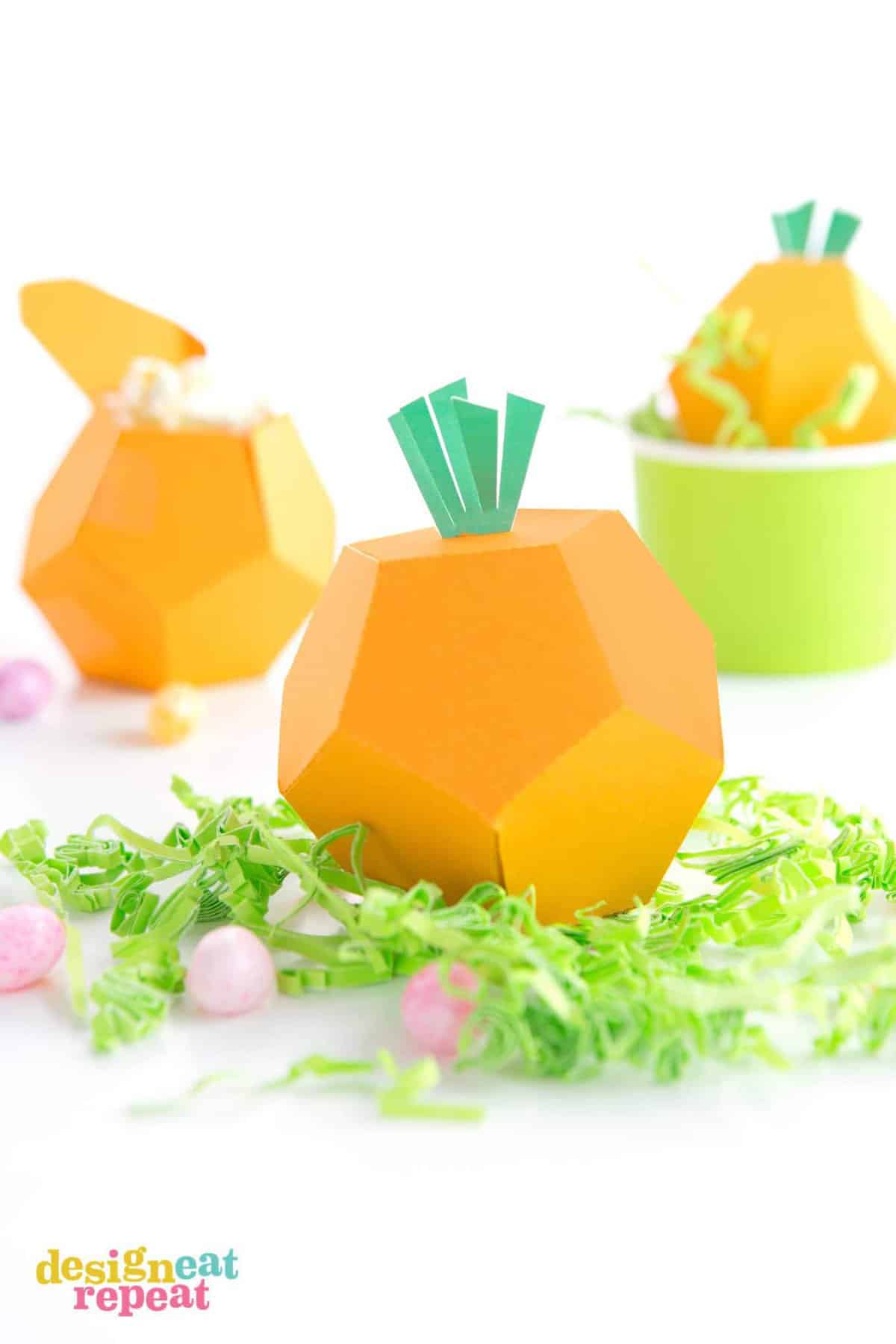 Simply print out the template on a piece of orange cardstock, cut out, fold, and tape all the tabs closed. Before closing off the top flap, fill with treats, and then top off with the adorable fringe carrot top (included in the printable). Be sure to use strong double-sided tape, otherwise your boxes will pop open like the Easter surprise they are. I've included two options for the box: Option 1 will help save printer ink by printing the template on orange cardstock, while Option 2 includes the printable orange background. Both indicate where to cut & fold, making them a fun & relatively easy paper crafting project to get your spring-time started!
Please note that these files are for personal use only and redistribution or reselling for commercial use is strictly prohibited. If you would like to spread the word about this printable, you are free to do so but (A) must link directly back to this post for download (please do not link directly to the printable download file) and (B) may only use one image from the post. Thank you for your cooperation!