* If you follow me on social media, you know that all of November I will be posting cookie recipes in a series called, 30 Days of Cookies. That's 30 recipes to develop, make, photograph, edit, and write in 30 days. For a roundup of all posts, you can visit the 30 Days of Cookies Archive page. Today is Day 14 of 30 with these Pineapple Cream Sugar Cookie Bars. Feel free to participate in the cookie making madness. Just include the hashtag #30daysofcookies in your posts to link up.
I know I just posted a sugar cookie recipe on Tuesday, but that's just what happens when daylight savings time ruins my photo plans and I don't have daylight before or after work to photograph. I made these this past weekend and it's the last post I have stocked up in my cookie stockpile. So, if you don't see a post tomorrow, blame it on the lack of sunlight I have to photograph. I swear I have peanut butter bars sitting on my counter just waiting for their beauty shots. Whether or not they will ever get those beauty shots is uncertain.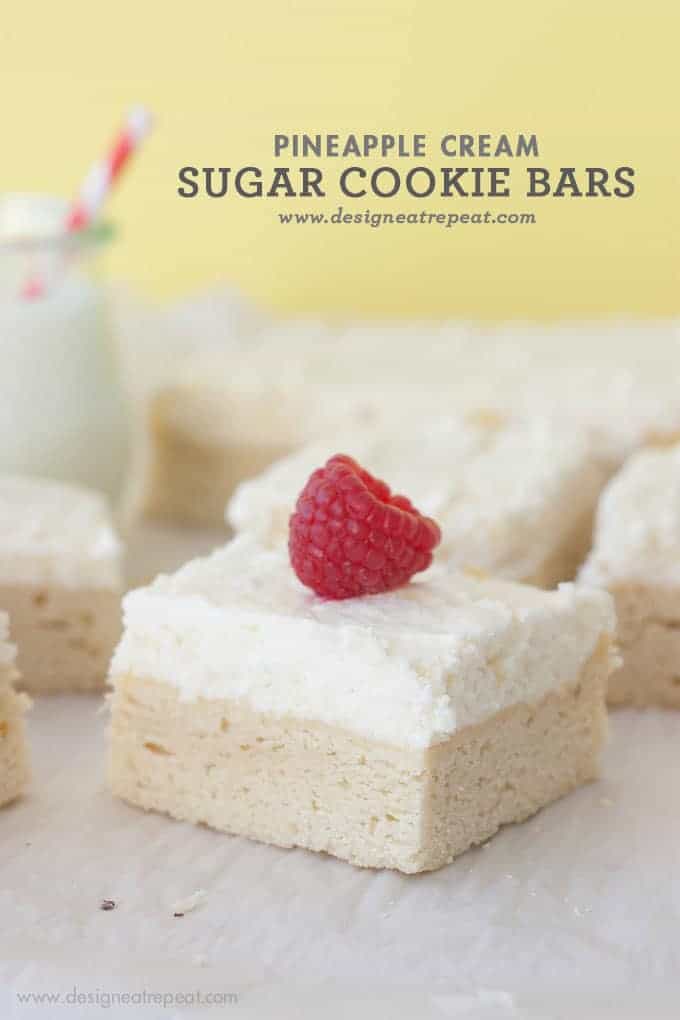 As I was making cookies this weekend, I got tired of scooping & rolling so many cookies, that I decided to be lazy and just make bars. This recipe is an adaption from the sugar cookie dough from Day 1 and it really is the softest sugar cookie recipe I've come up with.
I've been wanting to make some type of pineapple cookie, and after finding fresh raspberries on sale, I decided it was the perfect time. The sugar cookie bars are soft, with a little bit of almond flavor, while the light pineapple frosting adds a little extra tang. And after topping them with fresh raspberries, you get a little bit of a fruit pizza experience. I only showed the bars being topped with one raspberry, but I recommend adding about 5-6 to each bar. One in every bite truly makes the bars complete.
Pineapple Cream Sugar Cookie Bars
Prep Time: 10 minutes
Cook Time: 10 minutes
Total Time: 20 minutes
Course: Dessert
Category: Cookie
Servings: 18 bars
Ingredients
1/2 cup 1 stick butter, softened
6 oz. light vanilla yogurt
1/2 cup sugar
1/2 cup powdered sugar
1 teaspoon vanilla
1/2 teaspoon almond extract
Juice drained from 8 oz. can of pineapple tidbits
2 eggs
1 teaspoon baking soda
3 1/2 cups all-purpose flour
Frosting:
1/2 cup 1 stick butter, softened
1 teaspoon vanilla
1/2 teaspoon almond extract
1 teaspoon honey
8 oz. canned pineapple tidbits drained
3 cups powdered sugar
1 tablespoon all-purpose flour
Instructions
In a large bowl, cream together butter, yogurt, sugar, and powdered sugar with an electric mixer for 1 minute.

Add in vanilla, almond extract, pineapple juice and eggs and stir on low speed until incorporated. Add in baking soda and continue to stir on low for 10 seconds.

One cup at a time, slowly add in the flour and mix on low speed until flour is incorporated.

Form dough into a large ball and place on flour covered surface. Knead dough for 1 minute until dough is no longer sticky. You may need to sprinkle more flour onto the dough and continue to knead if dough is sticky.

Press dough into a greased 9x13 pan and smooth so the dough is evenly spread.

Bake at 350 degrees for 15 minutes.

Allow to cool completely before icing.

To make the icing, beat butter, vanilla, almond extract, honey, and pineapple tidbits with an electric mixer for 1 minute. While the mixer is on, slowly add powdered sugar one cup at a time. Add flour. Scrape down sides of the bowl and beat for an additional 20 seconds. Spread over cooled bars.

If you don't plan to serve these immediately, store in the refrigerator in a airtight container for 1-2 days. They are best served fresh.

Optional (but highly recommended): Top each bar with a fresh raspberry.
Nutrition
Calories: 318kcal
Fat: 11g
Saturated fat: 6g
Cholesterol: 45mg
Sodium: 165mg
Potassium: 69mg
Carbohydrates: 51g
Sugar: 31g
Protein: 3g
Vitamin A: 350%
Vitamin C: 1.2%
Calcium: 28%
Iron: 1.3%
What are your thoughts on pineapple in baked goods? Love it or hate it?