Stemming from yesterday's post, another thing that made it into my cart during the baking ingredient haul was toffee bits. They looked like fun, so I got them. What's funny is that I don't think I've ever baked with them before this. I obviously knew what they were, but I wasn't quite sure if they were going to be crunchy or soft. Toffee newbie right here.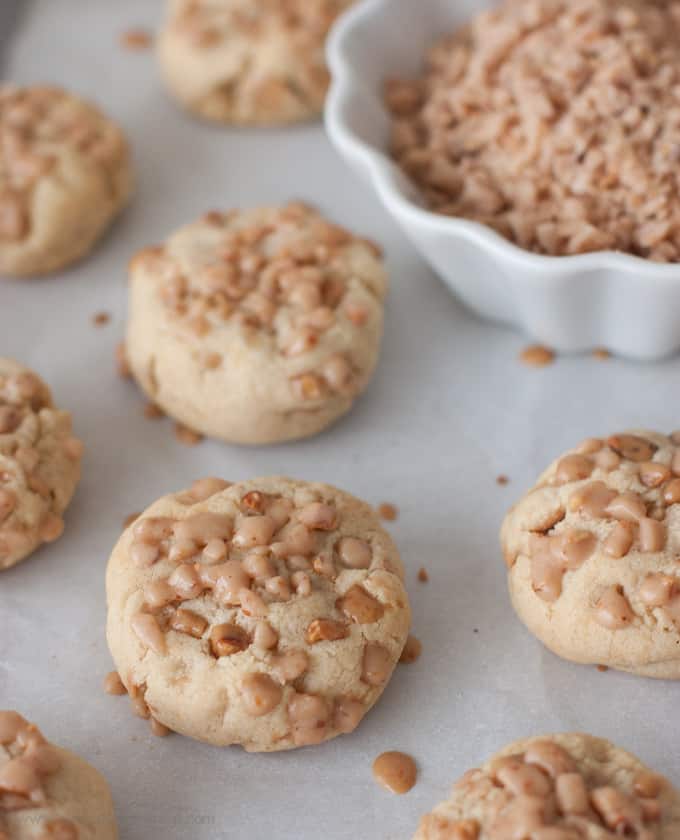 So when I finally got around to using them, I opened the bag to find out that they were actually crunchy little things. Not like the texture of butterscotch chips, which I kind of expected based on the look of the packaging. But more like bits of crunchy caramel. Let's just say that I was not disappointed.
These toffee cookies, made with a peanut butter dough, are soft with a little bit of crunch on the top. Since the dough only has 1/4 cup of peanut butter, you aren't getting a super peanut-buttery flavor, but more of a subtle nutty taste to complement the caramely toffee bits.
And did I mention there are peanut butter chips inside the dough to add a little extra sweetness?
Peanut Butter Chip Toffee Cookies
Prep Time: 10 minutes
Cook Time: 10 minutes
Total Time: 20 minutes
Course: Dessert
Category: Cookie
Servings: 24 cookies
Ingredients
1/2 cup 1 stick butter
1/2 cup brown sugar
1/2 cup sugar
1/4 cup peanut butter
1 teaspoon vanilla
1 teaspoon baking soda
1 egg
2 cups all-purpose flour
1/2 cup peanut butter chips
1/2 cup toffee bits for rolling
Instructions
In a medium sized saucepan, melt butter on low heat. Once melted, turn heat to medium and add brown sugar & white sugar. Stir continuously for 2 minutes until all sugar is dissolved into butter. Remove from heat and pour into a large mixing bowl.

Using an electric mixer on medium speed, add peanut butter, vanilla, and baking soda to butter/sugar mixture. Mix for 15 seconds. Add in egg and stir for another 10 seconds.

Add flour and continue to mix until all flour is incorporated. Mix in peanut butter chips.

Scoop dough into 1 tablespoon sized balls, roll into the toffee bits, and place on a parchment-covered baking sheet.

Bake at 350 degrees for 8 minutes. Allow to cool before removing from the cookies from the pan.

If not serving immediately, store in an airtight container for up to 3 days. If you don't plan to eat them within 3 days, store in the freezer.
Nutrition
Calories: 144kcal
Fat: 6g
Saturated fat: 3g
Cholesterol: 17mg
Sodium: 70mg
Potassium: 37mg
Carbohydrates: 19g
Sugar: 10g
Protein: 2g
Vitamin A: 130%
Calcium: 9%
Iron: 0.7%
For those of you who have made toffee cookies before, I have a question for you. When you add toffee pieces to the inside of the dough, do the toffee bits harden again after baking, resulting in a crunchy cookie? I thought about adding the toffee bits into the dough but was afraid that they would caramelize too much. If anyone has the answer to this, I'd love to hear!