With the school year wrapping up & the kiddos saying goodbye to their classrooms, I thought it was only fitting to concoct an easy DIY idea to help send your favorite teachers into summer mode! With just a few straws, plastic sleeves, pencil printables, and single serve drink packets, you can crank out a bunch of these lemonade pencil pouches to gift to teachers or even an entire classroom of anxious, summer-ready kiddos!
These little teacher favors are super quick to put together and require very little cutting & assembly. For just a few dollars, I picked up a bunch of yellow straws on sale, as well as a 100 pack of 1×8 cello bags. After popping 3 straws in each plastic cello bag, I cut out the printable pencil topper & eraser and adhered it to the front of the bag using my handy dandy glue runner (double sided tape will also work).
After assembling the pencils, attach a single serving drink packet on the front of each one for easy gifting! If you're looking to take it up a notch, you could also add on a thank you note or gift card. Or if you're realllly looking to impress, display a bunch of these pencil pouches in a mason jar with a fun eraser gift tag.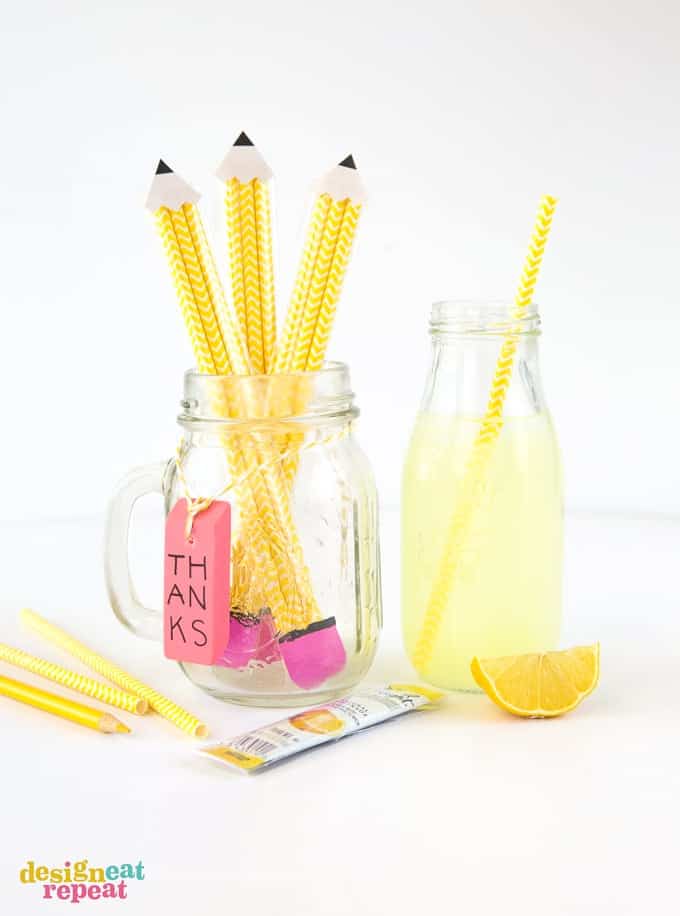 Whether you gift these as an end of the school year teacher gift or save them for the start of the new school year, these printable pencil pouches are sure to keep summer break sweet as can be!
So who's with me this summer on weekly pool dates with an ice cold lemonade in hand? Pencils down. Bottoms up. Let's do this, summer!