Get out your stretchy pants, cause this recipe for M&M's®Frozen Red Velvet Cheesecake, sponsored by Collective Bias, Inc. and its advertiser, holds nothing back! As always, all opinions and writings are my own. Thank you to my sponsors who allow me to continue producing free printables and recipes! #CollectiveBias #RedVelvetLove
Looking for a festive Valentine's Day dessert the whole family will love? This thick & creamy Red Velvet Frozen Cheesecake is sure to please the masses!
As I was dreaming up something to make for Valentine's Day, I remembered a Easter pie recipe that we used to make. all. the. time. I couldn't find the recipe, so I decided to try and remember the basics and create a new cheesecake from there.
Whipped cream, pudding, M&M's®, and cream cheese to start. The original recipe had a graham cracker crust, but those are messy and this is Valentine's Day, so I decided to go with a red velvet base to pair with the new bag of M&M's® Red Velvet that I picked up from Walmart's seasonal aisle (have you guys seen these yet?!). Those seasonal candy aisles literally get me every time.
The original pie that I remembered from my childhood was thin & creamy (almost like a pudding), leaving very little hope for any kind of clean pie cut. So instead of splitting the cheesecake batter into two pies, I piled it all on one round cake to create a thick & creamy frozen layer of cheesecake heaven. Allowing it to set in the freezer for a few hours gave me a nice thick pie to cut into, while creating a creamy ice cream-like texture.
The base is a simple red velvet cake mix that I allowed to completely cool before adding the cheesecake layer. Once I smoothed out the top of the cheesecake layer with a spatula, I topped the cake with crushed & whole M&M's® Red Velvet and the regular Valentine's Day themed milk chocolate M&M's® before popping it into the freezer. You'll want to make sure to add these before freezing or you will have a had time getting the M&M's® to stick on!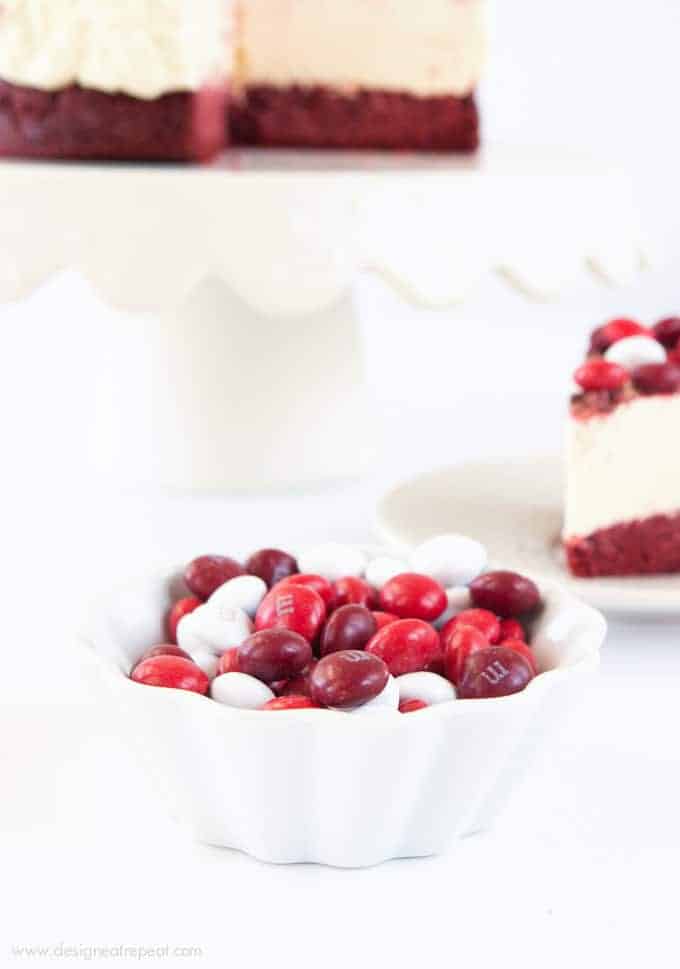 M&M's® Red Velvet Frozen Cheesecake
A frozen cheesecake topped with M&M's on a red velvet cake base. The perfect Valentine's Day or Fourth of July cake.
Prep Time: 6 hours
Cook Time: 30 minutes
Total Time: 6 hours 30 minutes
Course: Dessert
Category: Cake
Servings: 12 Slices (depending on size)
Ingredients
Red Velvet Cake Base:
1 18.25oz. Red Velvet Cake Mix
+ the Eggs Water, Oil that your box calls for.
Cheesecake Layer:
8 oz. package cream cheese, softened
14 oz. can sweetened condensed milk
1 3.4oz. instant vanilla pudding (you just need the powder, do not prepare beforehand)
1/2 teaspoon vanilla extract
1/2 cup milk
1/4 cup water
1 8oz. container whipped cream (Cool Whip), thawed (not frozen)
Topping:
1/2 cup crushed M&M's® Red Velvet
1/2 cup whole M&M's® Red Velvet or more to cover cake
1/2 cup Valentine themed milk chocolate M&M's®
Before you begin! If you make this, will you do me a huge favor and leave a review and rating letting me know how you liked this recipe? This helps my small business thrive so I can continue providing free recipes and high-quality content for you.
Instructions
Prepare cake mix according to instructions on box. Split the batter in half to bake two 9" round cakes (you will only need one of the cakes for this recipe, so you can eat or freeze the other!). Once baked, allow the cakes to cool completely. Carefully remove the cake from the pan and use a knife or cake leveler to carefully level off the "dome" of the cake.

Line the exact same pan that you just removed the cake from with aluminum foil, allowing for a 3-4" overhang so that you can easily lift the cake out later on. You will need a deep cake pan in order to be able to get the height of this cake. Carefully place the leveled cake back into the foil-lined pan and place in freezer for 30 minutes to allow cake to slightly harden.

In the meantime, it's time to make the cheesecake filling!

Add cream cheese to large mixing bowl and whip with a electric mixer on medium speed for 2-3 minutes, or until fluffy.

Turn the mixer to low speed, and add in sweetened condensed milk, vanilla pudding powder, and vanilla. Mix for 1 minute until everything is incorporated. (You may need to turn the mixer off and scrape the sides.) Add in milk and water and continue mixing on low speed until combined.

Turn the mixer off and gently fold in the whipped creamy with a spatula until smooth.

Remove your cake from the freezer and gently pour the cheesecake mixture on top. Using a spatula, carefully smooth off the top to ensure the mixture covers the entire cake and all the "sides".

Place 1/2 cup crushed M&M's® Red Velvet in a large plastic bag and use a rolling pin to crush the M&M's®. Sprinkle on top of cheescake along with the 1/2 cup of whole M&M's® Red Velvet and the 1/2 cup of the Valentine themed milk chocolate M&M's® .

Cover with plastic wrap and foil and place entire pan in freezer for 4-6 hours. I left mine overnight to completely harden, so that I could ensure a nice, clean cut.

When time to serve, carefully lift out the cheesecake by the foil "handles" and gently peel back the foil from the edges of the cheesecake. Use a sharp knife to carefully cut slices. If pie is too frozen to cut, allow to thaw for 20-30 minutes until knife is able to be run through (if you plan to serve this as a frozen dessert, you will need to apply a good amount of pressure to your knife to cut through the cake.)
Last Step! Please leave a review and rating letting me know how you liked this recipe! This helps my small business thrive so I can continue providing free recipes and high-quality content for you.
Nutrition
Calories: 292kcal
Fat: 12g
Saturated fat: 5g
Cholesterol: 5mg
Sodium: 320mg
Potassium: 132mg
Carbohydrates: 44g
Fiber: 1g
Sugar: 30g
Protein: 3g
Vitamin A: 75%
Calcium: 96%
Iron: 1.9%
I'm usually pretty good at keeping my hands off blog goodies most days, but you guys, this one is not one of those days. This recreation of the pie I remember making as a kid ranks about 5 cheesecake levels higher than the original one and may be my new favorite frozen cheesecake base. I can't wait to experiment with other flavors of cake & M&M's® (chocolate, mint, pastel, PEANUT BUTTER) for other occasions. Any one have a favorite Valentine's Day dessert that I should know about? Leave a comment below sharing your family Valentine's Day traditions!