Ditch the candy this Valentine's Day and pass out these brightly colored mini notepads instead! Customize the front covers with names or phrases and allow the kids to draw, doodle, or write love notes inside!
I'm all for candy around the holidays, but if you've got the craving for a non-cavity-inducing Valentine's treat this year then get those scissors ready to make these mini printable notepads! Inspired by the most adorable mint colored pencils found at the money black hole Target dollar section, I thought it would be fun to switch things around this Valentine's Day and create some fun notepads for the kids to write, doodle, or ahem…pass notes on during class.
But wait…do kids these days still pass notes or do they just text each instead? Actually kind of curious about that…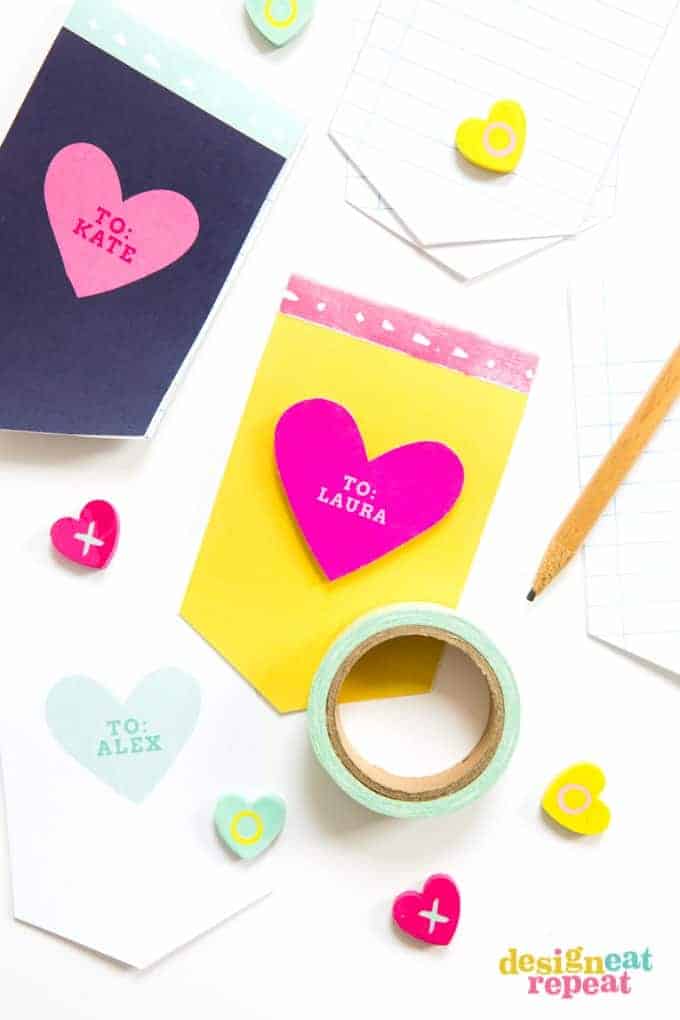 The printable PDF includes all three color designs, "notepad" paper, as well as an extra page of the notepad paper on the last page in case you want to bulk up each of the notepads with more sheets. On the front covers there are blank hearts that you can type or write names or love notes on. After printing out and sandwiching the notebook paper between the front and back cover, staple the top in two places and then cover with fun washi tape or colored paper to hide the staples. Attach a cute pencil to the back of each one and you have yourself some fun custom notepads that will inspire creativity and won't cost you a trip to the dentist!
Materials:
White Paper  //  Scissors or Exacto Knife (for adults)
Stapler  //  Washi Tape  // Cute Pencils to gift with the notepads! (optional)
Please note that these files are for personal use only and redistribution or reselling for commercial use is strictly prohibited. If you would like to spread the word about this printable, you are free to do so but (A) must link directly back to this post for download (please do not link directly to the printable download file) and (B) may only use one image from the post. Thank you for your cooperation!