Thank you STARBURST™ Brand Sorbet Bars for sponsoring this post. Check out STARBURST™ Brand Sorbet Bars for a light and delicious treat this summer, available at Walmart and select grocery stores worldwide.
After a long, unintentional blogging hiatus, I'm back in action and ready to finish summer projects once and for all! For those who follow me on Instagram, you may know that I just got back from a week long family vacation in Colorado. The week was filled with treacherous white water rafting, having to climb a 60ft pole to zip line off of, and a nice hefty sunburn to top things off. While it was quite the adventure, it is always nice to get back home and into a routine again. We stayed a YMCA camp up in the mountains and although the cafeteria food was surprisingly good, there was one key component missing. Icecream! So when I got home and restocked on groceries, my freezer somehow got a little full in the frozen treats department. Like ridiculously full to the point where I could throw one mind blowing ice cream party.
On the long (long) 14-hour car ride to Colorado, I started brainstorming some final summer project ideas to cap off the summer. And one of those ideas was turning these strawberry sorbet bars into mini birthday cakes! If you haven't seen the new Starburst™ Brand Sorbet Bars strawberry sorbet bars yet, then the time has come for you and them to meet. After whipping up some candle printables & attaching them to each popsicle stick, these cold & fruity treats got transformed into mini birthday cakes in a matter of minutes! Their square shape is just too cute to not turn into cakes, huh?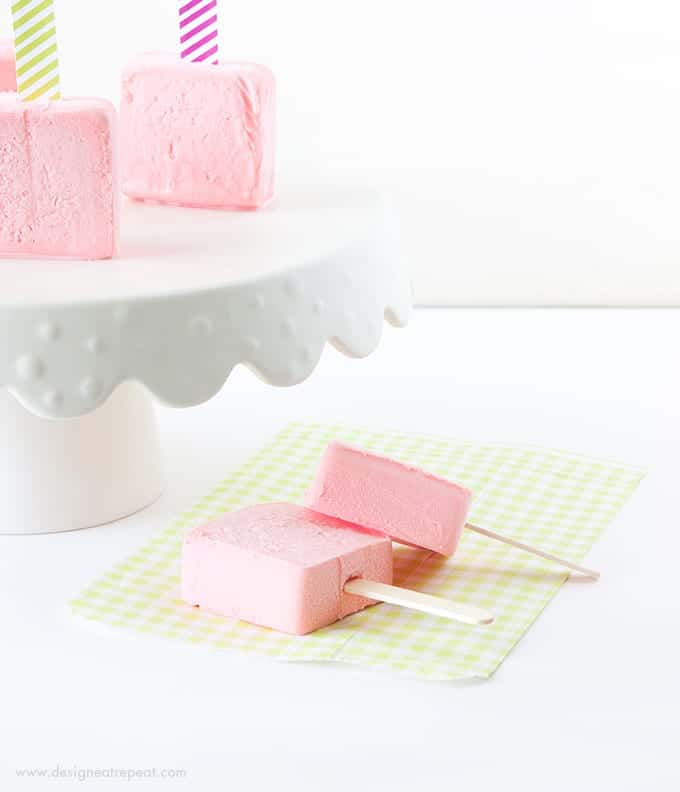 The bars have that tangy taste like the original strawberry fruit chew, and pack a refreshing punch in a 70 calorie square. Which makes them the perfect refreshing treat for all those last-blast summer bashes! I'm planning to serve these at a little taco night tomorrow evening and I can't wait for everyone to give them a try! When it comes to Starburst candy, I discriminate against all the flavors except for red & pink, so I was happy to hear one of my top faves made the cut for freezerdom.
I'm all for simplicity when it comes to party ideas, and these might be one of the easiest birthday treat ideas yet! They come in both 4-packs & singles, so you can pick up a few boxes for your next party, print off the printable candles, and be on your way to party stardom. (You can find the 4-packs at most Walmarts & the singles at many convenience stores.)
So what do you say…who's in for one last summer ice cream party?! I can't believe how many schools are starting up already, which makes me realize just how fast this summer went! I *still* haven't made it to the pool which WILL happen before this summer is over. And when I do actually make it, my ice cream stash is coming with.
I was selected for this opportunity as a member of Clever Girls Collective and the content and opinions expressed here are all my own. Thank you for supporting these sponsors who make it possible for me to continue providing free printables to you! Follow Starburst on Twitter and Facebook to stay up to date on their latest creations!