Can we all agree that everything is 1000x cuter when it's mini? Unless it's a giant bowl of ice-cream, I'd take a tray of adorable bite-sized treats any day. Because eating 20 mini-donuts is obviously wayyyy healthier than eating 1 large donut. It may be one of those jedi-mind tricks, but I'm telling ya' – mini treats have a way of doing that to you.
Mini cupcakes, mini treat bags, mini Halloween candy boxes? Umm yes, I will take 5 of each. And then proceed to top them with more tiny paper treats because who wouldn't want to receive a little cyclops party hat goer along with their box of sugary treats this Halloween?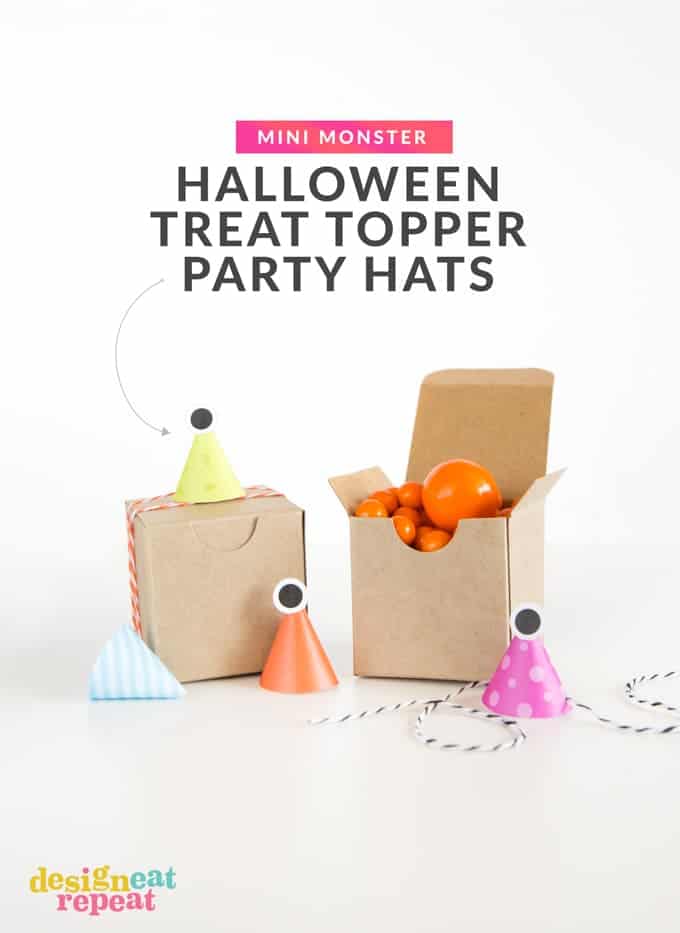 These Halloween treat toppers are super easy to put together using the printable template I designed below, as you can cut them out, tape them together, attach the eyeball (which I've also included in the printable file), and then string through some bakers twine! I used a mini hole punch to punch two holes on each side of the party hats, but you could also use a needle and thread to string the twine through.
After filling the boxes with candy, I used a long strand of bakers twine to wrap around square treat boxes to tie them closed.
Attach a gift tag, stickers (I used cardboard thickers to spell out "BOO"), or simply draw fun Halloween shapes on the boxes with a black marker to give the boxes a little dimension. And that's all! Using a Barbie-sized monster party hat & some cute string, you can embellish any of your miniature treats this Halloween!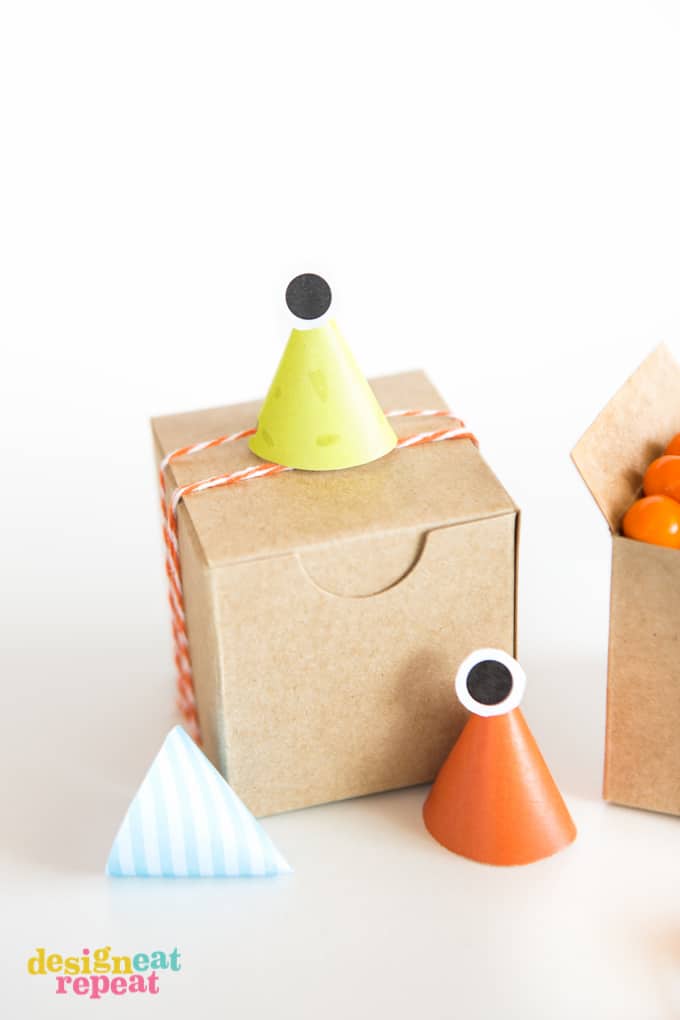 These free printable pie tags are exclusive to Design Eat Repeat VIP e-club members, so be sure to hop on over to the blog sidebar to sign up! The e-club is free to join and includes several emails per year with exclusive printables and design tips. After you confirm your email, you will get a welcome email that includes the subscriber password. If you are already a member of the VIP e-club, you will have received the password to download these in the September 6th newsletter. *Moving forward, all subscribers can use the password they receive in their final confirmation email and go to this page to download freebies! (Password was also sent out in the Sept. 6th email newsletter. Be sure to save this password for future freebies!)
Please note that these files are for personal use only and redistribution or reselling for commercial use is strictly prohibited. If you would like to spread the word about these tags, you are free to do so but must link directly back to this post for download (please do not link directly to the printable download file). Thank you for your cooperation!