Thank you to Country Crock for sponsoring this post. For more casserole tips and tricks, visit CountryCrock.com.
Now that I prep my weekday meals on Sundays, I've been trying to think of  more ways to switch up my breakfast options. Egg white omelets & yogurt are good and all, but there are some mornings where I really just crave some good ol' cinnamon. Preferably the sugary filled cinnamon roll kind, but since I'm trying to incorporate less sugar/butter in my cooking concoctions, some corners had to been cut. What it comes down to is this. Yes, baked goods aren't going to taste as sweet & addicting without that cup of brown sugar. But, they can still taste good. And these mini cinnamon breakfast casseroles are here to prove it.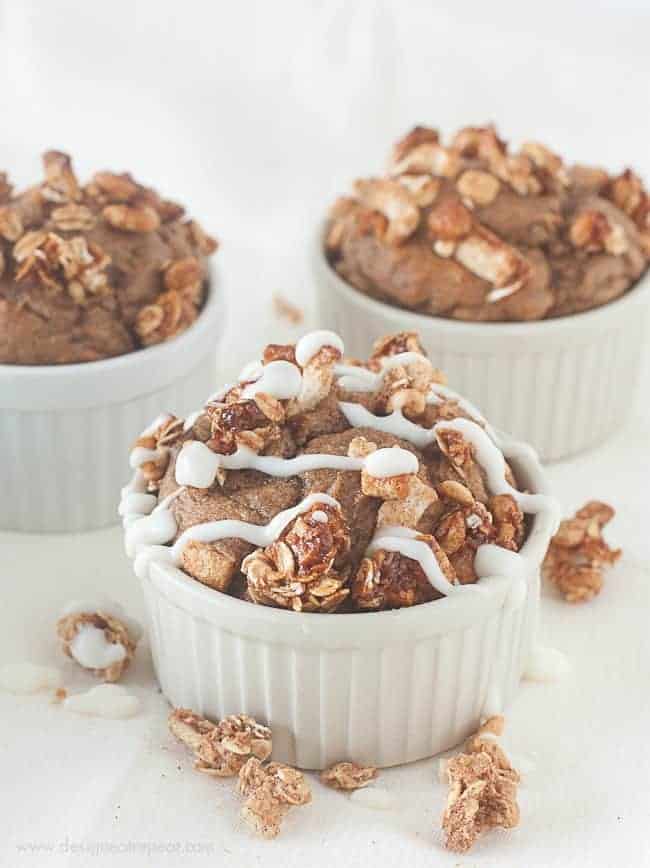 So what's the secret? Well, there's not much to it. The secret is using the sweetness of the bananas & honey to give the batter a hint of sugary goodness. Instead of loads of butter, the moisture of the casseroles comes from plain lowfat yogurt, applesauce, and two tablespoons of Country Crock spread (which has 0g trans fat & 70% less fat than butter). You all know I love to bake with real butter, but we are switching it up a bit for these.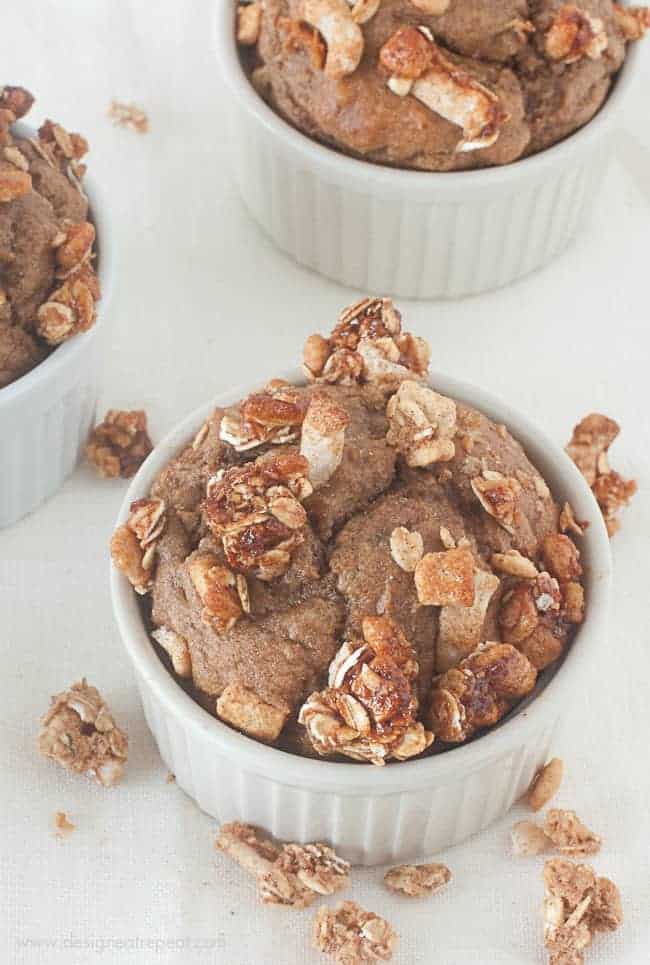 And that "frosting" you see? Well, it's actually just light vanilla yogurt drizzled on top. Cinnamon granola with vanilla yogurt is one of my new favorite breakfast staples, so why not throw both on top of these mini cinnamon breakfast casseroles?
These are best served fresh & warm, as I tend not to like whole wheat baked goods after being stored for a few days. If you don't think you'll eat them up right away, remove them from the ramekins, wrap them in plastic wrap and foil, and store in the freezer. Breakfast breads are always great to grab from the freezer & heat up on a busy morning.
Mini Cinnamon Breakfast Casseroles
These mini cinnamon breakfast casseroles are here to prove that you don't need loads of butter and sugar to have a sweet morning.
Prep Time: 10 minutes
Cook Time: 20 minutes
Total Time: 30 minutes
Course: Breakfast
Category: American
Servings: 8 Mini Casseroles
Ingredients
2 ripe bananas mashed (the sweeter, the better)
¼ c. all-natural peanut butter you can use other variations
¼ cup honey
½ cup plain lowfat yogurt
¼ cup applesauce
2 tablespoons Country Crock spread
1 teaspoon vanilla
½ tablespoon Cinnamon
3 Stevia all-natural sweetener packets
1 egg
1 teaspoon baking soda
1 teaspoon baking powder
1 1/2 cup whole wheat flour
3/4 cup cinnamon granola cereal I used Kashi Cinnamon Crumble Cereal
1/2 cup light vanilla yogurt for drizzle
Before you begin! If you make this, will you do me a huge favor and leave a review and rating letting me know how you liked this recipe? This helps my small business thrive so I can continue providing free recipes and high-quality content for you.
Instructions
In a large bowl, beat together the bananas, peanut butter, and honey. Add in yogurt, applesauce, margarine spread, vanilla, cinnamon, and Stevia packets and mix until combined.

Once combined, slowly mix in the egg.

Add baking soda and baking powder and stir on low speed for 10 seconds until combined. Add in flour and mix until all flour is incorporated (Do not overmix. Only mix until you can no longer see the flour).

Grease 8 small ramekins & distribute batter evenly between them. Sprinkle 1-2 tablespoons of cinnamon granola on top of each one.

Bake at 350 degrees for 21-23 minutes or until toothpick comes out clean.

Drizzle with light vanilla yogurt and serve warm
Last Step! Please leave a review and rating letting me know how you liked this recipe! This helps my small business thrive so I can continue providing free recipes and high-quality content for you.
Nutrition
Calories: 293kcal
Fat: 10g
Saturated fat: 2g
Cholesterol: 22mg
Sodium: 238mg
Potassium: 418mg
Carbohydrates: 45g
Fiber: 4g
Sugar: 19g
Protein: 8g
Vitamin A: 190%
Vitamin C: 2.8%
Calcium: 106%
Iron: 1.7%
The nice thing about this recipe is that it kills my cinnamon craving without turning to those heavenly things we like to call cinnamon rolls. And like most casseroles, they are a one-bowl wonder. Mix everything up, bake it, and you have a quick & hearty breakfast for those busy mornings.
 What's your favorite "breakfast bread?" I think my next task will be to make a "semi-healthy" Monkey Bread recipe. Because that my friends, is where the magic truly is.