Today marks the final day of ca-ca-ca-candy week on the blog. This week, I featured 3 recipes using my top 3 favorite candies as inspiration (you can read the previous posts here and here).  With Mother's Day just around the corner, I thought it would be fun to come up with some new treat ideas that incorporated my favorite morsels. So today, the finale is being topped off with….da-da-da: chocolate butter mints. You're probably thinking, "of all the candies out there, you choose mints?" And to that, I say yes. Yes, I did. You see, I have an explanation for this very boring candy love.
You see, it all started back in high school during my waitressing days. The after-dinner mints that we gave customers was that unlike any other. They weren't those nasty red peppermint pinwheels that you find at a majority of restaurants. No, oh no. They were much better. They were these chocolate buttermints that we had to stare at all night long. Okay, well not just stare at. We definitely had our fill of those bad boys throughout the years. In fact, it's actually quite surprising that I still like them today.
Having been done waitressing for almost four years now, I haven't gotten my hands on anything equivalent to those restaurant mints since shipping off to college. So, you can probably imagine my excitement when I saw that chocolate butter mints were an option for the Sugarwish blue box. Now, for all of you unfamiliar with Sugarwish, let me explain what the amazeness they do. Basically, you can purchase a box of candy for someone, and they will send that person an email saying they got a Sugarwish gift. That person then goes to their website, picks out their candy, and gets it mailed to them within a few days. It's like the savior of all long-distance birthdays. When my lil' bro's birthday was a few weeks ago, I sent him a Sugarwish box since I knew I would never have time to get a real gift out the door. It was probably his favorite thing to arrive at that doorstep since his star wars lego set from eBay.
Anyways, knowing of my mint addiction, the wonderful folks over at Sugarwish agreed to send me my very own box of candies to use as recipe inspiration. And in true Sugarwish fashion, I got to choose each candy that was included myself.
My top four choices were: Sour patch apples, bubblegum taffy, blue sixlets, and the infamous mint chocolates. Now, the fun part could begin. To come up with a fun recipe that incorporated one of these candies. It was like Iron Chef America, except…I had no opponent. So, well, I guess it wasn't much like Iron Chef at all.
As soon as I broke open that bag of chocolate mints, I knew what I was destined to create. Some type of mint chocolate creation that I could smother those candies all over. I recently found a killer brownie base recipe over at one of my favorite food blogs, and I knew it would make a great base for these melt in your mouth nuggets of heaven.
After baking up the mini brownie bites, I whipped up one of my favorite mint buttercream frosting recipes and let the piping begin.
And now, the fun part began. The part where I could take out all my stress and frustrations of college life on the candy. I got out my rolling pin and crushed away.
I sprinkled on the bits and pieces and called it a day.
Kidding, I would never dare calling it a day without a little taste test first. The result? The most moist, flavorful brownies I have every laid my hands upon. No joke. Carrie knocked it out of the park with the brownie recipe, and the mix of chocolate mints & buttercream leant for a melt-in-your-mouth bite.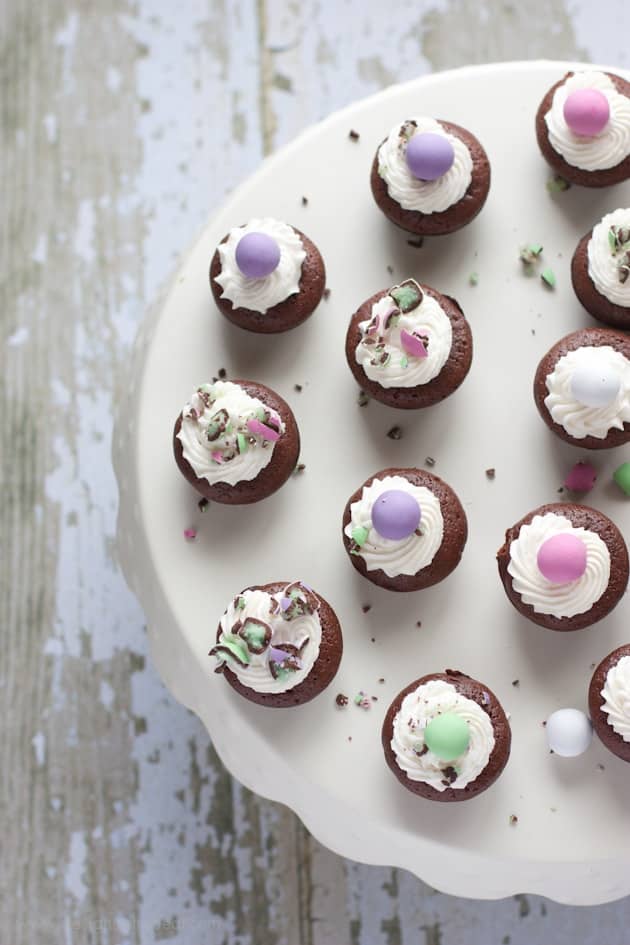 Brownie Bites with Mint Buttercream Frosting
Prep Time: 10 minutes
Cook Time: 10 minutes
Total Time: 20 minutes
Course: Dessert
Category: Brownie
Servings: 36 bites
Ingredients
Brownies
1 cup of butter
1 cup chopped milk chocolate
1/2 cup unsweetened cocoa powder
1 and 1/4 cups of sugar
3 eggs
1 teaspoon vanilla extract
1/4 cup of Plain Greek Yogurt
1/2 cup All-Purpose flour
1 tsp salt
Mint Buttercream Frosting:
1/2 cup softened butter
3 cups powdered sugar
1 teaspoon vanilla
1/2 teaspoon mint extract
2 tablespoons milk
Before you begin! If you make this, will you do me a huge favor and leave a review and rating letting me know how you liked this recipe? This helps my small business thrive so I can continue providing free recipes and high-quality content for you.
Instructions
In a medium-sized saucepan, melt together butter and milk chocolate pieces on low heat. Stir mixture until completely melted. Once incorporated, set aside to cool.

Meanwhile, in a large bowl, cream together sugar, cocoa powder, and eggs.

Fold in vanilla, yogurt, and salt.

Once combined, add in cooled chocolate/butter mixture. Stir together by hand until combined.

Lastly, add in flour and stir by hand until flour disappears. Do not overmix.

Spray mini muffin tins with non-stick cooking spray and place 1 tablespoon scoops of batter into each.

Bake at 350 degrees for 10-12 minutes. Watch closely to prevent overcooking. Once a toothpick comes out clean, they are done. Makes 36-48 bites.
Mint Buttercream Frosting: In large bowl, beat together butter and powered sugar. Once combined, add in vanilla, mint extract, and milk. Beat for 1-2 minutes until frosting becomes light. If frosting is dry, continue adding in 1 tablespoon of milk until desired consistency. Pipe or spoon onto brownie bites and top with chocolate buttercream mints.
Last Step! Please leave a review and rating letting me know how you liked this recipe! This helps my small business thrive so I can continue providing free recipes and high-quality content for you.
Nutrition
Calories: 150kcal
Fat: 10g
Saturated fat: 6g
Cholesterol: 34mg
Sodium: 139mg
Potassium: 56mg
Carbohydrates: 14g
Sugar: 11g
Protein: 1g
Vitamin A: 260%
Calcium: 11%
Iron: 0.6%
With graduation & Mother's Day just around the corner, I can assure you that these little morsels will be making another appearance very soon!