If you're looking for easy to make desserts for Valentine's Day, this DIY Pudding Bar sponsored by Collective Bias, Inc. and its advertiser is the perfect solution to create a memorable party spread! As always, all opinions and writings are my own. Thank you to my sponsors who allow me to continue producing free printables and recipes! #SnackPackMixins #CollectiveBias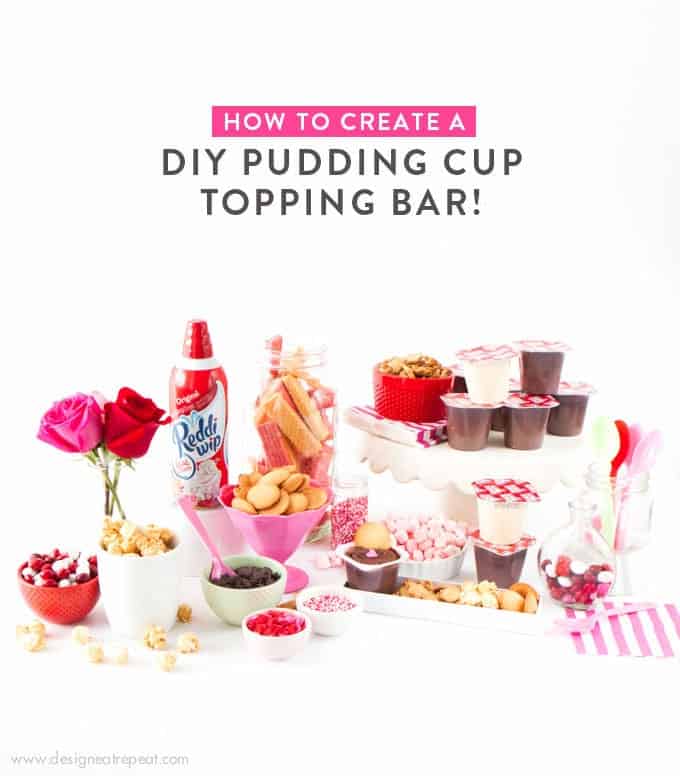 I was standing in my kitchen the other day reheating some leftovers my Grandma sent back with me at Christmas (don't worry, they were frozen) and a whiff from the microwave brought me right back to that small kitchen, counters of food, and a house full of people. And it got me thinking about how smells or certain foods can teleport you from a city apartment, back to a small town kitchen in a matter of seconds. How something like the smell of cheesy potatoes or bacon will forever make me think of one Grandma, while chicken & rice soup, pudding cups, and Pringles will forever make me think of the other. Funny how the senses work, isn't it? So this year, I decided to bring a modern twist to one of these nostalgic treats with easy ideas to put together this DIY pudding bar. Even to this day, anytime we go down to Missouri to visit she always sends us home with peanut butter sandwiches, pringles, and pudding cups to hold us over on the drive. Such a sweet one she is.
What you'll need to pull off this party spread is simple and totally kid-friendly. I picked up several packs of chocolate and vanilla Snack Pack pudding cups from Walmart (found packs of 4 for $1!), and lots of fun candies, sprinkles, and cookies to add on top and use as dippers!
Does anyone remember dunkaroos as a kid? Those little rectangle containers that had tiny cookies & a little nook of frosting to dip in? Well, they were always a rare treat for us a kid so I wanted to take advantage of being an adult who can buy their own food and make them at home! Oh, the simple pleasures of life.

Set out an assortment of Snack Pack flavors and allow your guests to tear off the new Easy Open Lids and add in whatever mix-ins or toppers they want! I picked up a few white necklace boxes from the craft store, which turned out to make great little trays for the pudding cups and dippers. And while the kids are making a mess concocting their creations, you can whip together a more sophisticated option for the adults! I added a little red food coloring to one of the Vanilla pudding cups, put it in a small plastic bag, snipped off the corner, and then piped on little rose swirls to the top of each pudding cup. Add a little candy rose & green paper leaves and you have yourself a bouquet of roses!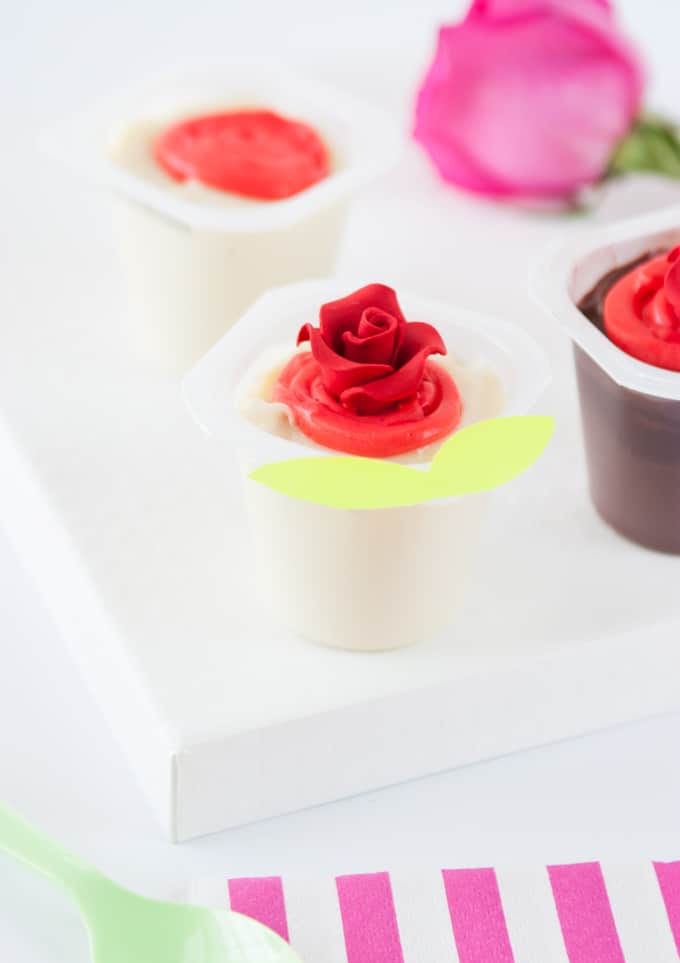 I just couldn't resist taking this shot. I don't know about you, but having to choose between a dozen roses that are going to die in a few days OR a dozen pudding cups? I'd probably take the pudding. But that's probably not a surprise.

Between the wafer cookies, Crunch n' Munch Popcorn, graham cracker bears, chocolate chips, sprinkles, marshmallows, and Reddi wip – does it get much better than this?

I just don't know if it does. Except it might get better (for the kids at least) when you pull out these Printable Valentine's Day Coloring Book Sheets and allow them to "paint" with pudding! This was one of my favorite things to do as a kid and to think that I'm now painting with pudding as a job is straight up ridiculous. I know kids & messy food isn't always the best idea, but just think of all the memories to be made! (Depending on age, I recommend laminating or covering the printed sheets with contact paper to prevent any ink from mixing with the pudding.)

I already fear what creative havoc I may pass on to my children one day.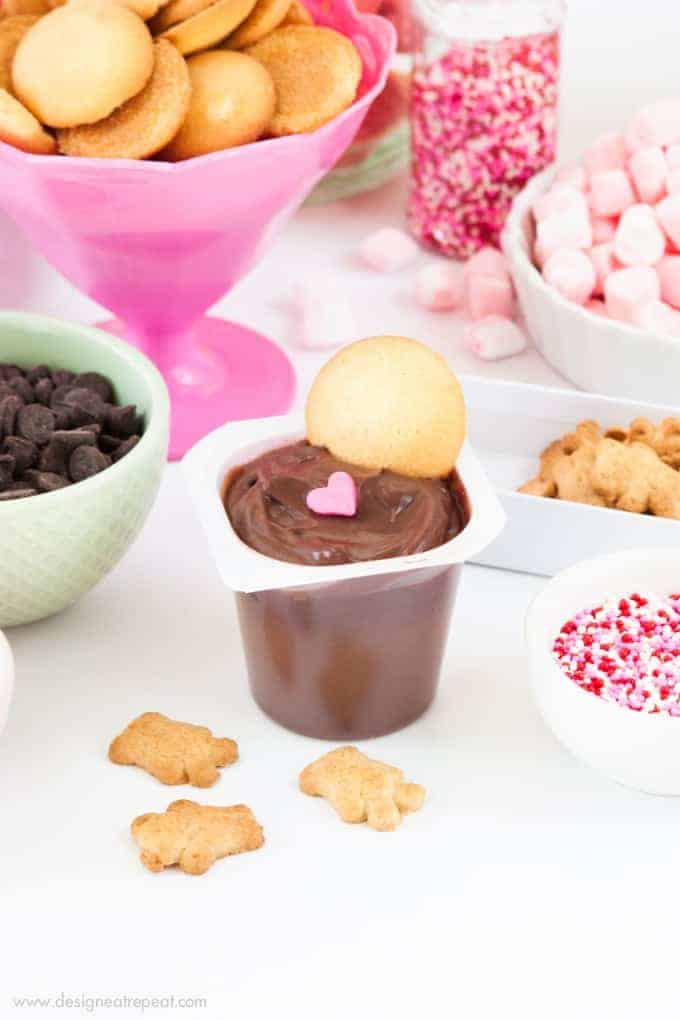 To put together a DIY pudding bar like this you will need: Your choice of Snack Pack pudding cups, vanilla wafer cookies, vanilla wafer sticks, marshmallows, graham cracker bears, chocolate chips, sprinkles, Reddi wip, Crunch n' Munch Popcorn, chocolate candies, rose candy decorations, and red food coloring. All the good stuff.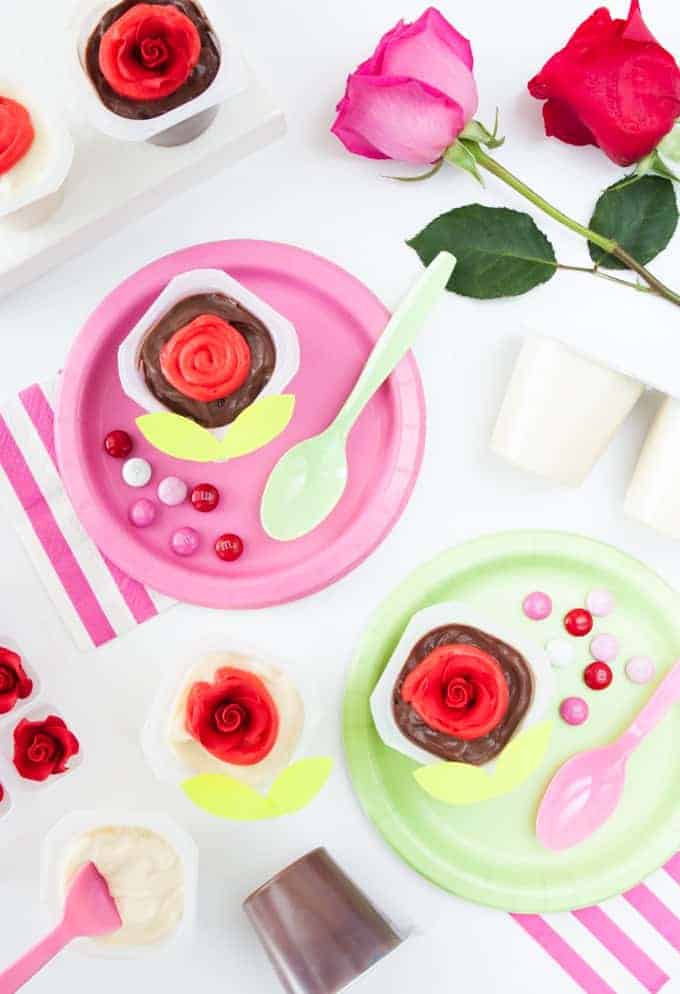 Now that I've shared some of my family traditions with you, I'd love to hear about yours! Have a smell or food that always reminds you of someone you love? Leave a comment below, I'd love to hear what makes your nostalgic wheels turn!