With this wicked flu going around lately, I'm sure you know someone who could use a little winter warmth delivered to their door. With this DIY emergency Vitamin C kit, you can deliver a box of feel-better goodies to their porch (ding-dong-ditch style so you don't catch the bug yourself!) and send the flu packing once and for all.
When the rare event occurs that I get sick (currently knocking on wood), there are few things that I'll get out of bed and walk 20 feet for. Orange juice, saltine crackers, and canned soup (homemade is far too much work in these times of need) are a few of them. Any farther than 20 feet is just not going to happen, let alone getting my self to go the store. If a kit like this showed up at my door, I would praise the angels and then tell them to pull one of their miracles and heal me.
Want to know how you can become one of these angels? Well, here's what you need:
– Red Box (I got this one at Target) + "Emergency Vitamin C" Label Printable *for personal use only
– Orange Juice (I used Natalie's because it tastes super fresh, is 100% all natural, and doesn't have that nasty concentrated juice taste. Yes, I'm a orange juice snob.) Not sure where to get some? Find it locally here!
– Can of Soup + Free Soup Can Label Printable *for personal use only
– Cough Drops, Small Plastic Bag, and Label Printable *for personal use only
– Saltine Crackers
– Plastic Spoon & Cute Paper Straws
To add some cuteness to the Natalie's Orange Juice bottles, I used washi tape to stick on a couple of cute paper straws to each one. I included more than one straw in the box so they can have one each time they open the bottle (since paper straws can get soggy after a while). Aren't these individual juice bottles the cutest? I'm in love. They are squeezed fresh to order and have won nine National taste tests against competitors. If real, freshly squeezed orange juice isn't enough to show your sick friend you love them, I don't know what will.
I never thought I'd create a gift tag for cough drops, but I figured if I was going all out for the box I might as well add that to the printable collection. Pop a few cough drops in a small plastic bag and then staple or tape on the label for some extra color.
And because a soup can isn't already a recognizable item, we obviously needed a label for that too. Hey, you never know. The flu can do some weird things to people and they might have forgotten the purpose of a soup can. When in doubt, always label.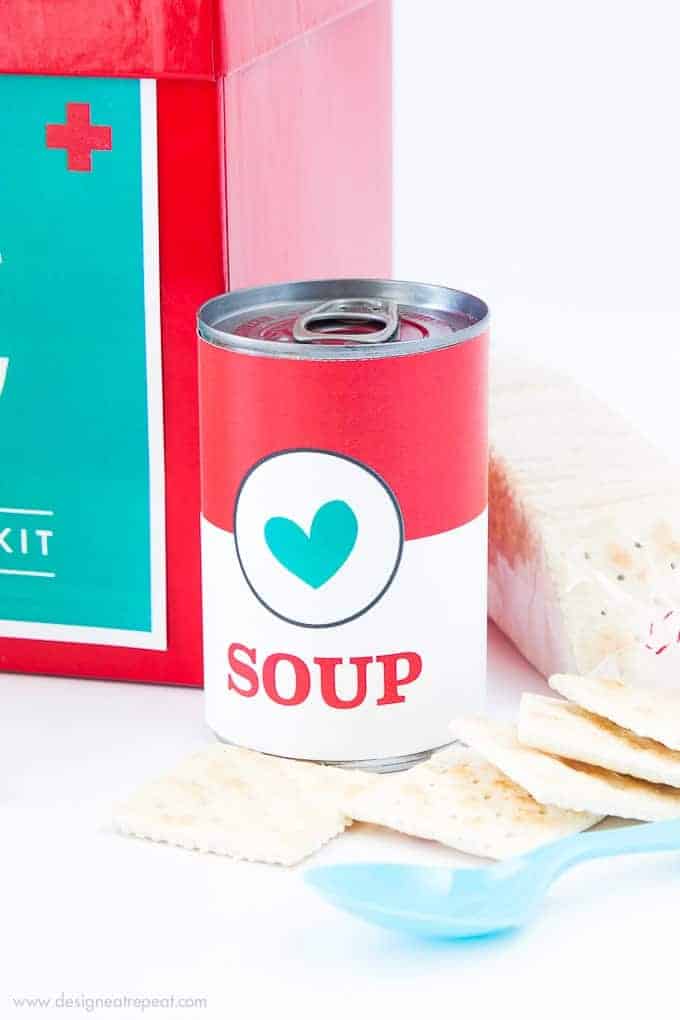 Out of everything in this kit, is it weird that I'd be the most excited for the OJ and saltine crackers? Oh how I love thee some fresh orange juice and plain saltines. Not only are Natalie's bottles the perfect size for the kit, but they have no preservatives, hidden ingredients, or added sugars – and to put it simply, just taste pretty dang fresh. Which makes them the perfect dose of Vitamin C for that sick family member or friend!
Now I just need to figure out what I did with that bag of saltines and fix me up a snack. What are some of the things that make you feel better when sick? I may do a Part 2 to this box in the future and would love to hear your favorite go-to sick day essentials!
This post was created in partnership with Natalie's Orchid Island Juice Company. Thank you to my sponsors who allow me to continue producing free printables and recipes!