This post was created in partnership with Sonoma Syrup Co. All opinions are that of my own. Thank you to my sponsors who allow me to continue producing free printables and recipes!
In the past week, my little studio area has looked a lot like how the Valentine's Day aisle at the store would look if it was attacked by five rambunctious children. If you saw the zoomed out versions of these shots, you would see a floor sprinkled in pink & red m&m's, balloons floating any which way they please, and enough glassware to wash to last me all year. But I don't mind, because waiting for me at the end of shoots like these are leftover drinks that can usually be salvaged before melting into oblivion. We'll try to forget the fact that I popped open a bottle of champagne at 9am, but when the stubborn winter sunlight finally makes an appearance, you gotta do what you gotta do. So sit back, grab a glass of soon-to-be-made champagne, and feast your eyes on these festive & easy Valentines Day party ideas! It's parttttyyyy time!
Let's start with the drinks. Or dranks, as I like to call them. When I waitressed back in high school (still one of my favorite pre-college jobs!), I was introduced to the glory of simple syrup. I always wondered how frozen drinks tasted a million times better than my blended kool-aid, strawberry, and ice concoctions and little did I know that many restaurants used a premade syrup & dash of simple syrup to sweeten things up (why I thought these drinks were homemade with real fruit is beyond me). So once I learned the secret to these frozen drinks, I'd have my dad pick up the syrup from Sam's Club (because even though the syrups were non-alchoholic, the register would still flag it as needing an ID) and we'd mix up mocktail strawberry daquiris for our family Valentine's Day dinners.
But as the years passed and I went off to college, the fancy drinks and daquiris became less sophisticated and they were often something we left to the pros at our favorite Mexican restaurant in my college town. Now that I no longer live by that glorious restaurant, I'm making it a plan this year to recreate the Valentine's Day family dinners the post-grad way. A little less $3 wine, a little more champagne, a little less takeout, and a lot more homemade.
My first plan of attack to bring on this sophistication is with these super easy Raspberry Champagne Spritzers (hey, I never said sophistication couldn't be easy). Now back in the olden days, I would have used one of my not-so-secret artificially flavored syrups for these but since we are attempting to class things up these days, we're going to go full-out hand crafted artisan on you (sounds fancy, doesn't it?). To make these raspberry champagne spritzers (full recipe below), I simply added 2 teaspoons of Sonoma's Raspberry Simple Syrup to 4 oz. of champagne and 4 oz. of raspberry sparkling flavored water. The syrup has a hint of lemon in it and the overall flavor reminds me of a homemade raspberry sauce. You know how some syrups taste like what you expect their artificially flavored candy counterpart to taste like? Not this one. This one gives the drinks that true raspberry flavor.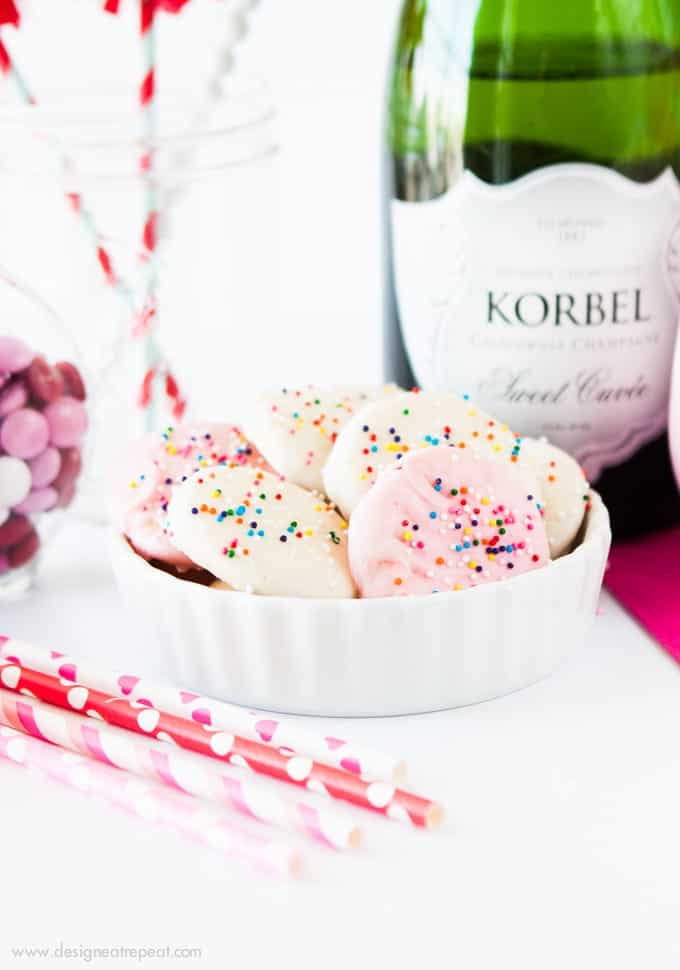 And you know what they say. If you give a girl a glass of champagne, she's gonna want some snackaroos – so why not add some of these childhood classics to your Valentine's Day party spread! I made these Frosted Animal Cookie Wafers last week and their sweet taste of vanilla and almond extracts brings me right back to that feeling when you realize your mom brought these home from the store. (The feeling of realizing your siblings ate them all in one day is not something I wish to relive.)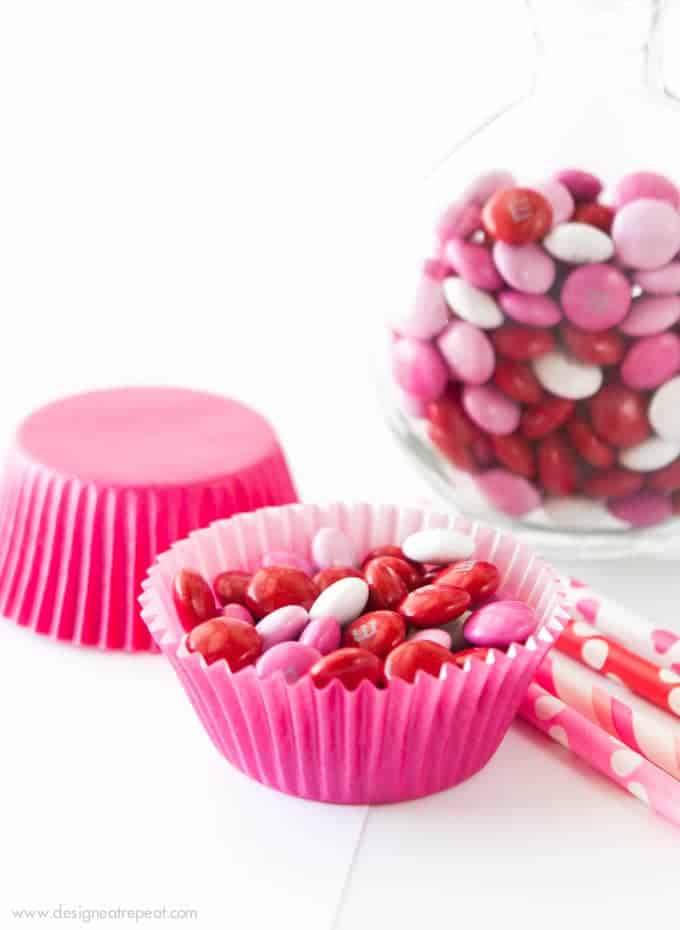 Pair them with some chocolate covered strawberries & festive m&m's in adorable baking cups and you have yourself a party. If you don't feel like sharing these sweet treats, a party for one is totally acceptable.
Want to jazz up your newly sophisticated drinks even more? Add a red or pink rock candy pop and consider it a fancy (and edible) drink stirrer! The rock candy will dissolve in drinks, so just be sure not to add it until you are ready to serve!
I also made a homemade Strawberry Vanilla Cream Frappuccino for this here party, but you are just going to have to come back tomorrow to get ahold of that recipe. It's a goodie.
Raspberry Champagne Spritzer
A light and easy spritzer made with champagne, raspberry simple syrup, and carbonated water.
Prep Time: 10 minutes
Total Time: 10 minutes
Course: Drinks
Category: Spritzer
Servings: 1 Serving
Ingredients
4 oz. champagne
4 oz. raspberry carbonated water
2 teaspoons Raspberry Simple Syrup
1 drop pink food coloring if you want it to be a brighter color
Before you begin! If you make this, will you do me a huge favor and leave a review and rating letting me know how you liked this recipe? This helps my small business thrive so I can continue providing free recipes and high-quality content for you.
Instructions
Stir together champagne, raspberry carbonated water, and raspberry simple syrup in a large measuring cup. Once mixed together, add food coloring (if desired). Pour in chilled glass and enjoy!

Recipe makes 1 serving, but you may double, triple, or quadruple the recipe to serve more people.
Last Step! Please leave a review and rating letting me know how you liked this recipe! This helps my small business thrive so I can continue providing free recipes and high-quality content for you.
Nutrition
Calories: 93kcal
Sodium: 39mg
Potassium: 99mg
Carbohydrates: 11g
Sugar: 11g
Calcium: 10%
Iron: 1%
Be sure to stop back tomorrow for the frappuccino recipe, and in the meantime I would love to hear what your favorite Valentine's Day drink or recipe is! I have a few more simple syrup flavors waiting to be tested, so you'll probably be seeing more drink recipes around here in the coming weeks. Until then, be sure to check out the (small, but growing!) Valentine's Day Archives for more party and recipe ideas!