Happy Friday, friends! Coming at ya' today for Day 2 of Design Week (continuing on to next week!) is a fun way to personalize gifts using your very own handwriting to make custom patterned wrapping paper! Whether you create custom papers to differentiate each kid's holiday gifts or write birthday wishes, the extra effort you spend towards these custom wraps may just rank you #1 in the most thoughtful gift giving category.
So let's get started! For the lettering in this tutorial I'm going to be using Adobe Illustrator (you can download a free trial if you don't have it!), the touchscreen on my Dell XPS 15 laptop, and my Bamboo stylus pen (you can also just use your finger to draw!). If you don't have a touchscreen laptop or tablet, you can still use this tutorial to make custom papers by drawing on paper, scanning it in, and then tracing the words (using the pen tool or live trace in Illustrator) before moving forward making the pattern swatch. I don't personally own a tablet & I pretty much avoid having to mess with my scanner at all costs, so the touchscreen on the laptop allows me to draw directly on the screen eliminating the need for a tablet or scanner. This method also creates instant smooth lined vector lettering that can be resized to any size without pixelation. So if you're needing to wrap a 10-foot gift box & have access to a 10-foot printer then you're in luck.
Step 1: Draw Your Letters & Phrases
The first step in creating your custom gift wrap is to get to drawing! Using either my stylus or finger, I drew on the screen in the same fluid motion as I would on paper. Even though there's a good amount of surface area with my touchscreen laptop, I've found that it helps to zoom way out and create a large art board to draw on so you can draw the letters much larger than you would on paper. Otherwise if you try writing the same size you naturally do, you'll find that your letters aren't as defined.  I also find it helpful to hook up my laptop to my larger monitor (using the high-speed Thunderbolt 3 cable) so I can see the letters in real-time on the "big screen".
As you can see below, the word "yay" takes up about half my screen and although it's much larger than I would naturally write, it allows me to get smoother & more defined curves.
Tip: When drawing, I found it helpful to keep my non-writing hand on the Ctrl+Z buttons (edit: undo) so I could quickly undo letters that I wanted to redraw and perfect.
Step 2: Tweak Your Letters
Unless you're a perfect robot human, you'll probably need to tweak parts of your letters after drawing them. Illustrator has a handy dandy "smooth" tool that you can "rub" over jagged parts of your letters to smooth unwanted spikey points. You may also want to make your letters thinner or thicker by increasing the stroke. When I write on touch screens, it's sometimes difficult to get the overlapping parts of letters perfect when drawing, so you can also use the direct select tool to select specific anchor points and then use the arrow keys to move them so they overlap cleaner. Once you get your letters & phrases how you want them, you'll want to "Select All" and then go to Object > Expand. This will solidify your letters so that when you resize them, the stroke does not mess up the thickness of your letters.
Step 3: Create the Pattern
Once your letters and phrases are ready, it's time to make the pattern! Draw a 12″ x 12″ art board and start arranging your phrases in the center and move your way to the edges. You want to avoid placing the phrases on the edges of the square until you have to, as the edges are what will give your pattern that seamless look. Once you place your first phrase or letter on an edge, select the object and then go to Object > Transform > Move. If your object is on the right side, you will need that same object to be mirrored on the left side. So in the dialogue box, you will type Horizontal: -12, Vertical: 0, and then hit "Copy" at the bottom of the box. This will position the object on the left side so that when the pattern repeats, it is seamless on both sides. You will continue to do this will all objects that overlap the edges until all the gaps are filled how you want them. You will likely need to move things around in the center as you start mirroring edge objects. Just remember, if you move an object on an edge, you need to make sure the mirrored image is moved too. So to reiterate, if you place a object at the top edge, you would type in Horizontal: 0, Vertical 12, and "Copy" to mirror that object on the bottom edge. (Same for if object is placed on left edge, you would type Horizontal: 12, Vertical 0, and "Copy" to mirror that image on the right side.)
Once you have your arrangement figured out, you will then draw a 12×12 box, make sure it has no stroke or fill color, and then "Send to Back". You want to make sure it's lined up with your square art board. Once you have that, select everything in the box and then go to Object > Pattern > Make. This will add your pattern swatch to the Swatch Palette. This is where you will see if your pattern truly repeats. It usually takes me a few tweaks to the original square before my pattern truly repeats, so don't be discouraged if that happens!
Step 4: Play With Color & Scale
The fun thing with this is that you can copy the artboards as many times as you like and experiment with different color combinations. If you want the pattern to be all white type on a colored background, change the type to white before creating the Pattern swatch and then once it's made, place that swatch on a colored background.
Once your pattern swatch is made you can also select it and go to Object > Transform > Scale to change the scale. If doing so, you'll want the "Transform Patterns" box checked on & Transform Objects checked off to make sure your pattern only changes and not your box.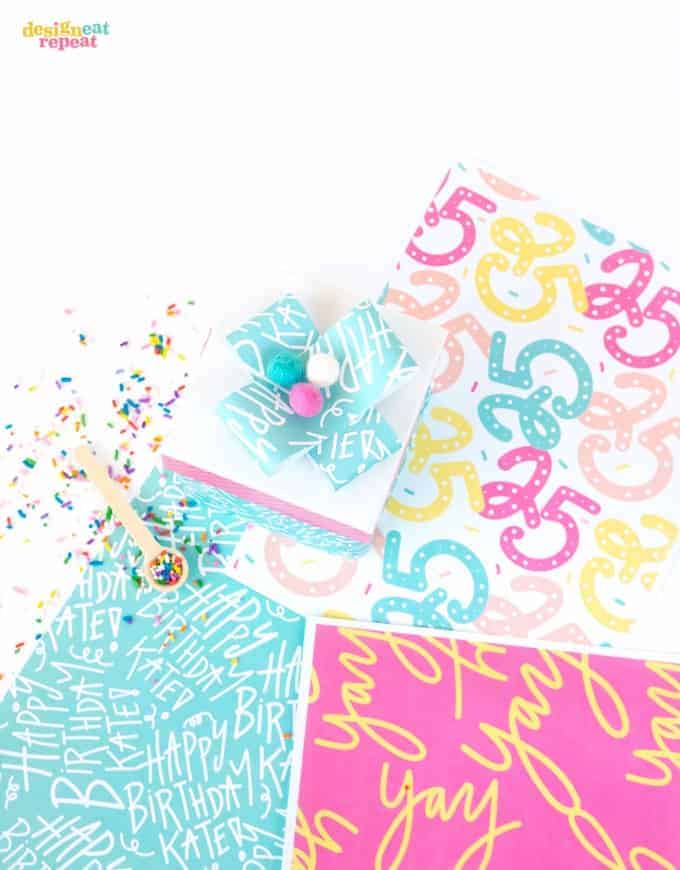 Step 5: Wrap those gifts!
Print off your patterns on normal computer paper or create large-scale prints using those fun large scale printers at Kinkos or shipping centers. If you're doing black or white patterns, you can usually get those super cheap BIG prints at Kinkos using engineering print pricing. How fun would it be to gift a huge gift box with your friend's name or kid's age plastered all over it?! I'd die.
So what do you think? I'm pretty much obsessed with the idea that I can draw ON my computer screen with little to no lag time and it's been making it super fun to experiment with hand-drawn logos & illustrations. Have you tried hand lettering with a tablet or touchscreen? How did it turn out?
This post was created in partnership with Dell and the new XPS 15 Intel 6th gen processor laptop. All content, templates, and opinions are that of my own. Thank you to my partners who help keep this blog & free printables running!  For more design resources, head on over to the resource archive!