Yesterday, I posted this free printable chocolate box template, and today I'm sharing a recipe to fill those boxes with chocolatey goodness. If I'm remembering correctly, I think this might be the first time I've made real chocolate truffles. I've made the oreo kind & the cake kind, but not the creamy (real) kind. And as it turns out, they aren't as much of a beast to make as I had expected. They're actually quite simple in the world of candy making.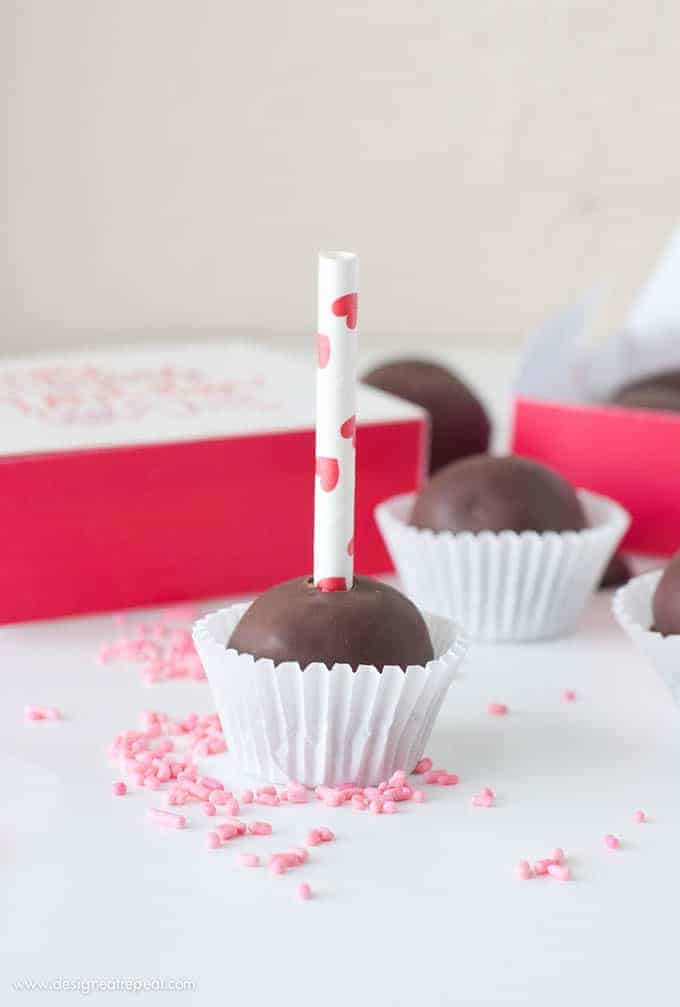 I got a new set of pots & pans for my birthday last week and I was eager to try them out for the first time. To start this whole process, I whipped out the smallest saucepan, turned the stove on low, and melted the Ghirardelli chocolate baking chips. After the chocolate chips were melted, I removed the pan from the heat and added the heavy whipping cream & vanilla. Followed by quickly whisking away until the mixture was nice and smooth. I then popped the whole pan into the freezer for about 30 minutes while I attempted to clean up the mini-mess I already managed to make.
Once the chocolate was hard enough to hold its form, I scooped it into 1 tablespoon sized "mounds" and placed them on a baking sheet covered in wax paper. I then popped the whole pan into the freezer for about 20 minutes so that the "mounds" would be hard enough to roll into balls.
After chilling & allowing the mixture to harden enough to form into balls, I removed from the freezer and let the dipping begin! I typically use almond bark or plain chocolate chips for candy dipping, but I was excited to try out Ghirardelli's melted wafers for these truffles. The biggest problem I usually have with dipping in straight-up chocolate chips is that the melted chips are either too thick to dip, or they dip okay but they don't "set" afterwards. I was pleasantly surprised with how the melted wafers worked out, as they "set" in less than 2 minutes from dipping (so quick I didn't get to add sprinkles to some of them!). They melted within 1.5 minutes in the microwave and they had a smooth texture for easy melting.
The baking chips come in 10-12 oz chips bags, which is the right amount you need to make this recipe (the 60% cacao and milk chips come in a larger size for more flavor impact). I like recipes that are measured to use a whole bag of chocolate chips, otherwise I shove a half-full bag into the back of my pantry and it's never to be found again.
 This batch makes roughly 18 truffles, so you can easily gift a box of 4 to four people & still have a few for yourself! You can print off the box you see above here.
Homemade Chocolate Truffles
Creamy homemade chocolate truffles perfect for gifting!
Prep Time: 1 hour
Cook Time: 5 minutes
Total Time: 1 hour 5 minutes
Course: Dessert
Category: Candy
Servings: 18 Truffles
Ingredients
12 ounces semi-sweet chocolate chips you could also use milk chocolate
1/3 cup heavy whipping cream
1 teaspoon vanilla extract
1 cup Dark Ghirardelli Candy Making & Dipping Wafers
Before you begin! If you make this, will you do me a huge favor and leave a review and rating letting me know how you liked this recipe? This helps my small business thrive so I can continue providing free recipes and high-quality content for you.
Instructions
In a small saucepan, melt the 12 ounces of baking chips on low heat.

After the chocolate chips are melted, remove from heat and add in the heavy whipping cream & vanilla. Quickly whisk away until the mixture is nice and smooth (this can take 1-2 minutes of constant whisking).

Once smooth, place the pan (on a hot pad) in the refrigerator for about 30 minutes to set.

Once the chocolate is hard enough to hold its form, scoop into 1 tablespoon sized balls and place on a wax paper covered baking sheet. If you find that they are not holding their form, you can put the 1 tablespoon "mounds" of chocolate in the freezer to cool a little longer before rolling into balls.

Once solidified & able to be molded, roll each into a ball.

Place the dark candy wafers in a glass bowl & the microwave on 50% heat for 1-1.5 minutes, or until melted.

Placing each ball on a fork, dip each ball into the chocolate. Tap fork against side of the bowl to drip off excess chocolate. After dipping, place each one on wax paper to harden.

If desired, top with sprinkles before chocolate fully hardens.

Enjoy!
Last Step! Please leave a review and rating letting me know how you liked this recipe! This helps my small business thrive so I can continue providing free recipes and high-quality content for you.
Nutrition
Calories: 179kcal
Fat: 12g
Saturated fat: 7g
Cholesterol: 7mg
Sodium: 4mg
Potassium: 164mg
Carbohydrates: 15g
Fiber: 2g
Sugar: 10g
Protein: 1g
Vitamin A: 80%
Calcium: 20%
Iron: 1.8%
I have some left over whipping cream, so I think I'm going to attempt to make White Chocolate peanut butter truffles next! I grabbed a bag of Ghirardelli white chocolate baking chips while I was out shopping, and I have a sneaking suspicion they might even be just as good as these chocolate ones. Anyone have any good truffle flavor combos? I'm thinking white chocolate raspberry would be another flavor to experiment with!
I was selected for this opportunity as a member of Clever Girls Collective and the content and opinions expressed here are all my own.