Well, well, well….boy do I have a treat for you today. We've probably all heard of cake batter ice cream from places like Cold Stone or frozen yogurt joints, but have you ever tried making it at home? When I studied abroad in Italy senior year of college, it's safe to say that a love for gelato was born. An intense love that may or may not have sent us to the gelato shop twice a day. Some call Paris the City of Love, but when it comes to gelato – Rome has it in the books.
You see, we managed to find about every gelato shop in that city. Some with 12 flavors and then some with 150 flavors. (You can probably imagine which one we frequented most often.) Just a hop, skip, and a jump cobblestone wipeout away from our design studio was a candy/gelato shop with 150 flavors. Everything from pistachio, chocolate, and raspberry to peanut butter (true love), chocolate, and kit kat. But one flavor that was no where to be found was cake batter (or if was there, we probably couldn't read the sign). But I'm going to go ahead and say that cake batter ice cream is an Americanized flavor, considering the only boxed cake mix we found was a $12 Pillsbury box. We'll talk about my attempt to make baked goods in that celsius Italian oven another day. It didn't go so well & I'm still emotionally scarred…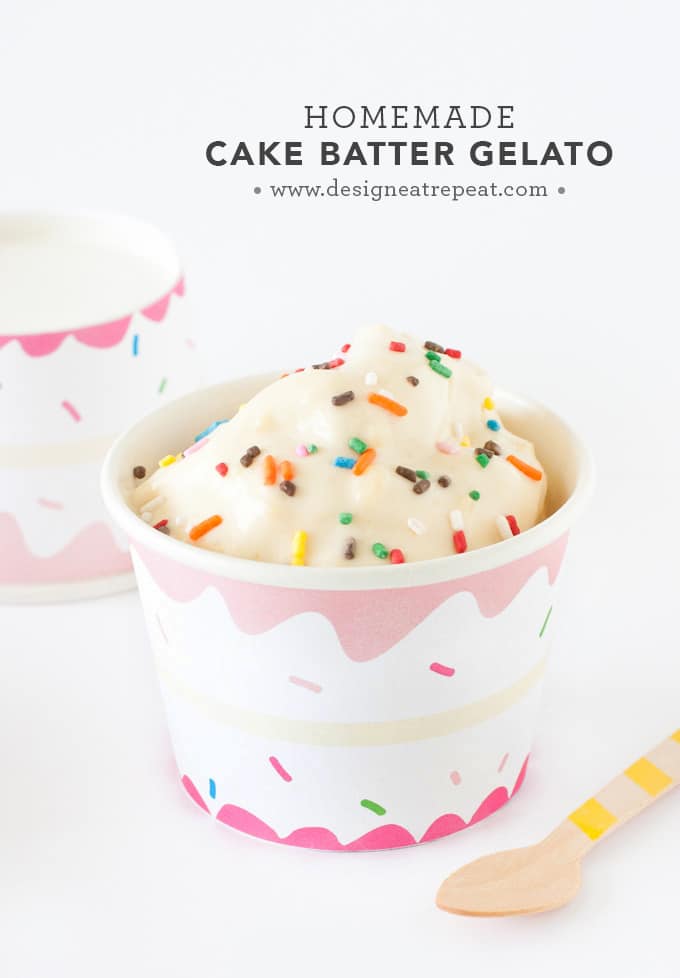 After I got back home, my new goal in life was to figure out how to make homemade gelato. After scoring a deal on an icecream maker, I set off to master the craft in hopes of reliving those Italian days. Well, I'll fast forward a little bit and just say that it wasn't as hard as you might think. Gelato gets its creamy consistency from the egg & cream based mixture, and after heating it on the stove, the last thing to do is churn it in the icecream maker. And then bam, top with sprinkles and it's done.
Because gelato is a more soft consistency, you have to eat it quickly before it melts (which I have no problem with). It's not the best to serve in cones unless you want a gelato-covered arm, but hey, if that's your thing then go right ahead. When I'm feeling extra festive,  I will serve it in paper ice cream cups (I'll be sharing this printable wrapper in the coming days!).
Cake Batter Gelato
A sweet & creamy gelato that tastes like the famous Cold Stone Cake Batter Ice Cream Recipe.
Prep Time: 1 hour
Cook Time: 10 minutes
Total Time: 1 hour 10 minutes
Course: Dessert
Category: Ice Cream
Servings: 4 servings (1 cup each)
Ingredients
1 cup yellow cake mix
¾ cup sugar
1 cup milk 2% works best
2 eggs slightly beaten
1½ cups heavy whipping cream
1 teaspoon vanilla
Sprinkles to mix in and sprinkle on top.
Before you begin! If you make this, will you do me a huge favor and leave a review and rating letting me know how you liked this recipe? This helps my small business thrive so I can continue providing free recipes and high-quality content for you.
Instructions
In a medium saucepan combine dry cake mix and sugar. Stir until well mixed.

Slowly add milk and stir to make a paste. Whisk in eggs.

Place over medium heat and stir until mixture begins to steam, about 8 to 10 minutes. Stirring constantly is important to make sure the mixture does not burn. When the mixture begins to steam, remove from heat and stir in cream and vanilla.

Pour mixture into a metal 9x13 pan, cover with foil, and chill in the refrigerator until cool.

Once cooled, add in sprinkles, place in icecream maker, and churn until creamy (follow your icecream maker's manual for best results). Serve immediately or place in an airtight container and freeze.

If you do not have an icecream maker: After chilling the mixture in the refrigerator, beat until smooth, and pour into a metal 9x13 pan. Cover & freeze pan until mixture sets. Your gelato may not be as creamy, but is a great alternative for those without an icecream maker.
Last Step! Please leave a review and rating letting me know how you liked this recipe! This helps my small business thrive so I can continue providing free recipes and high-quality content for you.
Recipe Notes
*Heavy Whipping Cream is found by the milk at the grocery store, and is not whipped cream.
Nutrition
Calories: 637kcal
Although I'd probably book a flight back to Italy solely for the gelato (…and pizza), it sure is fun to try to recreate some of these novelties at home. If anyone is heading to Rome, shoot me an email and I'll send you a list of must-have food spots! You just have to promise to stuff me in your luggage.
Anyone have a favorite gelato flavor? To date, I've made chocolate, cake batter, and peanut butter chocolate. I'm thinking a fruit-based flavor is next!