Once upon a time there was a skeptic. A skeptic that shrugged their nose at the sight or sound of kale. A skeptic that had absolutely no reason to dislike kale. I find myself quite often saying I don't like a certain food, when in fact, I've never actually tried it. It's sad, really. Sushi? I say I don't like it, yet I've never even tried it. Calamari? Nope, don't like it. Fried squid? Absolutely not. Although a lot of my "dislikes" stem from certain types of seafoods, I can definitely say that I'm not as adventurous as I probably should be when it comes to trying new foods. I blame my Fear Factor television marathons as a teenager for that one.
So you can probably imagine the look I gave off when I was given a bag of kale at work the other day to take home. Umm…what was I supposed to do with a bag of leafy greens? Well, before I could even sprint out the back door, I was holding a bag of leftover kale and a photocopied recipe of kale chips that the test kitchen had just got done photographing (I work for a food magazine if you're wondering what I'm talking about). But I carried on my way, knowing that on Monday, I would definitely be asked how my experience was with this mysterious ingredient.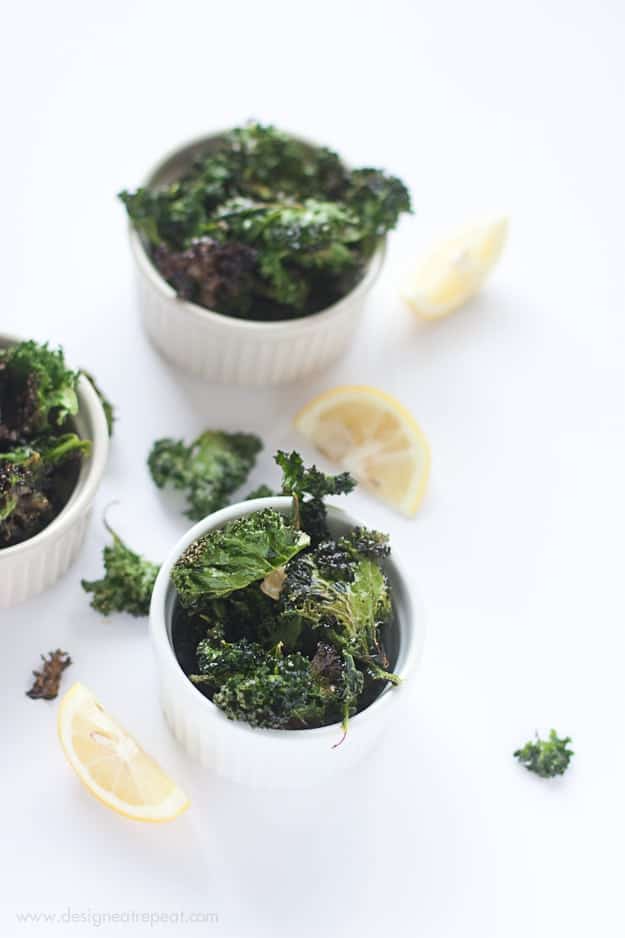 So after a few days of staring at it in my fridge, I decided it was time to figure out what all this hype was all about. I whipped out that photocopied recipe and gave it a go. I quickly tore off the leafs from the stems, drizzled on some olive oil, sprinkled on some salt, and added in a few cloves of garlic. So quick in fact, that I completely missed the part in the recipe where it says to "place the kale on a wire rack" over a baking tray. The smoke billowing from my oven taught me to never do that again.
I thought all hope was lost. The kale chips were to be burnt and I would have to go back into work on Monday and tell the kitchen of professional food stylists of my fail-kale-tales. But soon after calming down the smoke, I realized that I had not actually burnt them. And that, my friends, is when the seas officially parted.
What awaited me admist the smoke filled kitchen  was a pleasant surprise. Even this skeptic was pleasantly shocked. The kale chips were absolutely delicious. The combination of the garlic, lemon, and salt made these little greens a savory treat.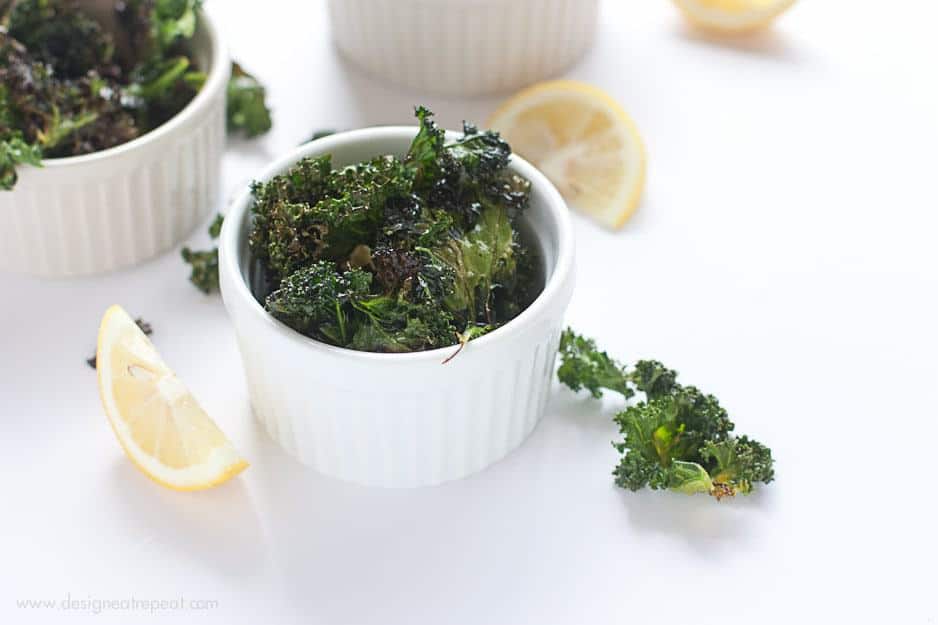 Garlic & Lemon Kale Chips
Prep Time: 10 minutes
Cook Time: 18 minutes
Total Time: 28 minutes
Course: Side Dish
Category: Easy Snack
Servings: 4
Ingredients
1 bunch of fresh kale 12 ounces
1 tablespoon of olive oil
1/2 teaspoon salt
4 cloves of garlic chopped
1/4 of a fresh lemon
Before you begin! If you make this, will you do me a huge favor and leave a review and rating letting me know how you liked this recipe? This helps my small business thrive so I can continue providing free recipes and high-quality content for you.
Instructions
Preheat oven to 300 degrees. Place a wire rack on top of a cookie sheet.

Remove and throw away the thick stems from the kale. Tear leaves into bite-size pieces. Rinse kale to clean and dry before transferring to bowl.

In a large bowl combine kale, oil, salt, and garlic. Place on top of wire rack (over cookie sheet just in case oil drips).

Bake for 15 minutes. Stir gently while in oven and continue to bake for 2-3 minutes. Be sure to watch the kale to make sure it does not burn.

Once dry & crisp, take out of oven and drizzle with lemon juice. Serve warm or store in airtight container to save.
Last Step! Please leave a review and rating letting me know how you liked this recipe! This helps my small business thrive so I can continue providing free recipes and high-quality content for you.
Nutrition
Calories: 44kcal
Fat: 3g
Sodium: 296mg
Potassium: 91mg
Carbohydrates: 2g
Vitamin A: 1425%
Vitamin C: 21.6%
Calcium: 27%
Iron: 0.3%
 So, I suppose this is probably the time to make my formal apology to kale itself. Sorry little guy, I definitely underestimated your power.