Learn how to make these paper RING POP treat boxes! Fill with candy for the perfect birthday party favor, 90's party favor, school treats, or even baby shower favors (aka. pacifiers!) if you use pastel paper! We're bringing the 90's childhood back to the future.
Fun Occasions to Use These Frozen Party Printables
Birthday Party Favors
Printable Teacher Gifts
Christmas Gifts (Cheap Secret Santa Gift!)
I can't exactly remember how this idea popped into my head, but I'm pretty sure it stemmed from wanting to make a donut box. And then it turned into a winter box. And then before I knew it, I was sticking snowflake toothpicks into the sides of donuts. And just like that SNO-NUTS were born!
What You Need to Make Frozen Party Printables
To make these frozen party printable boxes, you'll need white cardstock, a scissors and exacto knife, double-sided tape, a small plastic bag, strong toothpicks, powdered donuts, and the printable template. I've included instructions and cutting guides on the download, so you know exactly where to cut, score, and fold.
Important Note: If you do make the party picks, be sure to get quality picks that are not going to break off. I got mine at Michaels craft store, and they are nice and sturdy to make it easy to slide them in and out of cupcakes and donuts. There is a time and place for cheap, flimsy toothpicks but this is not one of those times. Unless you like chips of wood in your donuts, but then we may need to focus on deeper issues than buying cheap toothpicks.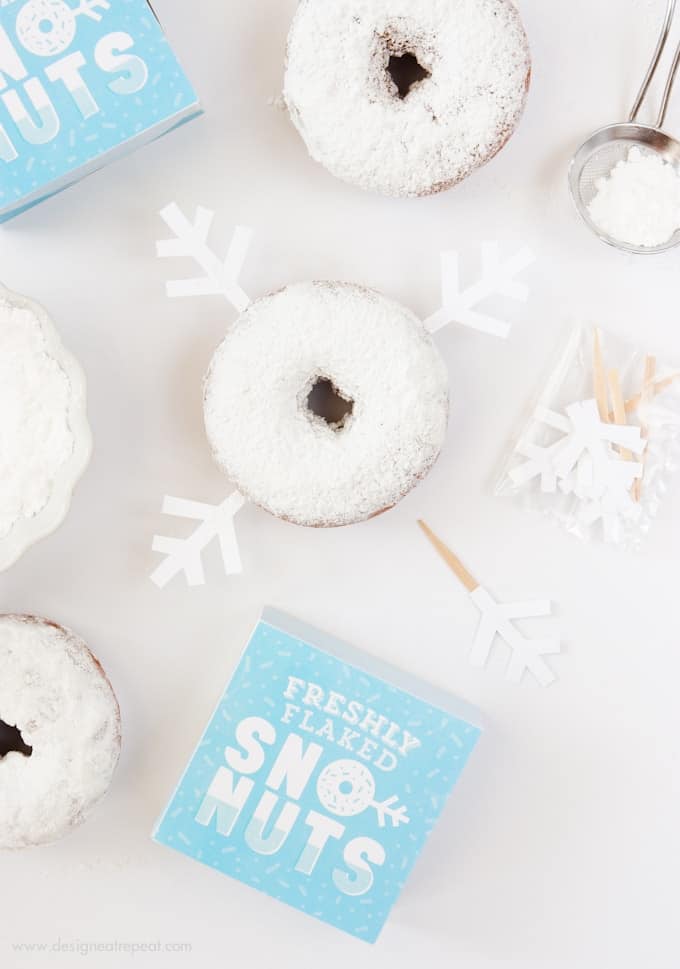 How to Make Frozen Party Printables:
Step 1: Print & Cut
Download the printable frozen party printable box PDF and print on 8.5 x 11″ white cardstock (I use Neenah 65# Bright White).
Step 2: Cut, Score, and Fold
Use a scissors or exacto knife to cut along the edges of the box template. Use the tip of the exacto knife to score the fold lines (dashed) where indicated in the PDF download.
Next, use an exacto knife to cut out the snowflakes and attach to the end of toothpicks with tape.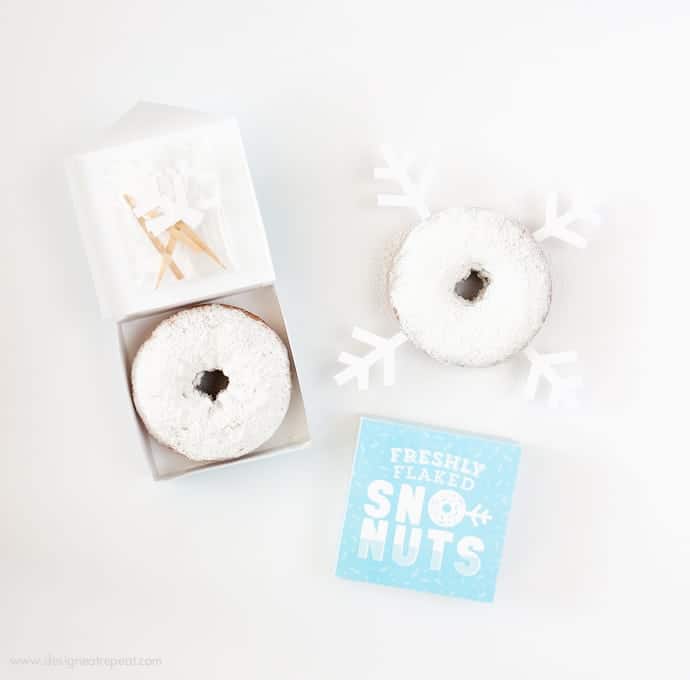 Step 3: Assemble
Apply strong double-sided adhesive to the flaps, then adhere closed. Line each box with parchment paper and tape the plastic bag of snowflakes to the inside top.
The boxes are designed to fit one individual powdered donut and a little pack of snowflake donut "toppers". If you're wanting to make these for a party (hello, let's just add to the Frozen party mania!), you can have these little packs already precut and into the bags before the kids arrive. So all that is left for them to do is open the box, pop in the snowflake picks, and they have instantly created their very own snowflake donut!
Or you can ditch the boxes and just use the snowflake picks to create a plate full of premade sno-nuts. Or you can leave out the snowflake picks all together and just serve up a powdered donut in the box! Or you can get those cute little tiny donuts and fill the box with 3 or 4. Or you can buy a white frosted donut and add little snowflake sprinkles to it! Can't stop, won't stop – there's just so many ways these can be done!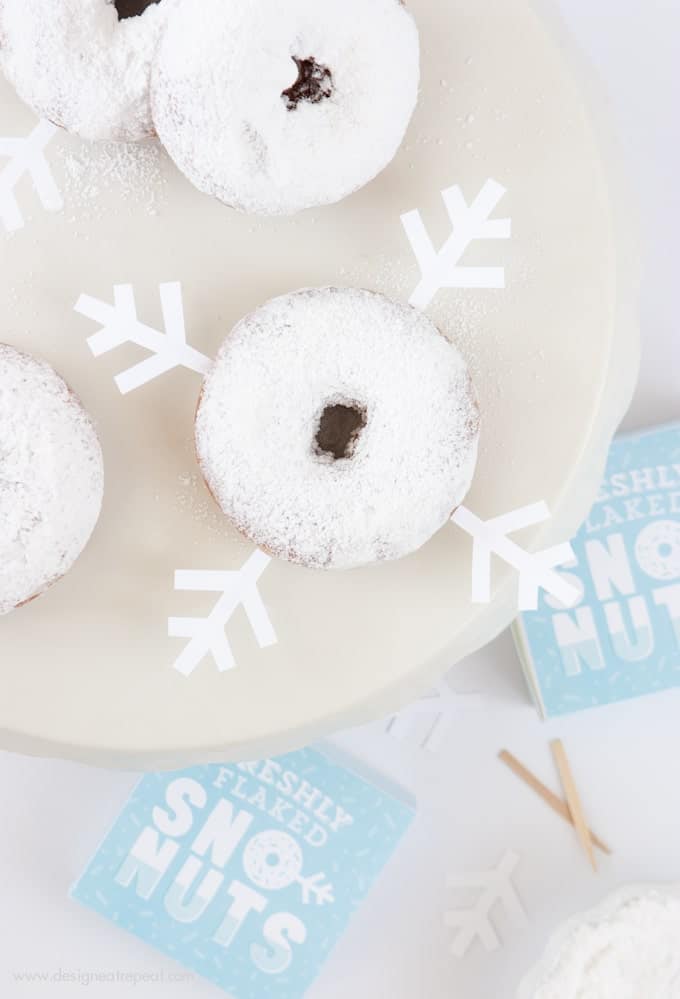 Frequently Asked Questions:
What size are these frozen party printable boxes?
These boxes measures about 3.4 x 3.4″ inches when assembled.
What size donuts do these fit?
These boxes will fit donuts up to 3″ in diameter.
What paper weight is best for these?
I used 65lb. colored cardstock. You definitely want something thicker than normal computer paper, otherwise these will not hold the weight of the donut inside.