So I've been putting off posting all these Valentine's Day projects for one reason. I recently switched computers & a few of my printable PDF's have gone MIA. Either Dropbox swallowed them whole, or I managed to save them with one of my typical black hole file names. I'm going to go ahead and assume it's the file name issue since I'm not always the best at saving all these side projects in one location. Luckily, I managed to hunt this one down, but who knows the fate for the Valentine's Day cards that are next in line. One of these days I'll learn my lesson.
I created these free Valentines treat boxes printable a few weeks ago after hitting jackpot of the grocery store Valentine's Day candy aisle. One thing I've discovered about myself is that I buy candy based on how cute it will look in photos, and not on based on the taste. I suppose that's good in preventing me from eating it all, but at what point does it become a problem to only buy things for propping purposes? I'd rather not answer that.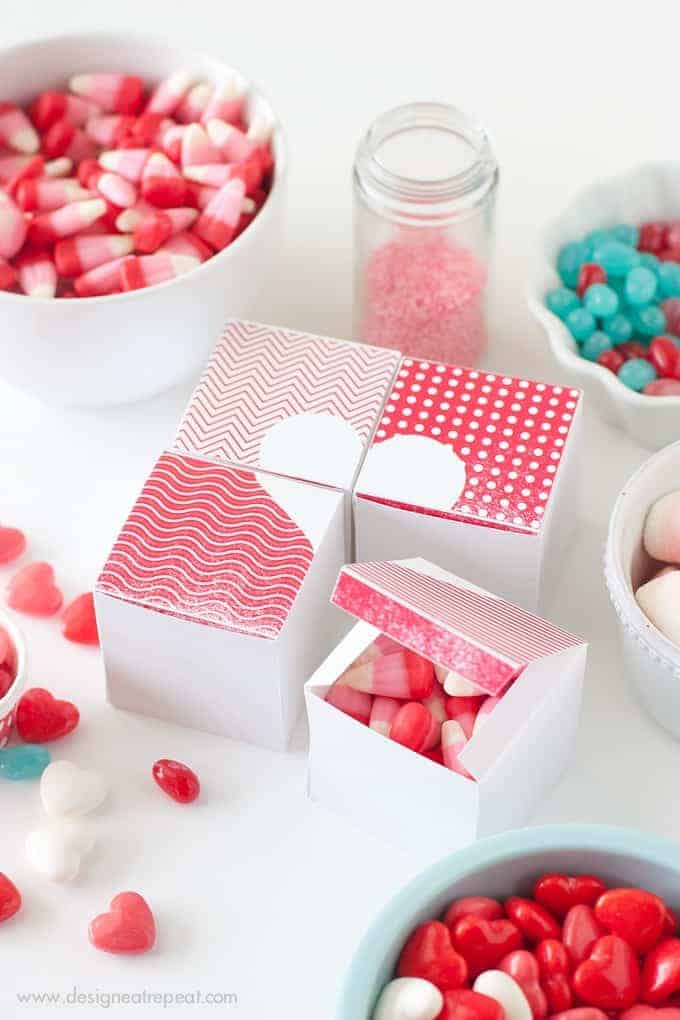 I created these valentines treat boxes to come in a set of four. When separate, someone might ask you why the heck there are little white shapes on the tops. But when together, those crazy shapes create one whole, magical, lovey-dovey heart. Fill each one up with a different candy, and gift as a set of four.
Materials:
Free Valentines Treat Boxes Printable // Scissors or Exacto Knife
White Cardstock // Double Stick Tape or Adhesion
I'm more of a chocolate type, but when it comes to Valentine's Day, there is no use in even trying to resist the red/pink candy aisles at the stores. I should feel bad for giving into this over-commercialized holiday, but when it's for the purpose of crafting, I feel no shame.