Just when you thought you knew everything about the story of Rudolph, the plot thickens. What you may know is that he had a red nose, but what you probably didn't know is that it was actually covered in frosting and sprinkles. (I warned you about the sprinkle-infested holidays.) These reindeer envelopes are easy to make with this free set of envelope, notecard, and Avery sticker nose templates!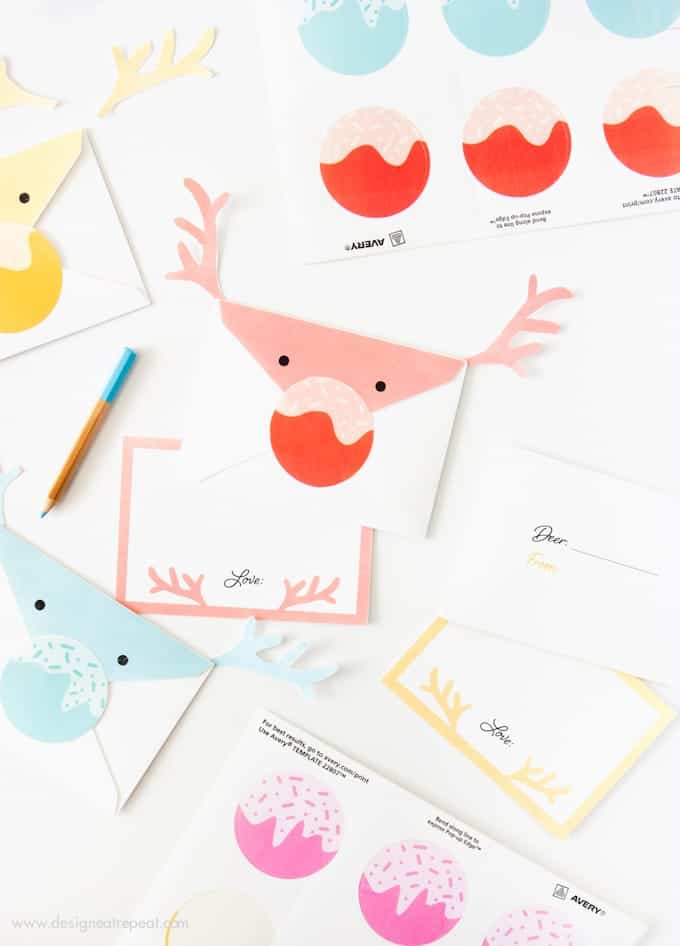 To start, print off the envelope template below. I designed four colors to choose from and each envelope already has the reindeer's eyes printed on the flap. So all that is left to do after printing, cutting, and folding is to pop in the notecard and slap on the nose sticker!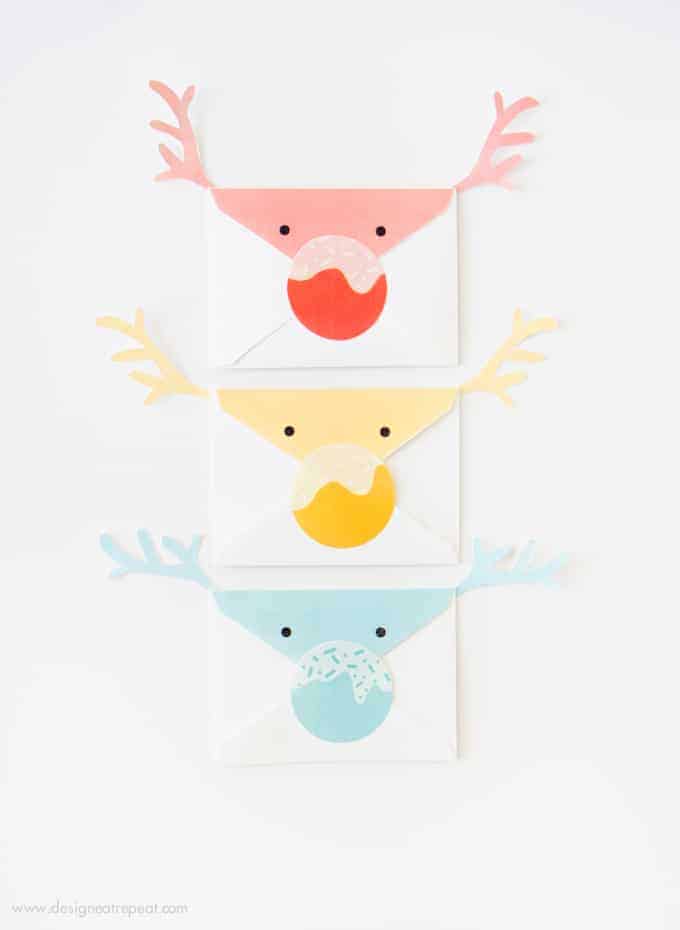 The envelopes measure 3.5 x 5 so they can be snail-mailed or attached to your favorite gift. If mailing, leave off the antlers and slip them inside for the recipient to attach. In the printable file, I have two different versions for the front of the envelopes so that you can address them if sending via postal. One version (as seen below) is meant for hand-delivered gifts, while the other is left blank so you can properly write in the address!
I have also included the file to upload directly to Avery.com to create the sprinkled nose stickers. It's already set up to include all 4 colors of noses on one sheet to save you some time configuring things. You can literally pop in the sticker sheet and print away! Their software makes it so easy to create custom stickers and labels without all the cutting, sticking, and glueing!
These would be fun to attach to baking trays or even to use as reindeer feed envelopes to sprinkle on the lawn on Christmas eve (do people still do that any more?!). Whatever you do with them, just remember that Rudolph didn't have it as bad as they make it out to be. Any animal with a sprinkle & frosted nose is obviously just getting picked on out of jealousy.
Materials:
Avery Glossy White Round Labels #22807
Reindeer Printable Envelope (printable in email box above), Notecard, and Antlers (or Blank Front Envelopes Version for Mailing)
Sprinkle Nose Avery Sticker Template As an alternative to using the pre-cut Avery labels, you can also print this PDF on cardstock, and manually cut each circle out of sheet.
White Cardstock  //  Scissors or Exacto Knife  //  Tape
To Download & Print Avery Labels:
A. Download & save the free Sprinkle Nose Avery Template (.xml file) to your computer.
B. Print the Printable Reindeer Nose circle stickers through Avery's online software by:
1. Going to the Avery homepage, and click "Start Now" on the left side of the page.
2. On the right side, click "Open Project" and upload the file you just downloaded (pre-made with the Nose design). Print on sticker sheet & attach to the front of each envelope.
This post was created in partnership with Avery. All content, templates, and opinions are that of my own. Thank you to my sponsors who help keep this blog & free printables running! For more holiday & reindeer projects, head on over to the holiday archive!