There's a certain span of time every summer that I like to think of as the "prime of summertime." It's usually the time when the weather is just around 85 degrees, the Midwest sweetcorn is ready, and the sun stays out past 9:00 pm. The point when I can come home from work, whip up some type of cold concoction, and actually have a few hours to get stuff done before dark. I'm a pretty big slacker when it comes to finding the energy to cook up a good dinner after a long day of work, so lately I've been settling on a quick salad, and a cold glass of Raspberry Sherbert Punch or a frozen fruit bar of some sort. Just something easy & light that fulfills my dinner quota.
With the 4th of July weekend just getting over with, I'm sure plenty of us are planning a little detox from the holiday feasting. There's only so many drinks, pieces of cake, hotdogs, and road trip snacks you can consume before highly considering a 3 hour workout every day for the next week. For me, that detoxing means stocking up on salads & fresh fruits, drinking lots of water, and cutting out sugar, starting today. Having a rather large sweet tooth, the minimal sugar thing can be a bit tough the first few weeks of a clean-eating spree. But luckily, I stocked up on Fruttare frozen fruit & juice bars, as well as and tons of fresh berries to cure my after-dinner sweet tooth.
I picked up two different flavors to fill my freezer: Strawberry & Milk and Orange Fruit & Juice bars. I was most excited to try the Strawberry & Milk bars (because I love anything strawberry), but to my surprise, the Orange bars were actually my favorite. Neither flavor had that sticky, sugar taste that most frozen bars have. They were super creamy and actually tasted like real fruit. Which isn't a shocker because Fruttare Fruit and Juice Bars are made with real fruit and refreshing juice. In addition to the Orange flavor, the Fruit & Juice bars come in four varieties – Strawberry, Mango, and Lime.
As I was devouring the Strawberry and Milk bar, I couldn't figure out what the taste reminded me of. It was something, but I couldn't put my finger on it. After a few minutes, I figured out what it was. Strawberry Milk. Derka-derr. You would have thought I would have figured that out sooner, but apparently my brain was still too much in vacation mode to make the connection that maybe, just maybe Strawberry & Milk Bars actually tasted like real Strawberry milk. Not one of my brighter moments, that's for sure.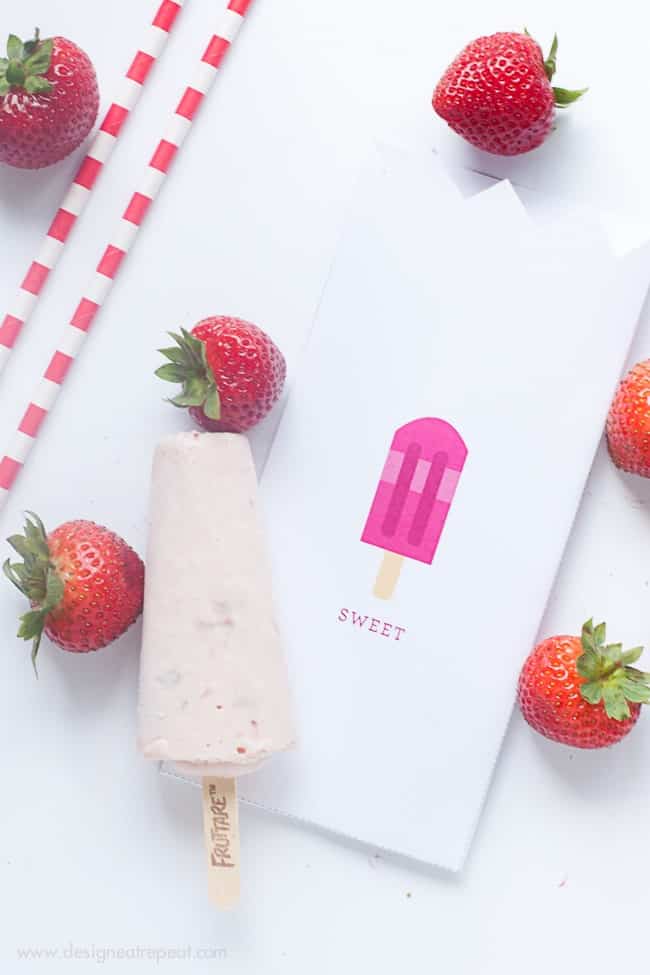 And because it sounded fun, I decided to create a free pouch printable that can be printed off for a fun summertime party idea. Simply print off and slip in your favorite frozen fruit bar to make for a fun & easy party presentation. The Fruttare brand is all about finding the bright side of life, and what better way to brighten up your party than personal party favors?
Downloading Tips: Save the PDF directly to your desktop by clicking the "Save As" button on the printable screen. Do not print directly from "Preview Mode," as image & colors will appear distorted.
I was selected for this opportunity as a member of Clever Girls Collective and the content and opinions expressed here are all my own.