So I am pretty darn excited for today's post. When I was younger, one of my favorite stores was Staples. I would comb the paper & stationery aisles, stock up on sticky labels, and go home to my Microsoft Office '98 and make labels for everything. The cupboards, clothing drawers, school supplies. Basically anything that you could stick a label on, I did. So needless to say, it kind of felt full circle when Avery emailed me to create a DIY project using some of their labels. I was beyond excited.
Despite all the glory of my younger years hoarding sticky address labels, I can vividly remember my struggles with them. This was back before the templates were online, and I'd have to search through hundreds of templates in Microsoft Word to find the correct template to use. This was also back in the day of dial-up internet, so you can imagine how (un)advanced the times were back them. And then what was even more frustrating was when I'd have my little labels all typed up in Comic Sans & Jokerman (barf, but I loved them back then), only to realize we were out of printer ink. To this day, few things frustrate me more than having to pay $50 for a tiny little cartridge of printer ink.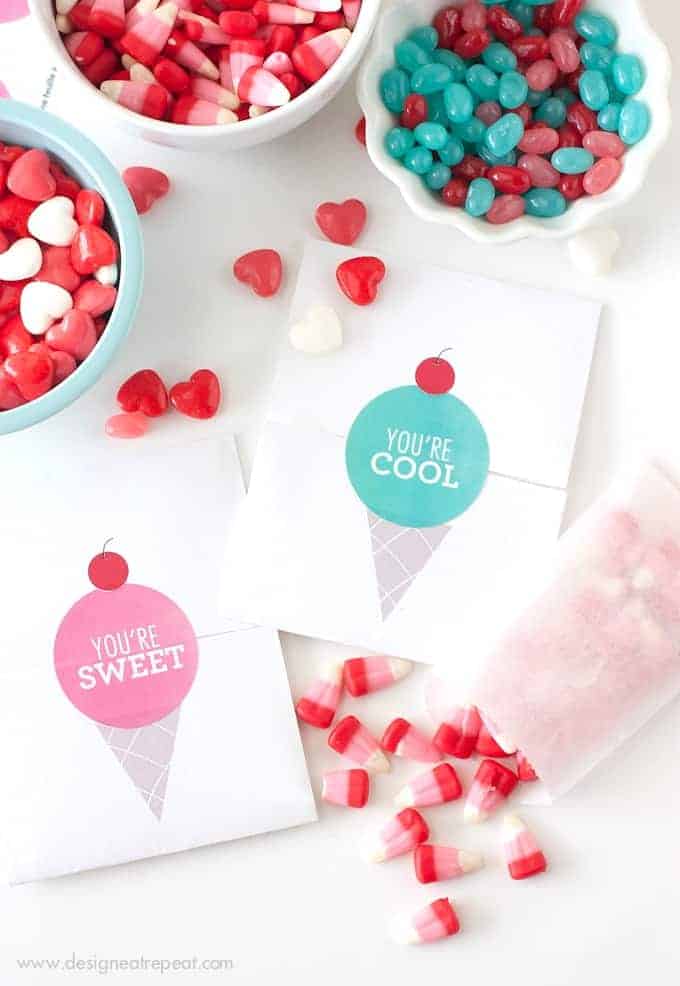 I was a little curious upon receiving this new batch of labels because of the fact that I was unsure of how Avery handled their template software these days. I was assuming I'd have to go through the hassle of downloading some kind of extra software for my computer to be able to create artwork for the labels. I had sort of braced myself to go through the same lengthy process I went through ten years ago. (The things I sometimes worry about are ridiculous.)
But shortly after jumping on their website, I was pleasantly surprised at how streamlined the process was these days. I literally just typed in the label's product number in the top of the website, and they brought up a little design suite where I could create the labels right in the software. Because I had a specific font I wanted to use for these labels, I simply created the little circle label in Illustrator, saved it as a .jpeg, and uploaded it to the Avery software. I was able to put six of both label designs on one sheet, rather than been forced to use two separate label sheets for each design. I had them designed, uploaded, and printed in less than 20 minutes. And it was glorious.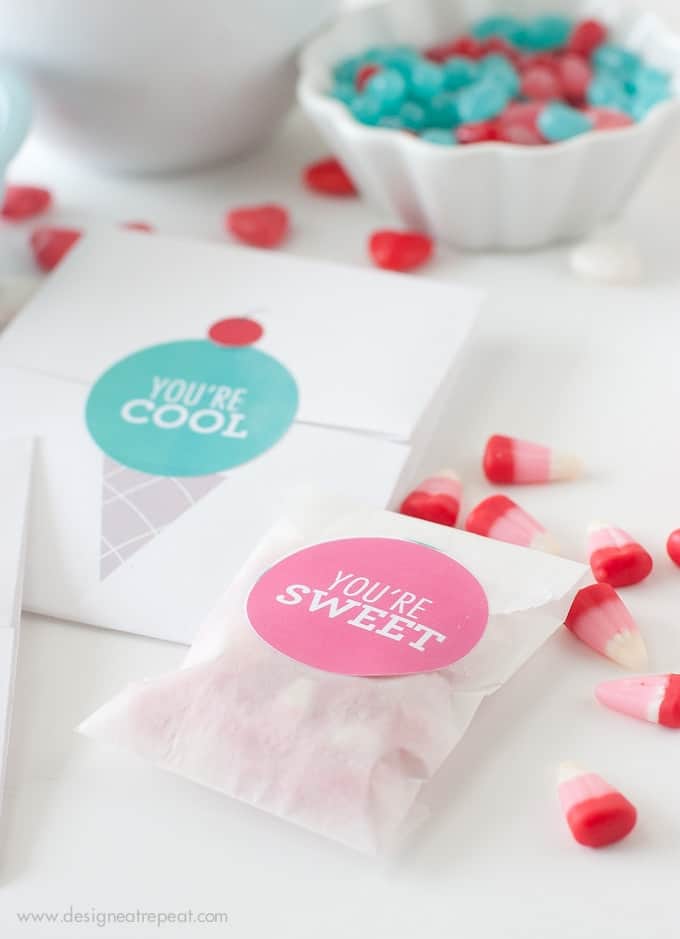 One of the things I miss most about college projects is the ability to concept & create three-dimensional packaging. I always love the challenge of making a flat piece of paper serve as a useful piece of packaging. For this project, I simply designed a piece of paper, that when folded, creates the base for the "ice cream cone" valentine's day package. Meaning, the cone & cherry are printed directly on that piece of paper. You can pop a little bag of treats inside the paper, fold it up, and seal it up with a ice cream scoop "You're Cool or You're Sweet" sticker.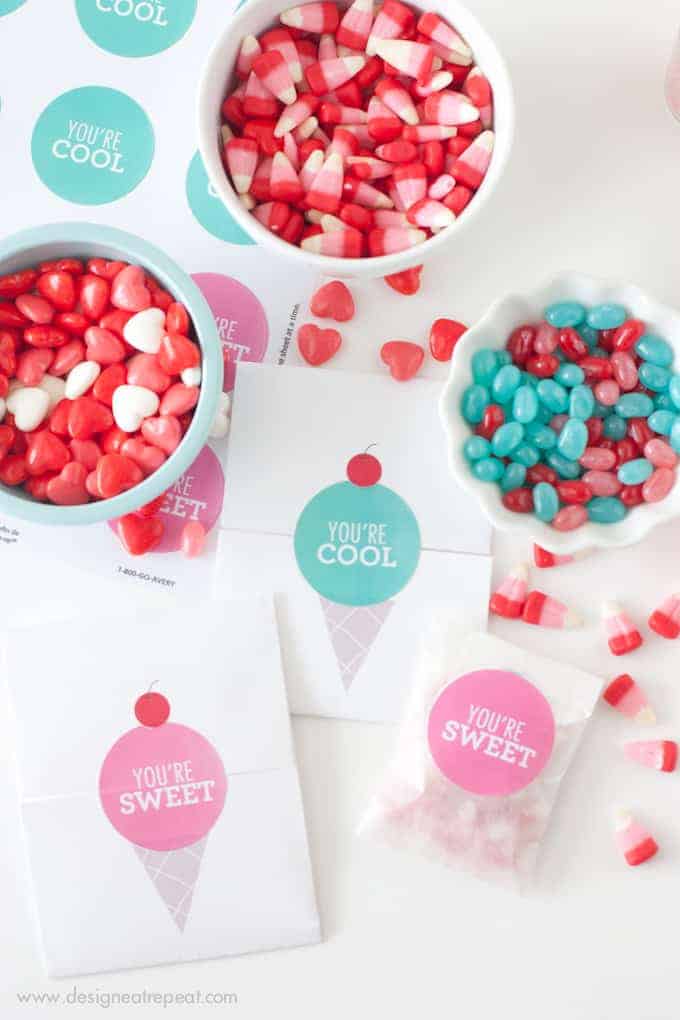 I have included the free DIY valentines printable ice cream base template below, as well as the images that you can upload directly to Avery.com to create the pink & turquoise "scoop" stickers.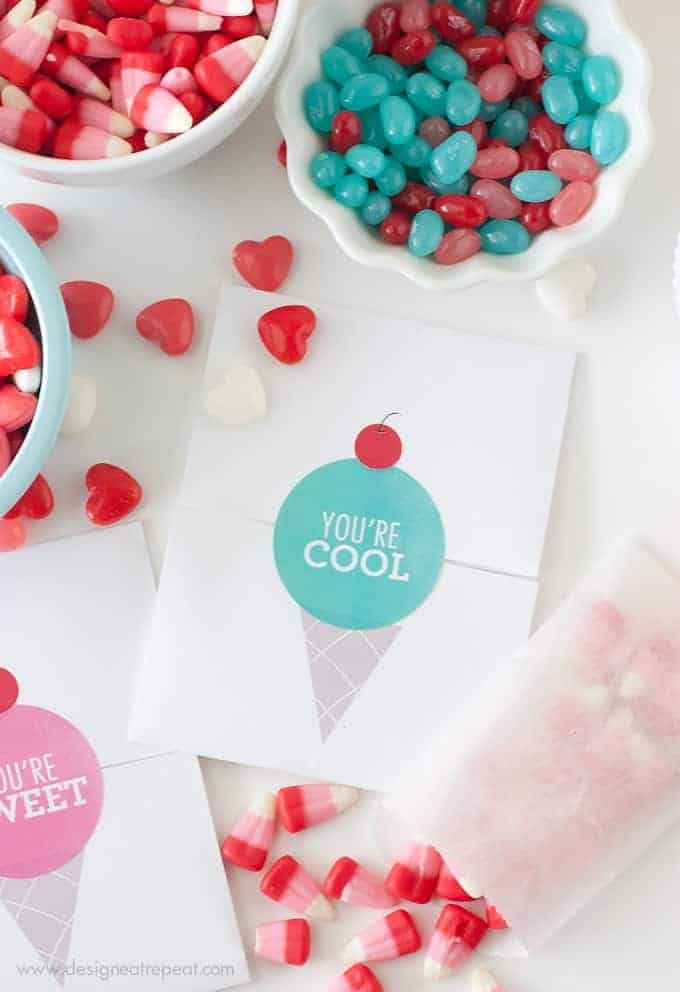 INSTRUCTIONS:
A. Download the free printable DIY Valentines paper ice cream template. Fold paper by referring to this short video demonstrating how to fold. Before filling, cut a tiny slit on the bottom of the cherry where you will later tuck in the top of the ice cream scoop sticker label.
B. Place a flat note or candy treat in the center of the paper, and refold.
C. Print "You're Sweet & You're Cool" labels through Avery's online software by:
1. Going to the Avery homepage, and clicking "Design or Print Online" on the left side of the page.
2. On the right side, click "Open Project" and upload this file that I pre-made with the "You're Sweet" and "You're Cool" labels. Print on label sheet & stick each on the folded valentine's package.
As an alternative to using the pre-cut circle Avery stickers, you can also print this PDF on full-sheet sticker paper, and manually cut each circle out of sheet.
Disclosure: Avery provided me with complimentary product & monetary compensation for this post. All opinions are that of my own.