If you're looking to entertain in style, this Fourth of July treat bar sponsored by Collective Bias, Inc. and its advertiser is a fun idea for a no-fuss party display! This shop has been compensated by Collective Bias, Inc. and its advertiser. All opinions are mine alone. #TwizzlersSummer #CollectiveBias
Having both sides of my family in different states, there are holidays where we hit both celebrations and then there are holidays where we typically have to choose between one or the other. My grandpa's birthday falls on the 4th of July, so it's always been a holiday we stay in town for. And this year, our family is having a celebration for the big 8-0 which means lots of food & family to not only put us all in sugar shock, but also put us all in a omg-there-are-kids-everywhere shock.
Aside from being in charge of designing the invitation, I'm volunteering myself as tribute to be the sole provider of sugary treats at this crazy event and put a twist on our traditional summer potlucks. If we're not going to roadtrip down to Missouri for the 4th, I figured I'd bring our must-have roadtrip food into the mix. I haven't told anyone yet of this motherload of candy I'm about to haul home, but ehh, it won't be much of a shocker.
Aside from shark fruit snacks, juice barrels will forever remind me of holidays at my grandparents. And with 25+ cousins, you had to act fast unless you wanted to get stuck with the orange flavor…or worse, none at all. The blue and red ones were always the most coveted flavor & first to get snagged up, so finding one of those two colors left in the cooler was like finding a goldmine. So of course I had to pick up a box of these while I was shopping for the party. I typically tend to avoid things in heavy boxes because of multiple flights of stairs, but for these, oh for these it was worth it. (Edit: I now mildy regret this as I have to pack them back up today to take to the party.)
I picked up all the goods for this party from the Twizzlers Summer Fun display near the front of Walmart and stocked up on at least 10 bags of different Twizzlers varieties, including these Strawberry Lemon Twist ones.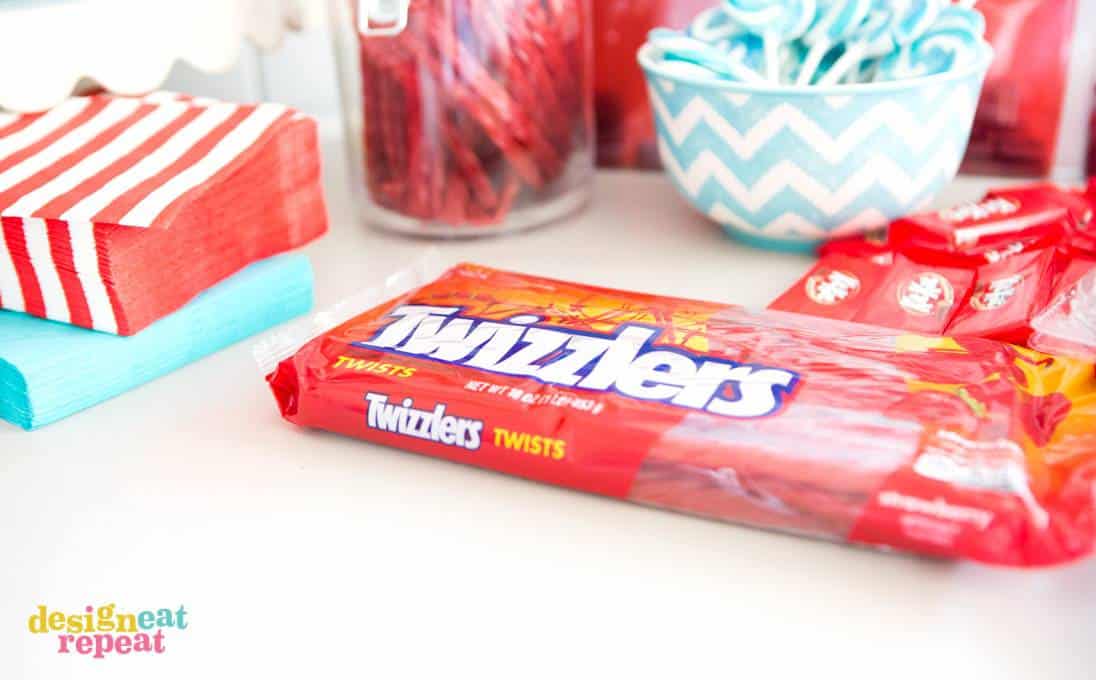 Strawberry Twizzlers are the classic around here, so I put a bunch in a glass jar for people to pick at. They also make for fun straws if you're into that kind of thing. I mean seriously, why drink out of a regular straw when you can take 10x longer to drink out of a .291 millimeter wide licorice straw? Oh, childhood.
To make the licorice flag treat board, I filled 16 clear treat boxes with Twizzlers Cherry Bites, backed with a red piece of paper. I then attached my blue start sheet printable and used my tape runner to attach the boxes to the foam board. You'll want a thick piece of foam board for this (rather than a flimsy posterboard) to allow the board to stay sturdy. I've found this brand of glue runner to work well in holding up the boxes (be sure to create several lines of glue tape), while also allowing them to pop off rather easily when someone wants to take one off.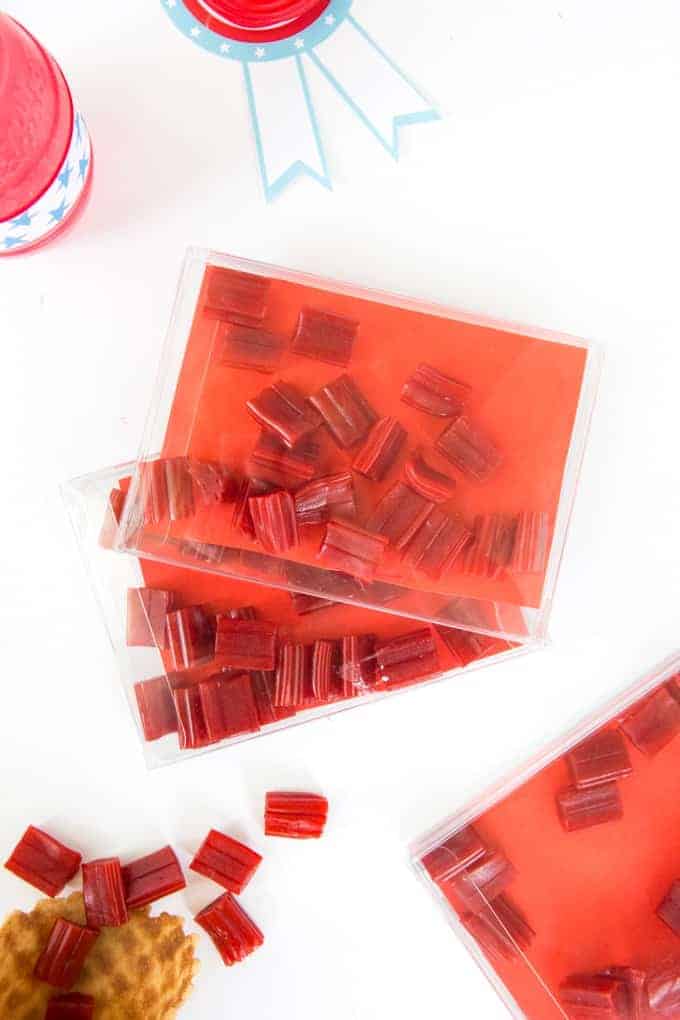 In addition to the Twizzlers Cherry Bites boxes, I made little printable ribbons to add to the party favor mix. Using the printable ribbons from last summer, I rolled up Twizzlers Strawberry Lemon Twist and Twizzlers Cherry Pull n Peel, wrapped it in saran wrap, and then taped it to the top. If using Cherry Pull n Peel like seen below, you'll want to spit each one in half lengthwise so that you are rolling up about 4 strands at time rather than the 9 each one has. This will allow for a less bulky twist and allow it to stay rolled up easier.
For the main display I picked up a large apothecary jar, filled it with enough Twizzlers Cherry Bites to keep about 300 kids happy for 3 days and served them alongside some fun colored cups and waffle cones. Yeah you could fill the cones with ice cream, but filling them with cherry bites wouldn't hurt either! I also designed a pattern to use as ice cream cone wrappers available to download (blue or white), so have fun and use it to decorate cones, juice barrels, or even just as printable placemats.
And where there's sweet, there also has to be savory so I made you some mini hamburgers for the occasion. Well okay, they're sweet too but at least we can pretend to bring a little protein into the mix? Using vanilla wafer cookies, mint cookies, and a rolled up strand from a Cherry Pull n Peel, you can cook up a plateful of cuteness.
I'm off to haul this boatload of party food home for next weekend (wish me luck), but I'd love to hear about your "must have" treat for your 4th of July celebrations. Leave me a comment and let me know!