The Fourth of July always tends to creep up on me, but now that I have a more organized Holiday index it's time get it filled up! Ever since I was little, licorice was always the one summer roadtrip snack we wouldn't leave home without. And now that I'm old enough to roadtrip myself, the stuff still reminds me of family roadtrips packed into a van fighting over licorice and bickering over who got to sit where. But today, there's no sharing needed because everybody will get their own box of roadtrip fuel when you send them home with these Fourth of July party favor candy boxes!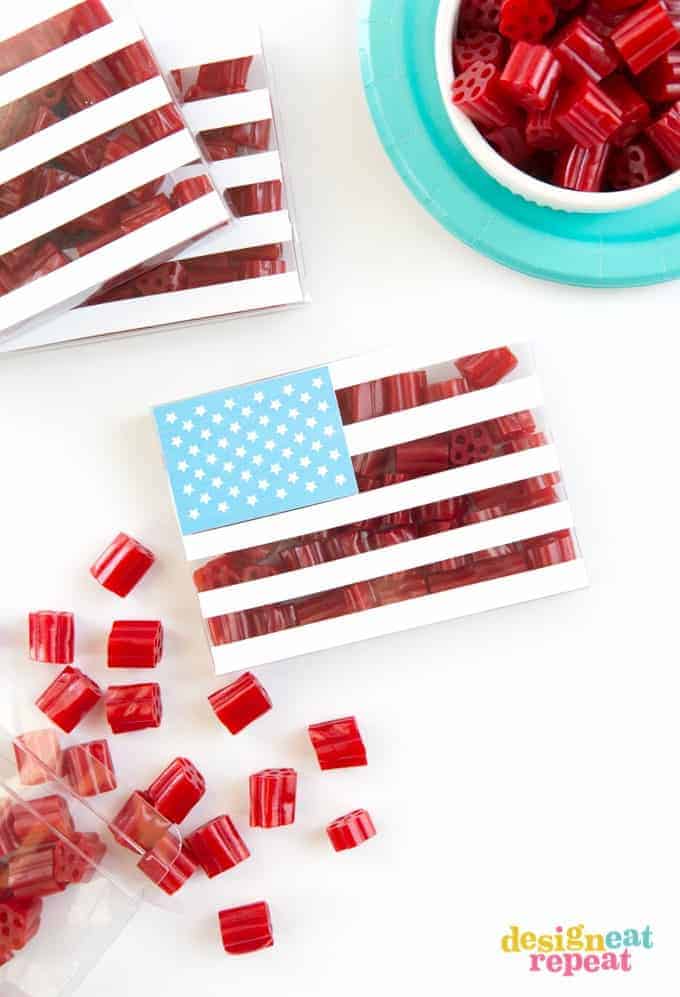 These candy boxes are super easy to put together and make a fun activity for kids. After filling each clear (food safe) candy box with licorice bites or a red candy of your choice, we simply cut a sheet of white sticker paper in 1 centimeter strips and then stuck 5 strips onto each box. In order to get even spacing between the strips, I recommend sticking the top & bottom strips on first and then filling in the center with the remaining 3 strips. Once all the stripes are attached, you can trim off any excess sticker paper with an exacto knife.
I've found that bright red licorice works best, as some of the brands are a little deeper red and don't look as vibrant between the strips.
After filling the boxes and attaching the strips, the last step is to print out the blue star box (I'm sharing the free printable below) on sticker paper and attaching it to the top left corner of each box. On the printable, I left some excess blue space around the stars so that you can trim the box to fit snug between the top edge and the top of the third stripe. Depending on exactly where you place the white strips, the printable blue box may need to be trimmed a bit to prevent any gaps.
My sister came to town for a few days this week and even helped me hand model these. This photo was taken moments after that bottle of pink nail polish made friends with my carpet, so let's just say the next 20 minutes was spent Googling nail polish stain removers and scrubbing as hard as I could to get that stuff out. Oy. The cost of beauty…and photography.
The sticker paper makes everything super easy to stick on, but if you don't have that on hand, you could also use cardstock and double sided tape to adhere the strips and stars down. But we're all for ease around here (especially in the summer), so sticker paper it was!
I'm thinking these could also be fun filled with red Sixlets,M&M's, or even longer strips of licorice. But I'd love to hear what you would fill them with, so leave a comment below with your favorite RED candy to share your ideas!