If you thought my sprinkle streak was over, you might want to think again. Not only is it still going, but I don't plan to stop anytime soon. They're just too cute not to be addicted to them. If I could pinpoint one theme to my college projects, it would easily be narrowed down to baking. And then if I had to narrow it down further, sprinkles would fall next in line. So needless to say, I have spent many hours over the years brainstorming different concepts for sprinkle packaging. And I'd say 90% of those ideas are still stored in my head, just waiting to be sprinkled on paper.
Some ideas take months to sort out, while some just pop up on a rainy Wednesday morning. This one falls into the latter category. I designed these "Cupcake Seed" packages to hold sprinkles, the tulip printable, and a toothpick. You can put one at each place-setting for a party or just hand them out to friends for fun. But the intention is that the recipient now has all the tools to "grow" a cupcake from drab to fab.
And because I was in a illustration mode that day, I threw in some extra visuals on the back. If you've ever wondered if growing cupcakes was possible, now you know. Forget strawberry patches this summer, find me a cupcake patch.
The cupcake topper and seed pouches are available to download below, so all you have left to do is bake up those cupcakes! I posted the red velvet cupcake recipe over at Creativity Exchange today, so hop on over if you're looking to do some springtime baking! Any type of cupcake would work for this project, so have fun and experiment with your favorite flavors!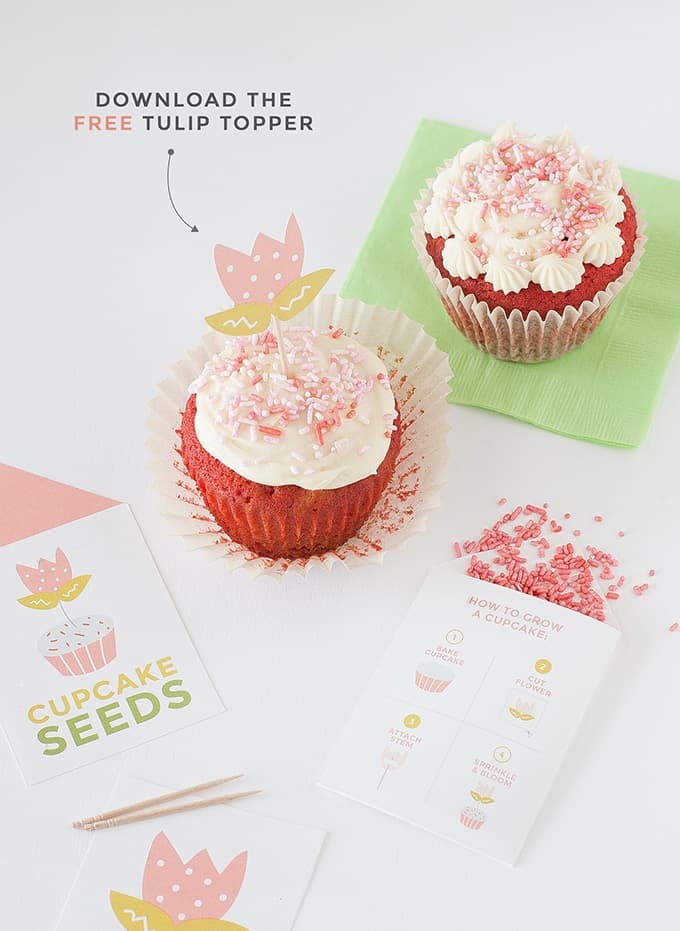 Materials:
Cupcake Printables // Scissors/Exacto Knife
Double Sided Tape // Toothpicks // Sprinkles
Have a great weekend everyone & I'll meet you back here next week for a continuation of the sprinkle obsession! To browse other sprinkle projects, hop on over to the DIY archive.