This post brought to you by Krazy Glue. All opinions are that of my own. Thank you to my sponsors who allow me to continue producing free printables and recipes! With just a few sheets of tissue paper, you can create a fun holiday board to use as a photobooth background or mantle decoration!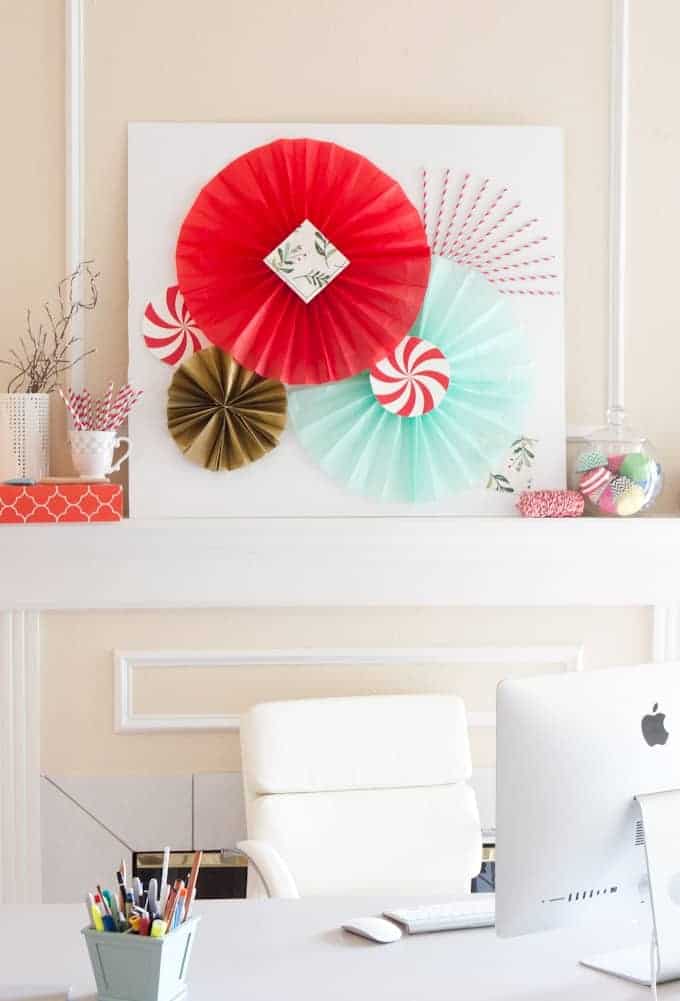 If there's one thing that I would prefer leaving to the pros, it would be home decorating. You would think that as a designer I would automatically find this enjoyable, but unfortunately it's not something I have grown a love for over the years. I enjoy an occasional apartment rearrangement, watching HGTV, and gushing over everyone else's homes – but for the most part I tend to prefer smaller projects that don't require much manual labor and assembly (I'll blame a household of brothers & a handyman dad who put everything together for me growing up). A friend recently showed me a picture of an ahh-mazing tissue paper photo backdrop that she made, so I thought I'd give it a try. Tissue paper is one of my crafting enemies because it seems like no matter how I try to mold it the way I want, it always just ends up a wrinkly mess. Now I'd be lying if I said that this project didn't start out as one of those wrinkly messes because it totally and utterly did. We're talking big, jumbled balls of frustration. But thankfully I pulled myself together and came up with a final step-by-step method that didn't make me want to pull my hair out. (Just look how deceiving it can be by the photo below. One minute it's nice & cute and the other minute it looks like it aged 100 years.)
To start, (1) I took one sheet of tissue paper and folded it accordion style in 1-1.5 inch increments. After creasing all the edges nice & good, I folded it in half (2) and creased it again. Once the crease line is nice & prominent, I unfolded it and tied a thin piece of string around the middle and trimmed off the excess (3). I then repeated steps 1-3 again to create one more fan. You will need two pieces of tissue paper folded like steps 1-3 to create one total fan (one is the top half, one is the bottom half). Once I created two folded strips & tied them with a string (4), I folded them in half horizontally (5). I then tied the two ends together by connecting the stringed sides with a few knots (6).
Once connected, I folded up the bottom half and used Krazy Glue Craft to stick the two panels together (7). After attempting this project with a stapler, I found that strong Krazy Glue is great for this project because it dries quickly and has a precision tip allowing you to create clean lines. (When glueing, try to keep the lines straight or you will be able to see swirly patterns through the tissue paper.) Once adhered, I then repeated that step to also glue the top two halves together (8). Once the bottom & top halves had been glued on both ends, I then glued the tops of each panel together to start creating the fan. Once you have glued a total of 3 sides together, carefully fan out the tissue paper and apply glue to the last panel to create the full circle (9).
I used this technique to create all three fans, but altered one easy step in the gold one to create the smaller size. Instead of laying the tissue paper out completely flat before folding, I first folded the gold sheet horizontally before folding into the accordion. This created a fan that was thicker & smaller. Once the fans were assembled, I used small pins to carefully pin the centers of each one to the board. I then used a dab of Krazy Glue in the centers of the napkins & peppermint wheels to attach to the tops. The last step was to add the straws! I picked these cute straws up from Target a few weeks ago and carefully added a strip of glue to each one to adhere to the board. (To prevent the straw from rolling away, you will need to hold the straw it in place about 30 seconds to allow for the glue to dry.) The thing I love about the Craft version of Krazy Glue is that it has a new Skin Guard™ formula that delays skin bonding, giving me extra working time before the glue dries. This also allows me to adjust the placement of the straws before they were completely glued down.
Once the main background was complete, I created a few candy photobooth props to make things a little sweeter! Download the graphics below, attach them to a paper straw (or stick!) and let guests pick one out for the photo!
Materials:
Tissue Paper // Krazy Glue Craft // Scissors or Exacto Knife
String // Candy Printables // Paper Straws // Patterned Paper or Napkin
All in all, I think it came out pretty well despite my tissue paper struggles. Once I got the tissue paper technique down, the whole thing only took about an hour to put together. And with the supplies adding up to around $10 (I used a old matte board previously used for photography surfaces), I'd say it was a successful project that definitely got me outside of my typical crafting zone!
Have you ever created a tissue paper project? Any tips for keeping it in line? Also, I totally overestimated how much glue I would use and now have 2 open bottles. So if you have any fun projects that require lots of glue, send the links my way!