If you're looking for light spring time treat, this DIY Fruit & Chocolate Trifle Bar sponsored by Collective Bias, Inc. and its advertiser is the perfect way to kick off warm weather season! All opinions and writings are my own. Thank you to my sponsors who allow me to continue producing free printables and recipes! #LoveDoveFruits #CollectiveBias
Guys, it's spring! It's spring, it's really, really spring! I'm currently typing this post with my doors wide open, fresh air blowing in, ignoring the un-folded pile of laundry on the floor, and just enjoying the tranquility of the chirping birds. (For those who know me, you know that myself and the birds-who-have-decided-to-nest-outside-my-window are not always on the best of terms after one too many early morning window crashes.) But other than that, I'm really just over here praying to mother nature that winter is out of her system for good. I honestly don't know what I will do if any type of snowflake appears on my weather app. The "good weather" strawberries have finally hit the store and once that happens, I declare it spring for good. There's just something so refreshing about picking up a carton of berries at the store and not seeing that winter-induced mush & mold. It just means we're one step closer to whipping out that ice cream maker and for that, I consider all of us cold weather folks hashtag blessed.
So consider this your warning that a plethora of berry recipes, berry printables, and berry prints are on the horizon. Oh! And sidenote. This site is undergoing a little makeover soon and just wait until you see the new category indexes. It will be so easy to find all the archived seasonal projects, that you may just find yourself making every fruit printable this site has ever seen. The launch is just a few weeks away, but guys, I'm over the moon excited about this one! It's not too far off in terms of the color scheme (still colorful as always!), but we're taking the user experience up a notch and I. cannot. wait.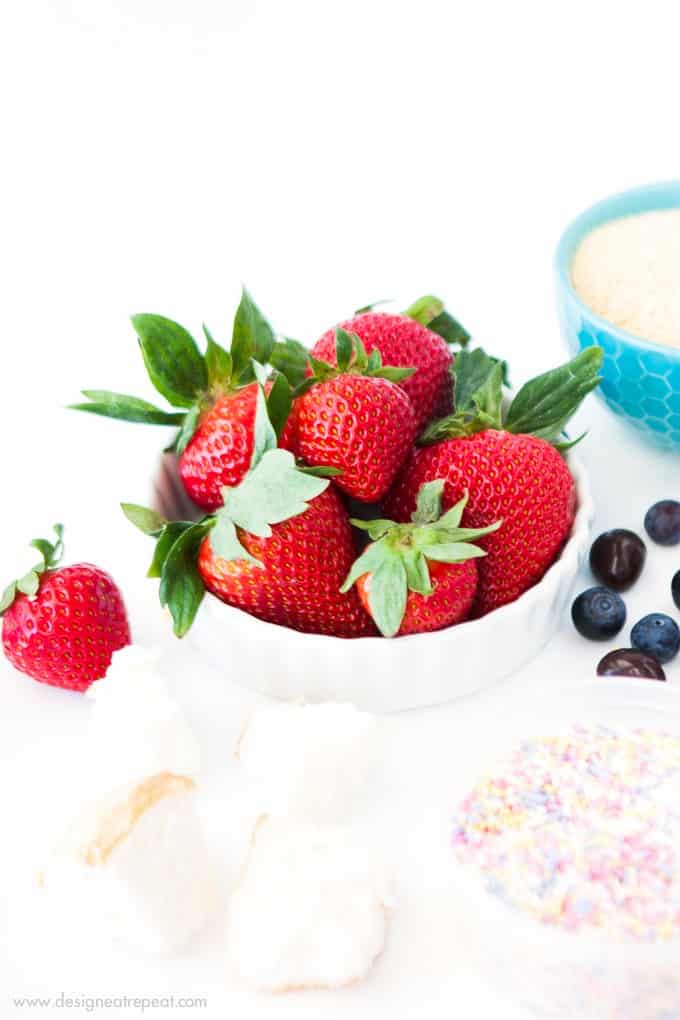 Okay, back to food talk. More specifically, let's start talking about this DIY chocolate trifle bar! Let's talk about it all. The angel food cake, the chocolate mousse, the toppings, yaknowallthegoodstuff.
Despite my uncontrollable sweet tooth for chocolate, once summer hits I kick into a lighter dessert mode. Christmas & Valentine's Day are long gone, so this is about the time of year that I tell myself that it's probably time to stay away from baking all the cookies & cakes and opt for something a little more summer friendly.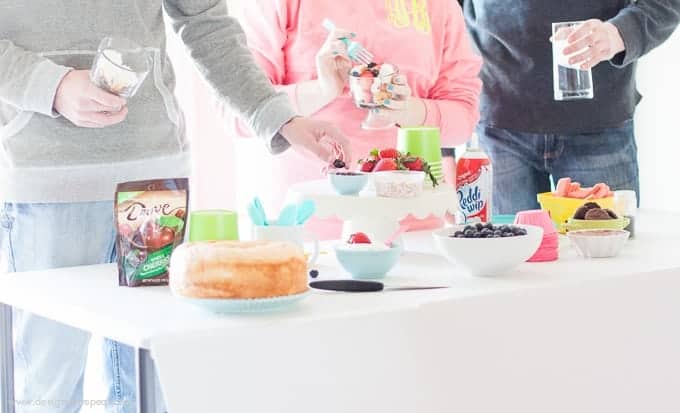 I think I mentioned in a previous post that I started a new workout program about a month ago and honestly the hardest thing about getting back into a fitness routine is not eating every piece of chocolate on my prop shelf. To say my life is a literal struggle between wanting abs and wanting cupcakes is an understatement. (This shirt has been in my shopping cart for days and I need to just bite the bullet and buy it.) But what I do know is that completely cutting out chocolate during times like this doesn't work for me, so I need to keep things like dark chocolate granola (<thee best) and fresh fruit on hand to satisfy that sweet tooth without diving head first into a dozen cupcakes.
So rather than slathering these trifles with brownies, I decided to go with a few lighter sweets for this spring time trifle fiesta. By switching out angel food cake for the brownies and layering them with homemade chocolate mouse, DOVE® Fruit, and fresh berries to inject that sweet chocolate flavor – these trifles are everything I'd imagine summer to taste. Minus the sunscreen. (Is that what you thought that whipped cream lookin' white stuff was?)
I'm not one to feast on chocolate covered raisins (or raisins in general), so I didn't quite know what to think when I snagged these cherry, blueberry, and cranberry DOVE® Fruit from Walmart, but they really do satsify my chocolate craving without all the guilt. They're real fruit dipped in silky smooth DOVE® Dark Chocolate, so let's be honest here, there's not many ways that can go wrong.
After making the chocolate mousse & nearly whipping the cream into butter (why I shouldn't be allowed to multitask), I set out some sweet toppings and let the troops concoct their own trifles! Can we talk about those mini trifle dishes for a sec? In love. They're just one more example of why my grocery store shouldn't carry glassware or kitchen gadgets. Go in for milk, leave with new props.
My topping spread consisted of some light whipped cream, sprinkles, graham cracker crumbs, all three flavors of DOVE® Fruit, cubed angel food cake, wafer cookies, chocolate mousse, and fresh berries – but you can really have fun with these and make them your own!
I know Target usually gets the credit for cute partyware, but I found all these bright plates, spoons, and napkins at good ol' Wally World (code for Walmart). Parties don't need to have tons of cute printables & dishware to be fun – sometimes colorful plates & scrumptious treats are all you need!
The thing I love about trifles is that you can literally throw whatever you want into a bowl and there's a 95% change it will be good. By allowing everyone to create their own, they got to pile on the things they love and leave out all the unnecessary fluff that is sometimes added to these type of desserts. And I don't know about you, but a patio party that includes fresh spring air and a DIY trifle bar is something I'd be down for weekly.
It's really too bad we all have jobs and stuff that prevent us from making patio parties a weekly thing ;)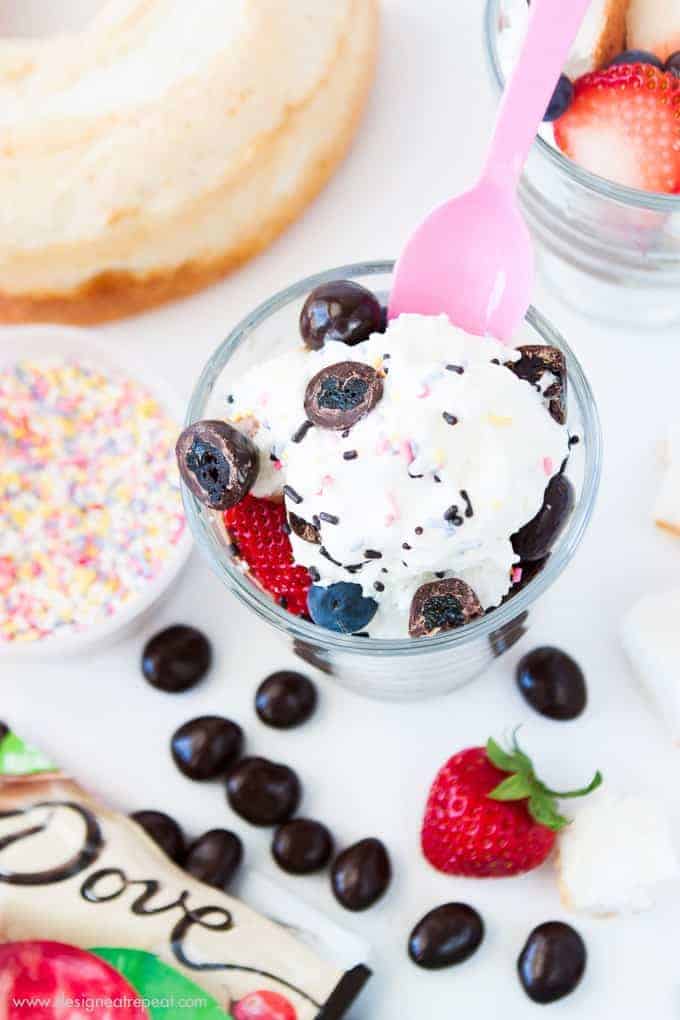 DIY Fruit & Chocolate Trifle Bar!
By switching out angel food cake for the traditional brownies and layering them with homemade chocolate mouse, DOVE® Fruit, and fresh berries to inject that sweet chocolate flavor - these trifles are the perfect summer dessert fit for crowds.
Prep Time: 20 minutes
Total Time: 20 minutes
Course: Dessert
Category: Cake
Servings: 10 Makes 2-2/12 cups mousse (8-10 people)
Ingredients
Chocolate Mousse:
1 cup dark chocolate chips
1/8 cup water
1 1/2 teaspoon vanilla extract
2 cups heavy whipping cream
1/4 cup powdered sugar
Toppings:
Cubed Angel Food Cake
Fresh Blueberries
Fresh Strawberries
Chopped & Whole DOVE® Fruit Cranberries, Blueberries, Cherries
Whipped Cream
Sprinkles
Graham Cracker Crumbs
Before you begin! If you make this, will you do me a huge favor and leave a review and rating letting me know how you liked this recipe? This helps my small business thrive so I can continue providing free recipes and high-quality content for you.
Instructions
In a small saucepan, melt the chocolate and water on low heat. Once melted, whisk in vanilla. Remove from heat and allow the chocolate to completely cool.

In a large mixing bowl, whip the cream on medium-high speed until light and fluffy (it should resemble normal whipped cream) using a electric mixer.

Turn on low speed, and slowly blend in the chocolate.

Scoop the mousse into a glass bowl and allow guests to make their own trifles, using the toppings of their choice!
Last Step! Please leave a review and rating letting me know how you liked this recipe! This helps my small business thrive so I can continue providing free recipes and high-quality content for you.
Nutrition
Calories: 488kcal
Now that I've spilled the (chocolate) beans on my springtime cravings, I'd love to hear what your favorite no-guilt sweet treat strategies are! What are some things you keep stocked to prevent yourself from eating all the chocolate cream-filled donuts?