Need a last-minute Valentine's Day gift? Print off this free chocolate gift box template for a quick, easy, and homemade treat for teacher treats, coworker Valentines, or neighbor gifts! Perfect for gifting homemade chocolate truffles, chocolate chip cookies, or store-bought chocolate like Hershey kisses.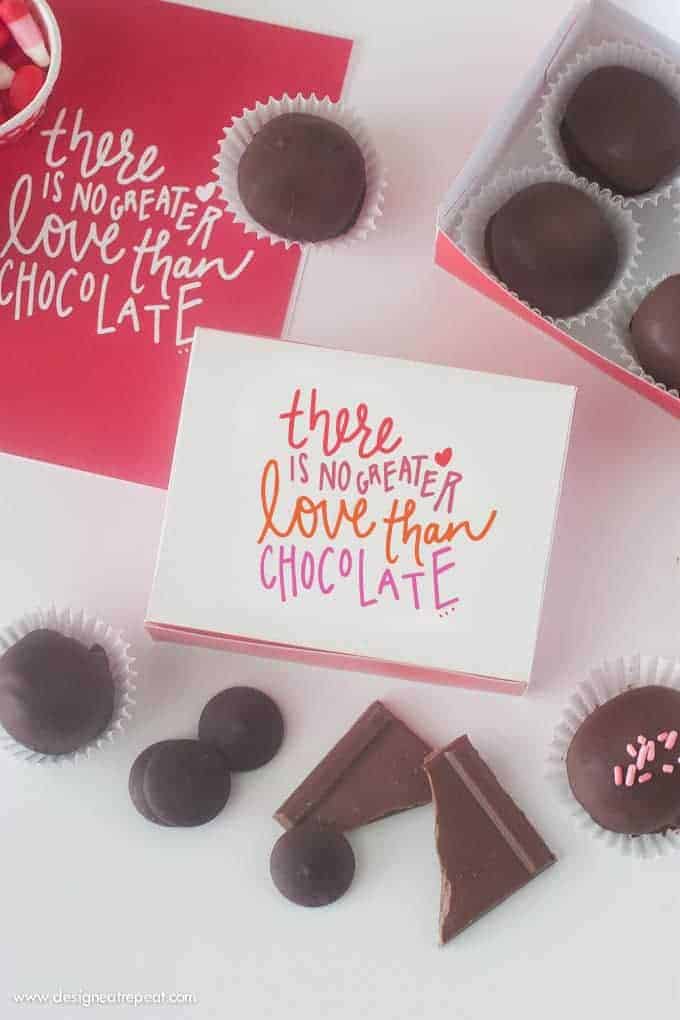 Dear my fellow chocoholics. If the five aisles of Valentine's candy at the grocery store isn't enough for you, then it's about time I introduce you to something new. This year, I decided to take matters into my own hands and make a chocolate gift box DIY that you can fill with store bought chocolates, or even fill with your own homemade candies. I figured if a little chocolate was going to sneak into the festivities, then it might as well be homemade. So today I'm sharing with you this free printable DIY chocolate gift box template to help gift those delectable homemade chocolate truffles.
Because in the world of chocolate, there is never enough chocolate-themed printables.
What You Need to Make A Chocolate Gift Box
White cardstock paper, free printable chocolate gift box template, exacto knife or scissors, and double-sided adhesive.
New: Have a die-cutting machine and don't want to hand cut? Purchase the chocolate box SVG file to cut on your home die-cutting machine.

How To Make A Chocolate Gift Box
Download the PDF to your computer and print out the template on 8.5×11 cardstock.
Use an exacto knife, scissors, or die-cutting machine to cut along edges. Use a scoring tool or tip of an exacto knife to score the fold lines.
Apply double-sided adhesive where indicated on the PDF instructions and seal closed.
Fill with homemade chocolate truffles or treats of choice and gift away.
Tip: If using cookies or homemade candy, be sure to wrap each treat in plastic wrap or line the box with parchment paper to prevent the grease from soaking through.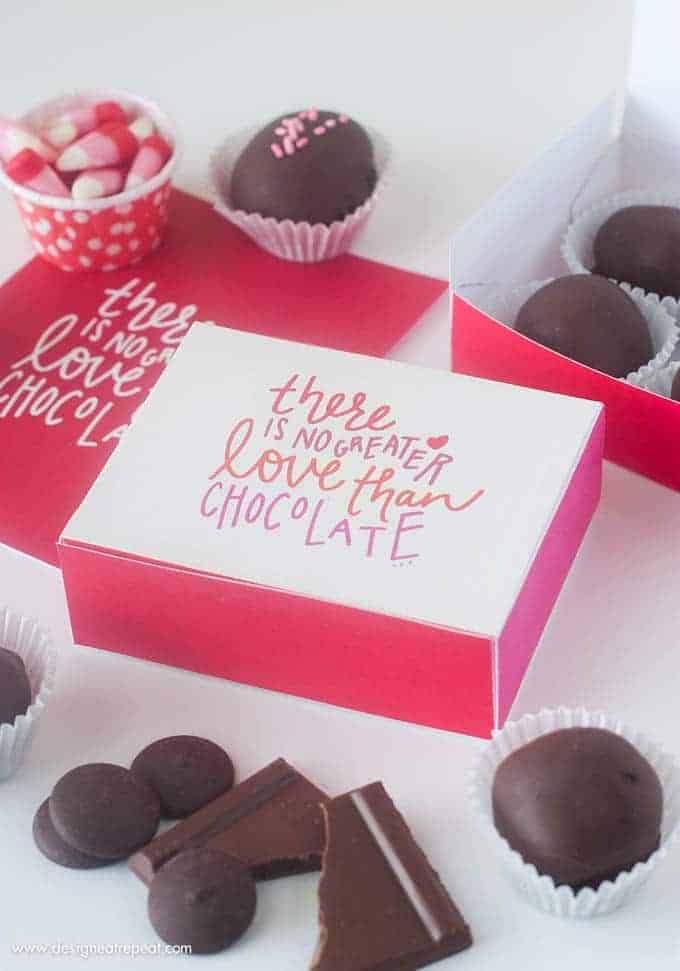 Frequently Asked Questions:
What size is this chocolate gift box?
This box measure approximately 4 inches wide x 3 inches long x 1.25 inches deep when printed and assembled.
What occasions are good to gift a chocolate gift box?
If you're looking for a easy, last-minute Valentine's day idea, then these chocolate gift boxes favors might be just what you need! It's free to download (as always!) and the box can be filled with any kind of chocolate. I made homemade chocolate truffles to go in them, but the sky is the limit with what you can fill them with. I'm thinking these could also be fun with brownies or Hershey kisses.
You could also use it to gift any kind of homemade candy or cookie, Christmas candy, or basically anything with chocolate!